CE Pro Podcast #24: Editors Roundtable Recapping CEDIA Expo Virtual
CE Pro editors share initial impressions following the 3-day CEDIA Expo Virtual platform with pros/cons, exhibitor favorites, education session thoughts & other shoutouts.
Listen to this podcast using the embedded player below, or use the link to download (right-click to save) or to listen using your system's media player. On mobile devices simply click the Download this Audio File link below and your devices player will automatically play the file.
Listen to this podcast right now.
Format: mp3 • Length: 44:50 • Filesize: 43166958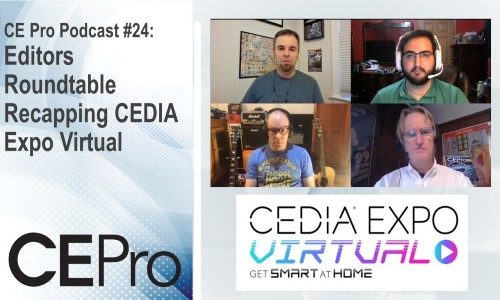 So now that the first CEDIA Expo Virtual is in the books, what did everyone think of 2020's pivot-to-online-platform event?
While we may still be trying to process all that went on in the usual dizzying paced CEDIA Expo week timeline, the CE Pro editors hopped on Zoom (where else) to share our impressions on the latest episode of the CE Pro Podcast.
Jason Knott, Robert Archer, Andrew Nichols and myself opened with some initial thoughts on the CEDIA Expo Virtual show, followed by some things we missed about in-person Expos vs. the Virtual platform (Nichols has yet to attend an in-person show, but Knott, Archer and I have attended well over 60+ combined).
CEDIA Expo Virtual Format Earns High Marks from Editors
While aspects such as high-performance theater demos, bumping into familiar industry colleagues and friends in the aisles and grabbing some show floor comfort food were missed, several attributes to CEDIA Expo Virtual worked out quite well.
With an audience that could hop around via their computers, the Tech Talk sessions generated attendance figures 5x of what a typical audience sitting at the back-of-hall Smart Stage might fetch, for instance. The keynotes also provided compelling guests and topics from big industry names and groups that included insights on how custom electronics is in high demand right now.
In fact, the entire CEDIA Education slate proved very well put together and deployed in the virtual format, with veteran instructors leading highly topical discussions, and a mix of recorded Zoom sessions with live Q&A in many cases providing fun interactivity for attendees.
Exhbitor Booths Brimming with Content
Meanwhile, the exhibitor booths proved very easy and convenient for the editors (and presumably attendees) to jump in and out of, watch recorded and live demos in many instances, find a wealth of new product literature and live chat with company representatives.
Each of the editors pointed to some notable booths in which manufacturers creatively took advantage of the format with live videos, offered virtual swag, unveiled new products and catered to hot industry trends – listen to the podcast or watch the video above to find some of our favorites.
Lastly, we can't help but offer kudos to all of the production that went into this year's CEDIA Expo Virtual event on all fronts – it's been a difficult year, but many truly embraced the opportunity.
The show-ending virtual performance "concert" by the CE Pro All-Star Band (despite technical difficulties at the very end) that featured impressively remotely produced collaboration from band members, graphics team and AV production, was a hit as the performance rolled through five videos and helped raise funds for CEDIA's CEDIASTRONG initiative.
Check out the podcast, and subscribe to CE Pro's YouTube channel for past episodes. We look forward to a big CEDIA Expo next year in Indianapolis!