Wipliance's Steps to Success: Happy Hour, Tech Evenings, YouTube Videos
With more than 30 special events under its belt cultivating relationships and sales; a YouTube channel stocked with pro-quality videos to fuel marketing; and a recently opened second location 1,400 miles away, integrator of the year Wipliance stays very busy.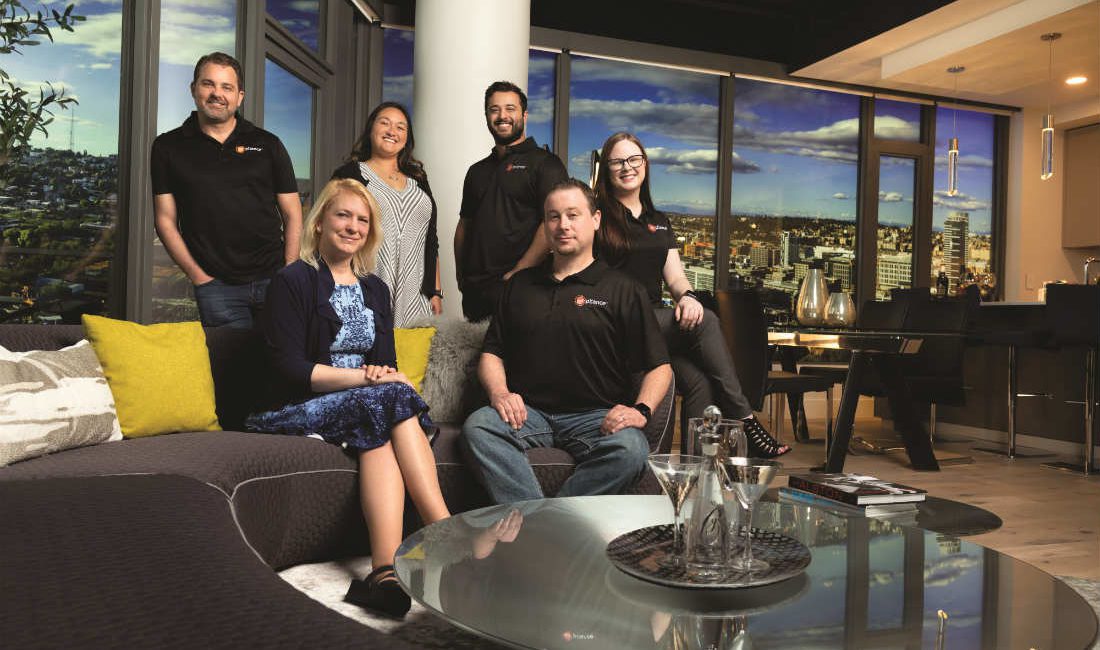 When Lee Travis, owner of Seattle-area integration firm Wipliance, explains what makes his company special, he mentions not the topnotch technology that's offered or the high caliber of installations completed — although both are stellar — but rather how his company is constantly changing and evolving to build and expand its business.
In just over a decade the company has developed some serious marketing chops and a bold business strategy — both of which have helped it land many industry accolades, not to mention some impressive sales stats.
Recently honored by the Consumer Technology Association and CE Pro as the 2019 TechHome Mark of Excellence Integrator of the Year, Wipliance recorded annual revenue of $5.6 million from 151 custom installs last year. It is also one of the most efficient systems integration businesses in the industry, producing $230,000 in revenue per employee from a staff of 20.
The 13-year-old company has never been one to rest on its laurels, though. Ever innovative in its marketing approaches and stalwart in its business practices, Wipliance thrives on its willingness and ability to tackle new challenges. It's a commitment that has created clear-cut differentiation from the competition and helped build a glowing reputation among customers, vendors and business partners.
Travis credits Wipliance's admirable achievements to three main factors: regularly scheduled special events, professional-grade video productions of these events as well as technology tutorials and project profiles, and successfully opening and operating a second location in Scottsdale, Ariz.
Happy Hour Creates a Buzz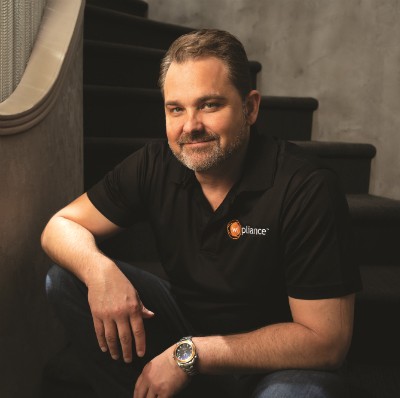 "[An event is] more about getting people excited about home technology than it is about selling equipment. It's not generating business today or tomorrow, but rather months or years down the road."
— Lee Travis, Wipliance
Networking is crucial to the prosperity of any type of business. The trick is finding when and where to do it. Rather than hunt down possible opportunities to rub elbows with potential customers, Wipliance has taken a proactive approach by hosting its own gatherings.
These invitation-only events provide Wipliance with an opportunity to showcase on its own terms its expertise, workmanship, and design and installation prowess to area builders, architects, interior designers and other trades. Homeowners — past, present, and potential new clients — are invited to attend the events as well.
To keep its messaging fresh and off er guests more than one chance to attend a Wipliance-hosted function, the company holds two types of events throughout the year. The more casual aff air is its Smart Home Happy Hour. As the name suggests, drinks are served by a bartender, and guests are encouraged to mill around the party venue — typically a finished spec or custom home of one of Wipliance's many prominent builder partners.
Typically, the Smart Home Happy Hour home will have already been outfitted with some level of technology, like a home theater or lighting control system. To this, Wipliance complements with additional technology — like TVs, retrofittable motorized shades, and outdoor speakers — items can be installed temporarily for the event and removed quickly.
The objective of the Smart Home Happy Hour, which is held two times a year at both Wipliance locations — Seattle and Scottsdale — is to create an environment that fosters a human connection with technology.
"It's more about getting people excited about home technology than it is about selling equipment," Travis says. "It's not generating business today or tomorrow, but rather months or years down the road. We've had clients attend who weren't even going to be breaking ground on their homes for another two to three months but thanks to our Happy Hour have kept us in mind for their home technology needs when they were ready."
To complement the luxurious atmosphere of the smart home, Wipliance often invites high-end retailers from other businesses to showcase their wares. Guests can view how an automation system instantly alters a room's atmosphere in the living room then head to the garage to check out a collection of luxury cars from an area car dealership, for example.
Evenings of Technology Drive Sales With Low-Pressure Incentives
The other type of function, Wipliance's Evening of Technology (EOT), was developed as a deal-closer, albeit with minimal sales pressure. They are held mostly at high-end furniture stores to evoke a home-like vibe (although Wipliance once held an EOT at an airplane hangar), and feature technology demonstrations from a variety of product vendors.
"Because we involve our participating manufacturers and reps, EOTs are more complicated to organize and set up, but the benefit speaks for itself," according to Travis, who says 15% of Wipliance's new business is a direct result of its EOT and Smart Home Happy Hour events.
Quick Stats
COMPANY: Wipliance, LLC
LOCATION: Bellevue, Wash., and Scottsdale, Ariz.
WEB SITE: wipliance.com
REVENUES: $5.6 million (2018)
NUMBER OF EMPLOYEES: 22 in Washington, 6 in Arizona
SPECIALTY: Home automation, home theater, motorized window treatments, and lighting control for custom high-end homes and commercial environments
TOP BRANDS: Lutron, Control4, Sony, Screen Innovations, Focal
FYI (ADVICE TO OTHER INTEGRATORS): Invest in the people on your team as much as the idea.
To encourage sales without being too pushy, Wipliance off ers special discounts on any of the tech products on display. The company sweetens the deal by giving attendees a window — around a month — to purchase. "I'm finding that the incentives and a one-month deadline to purchase are giving customers who might have been on the fence about buying something the push they need to take the plunge," Travis says.
At the same time, the post-event purchase plan is helpful to Wipliance. "At the core, our primary goal is to drive business, but we also want our EOTs to be fun," he explains. "This means mingling with guests, instead of stepping away during the event to write proposals. That window gives us more time after the EOT to propose and close."
In keeping with its philosophy that events should be as fun as they are informative, Wipliance sprinkles in non-tech elements like food and drinks catered by area establishments, music, and plenty of socializing at the EOTs. In this entertaining, low-pressure atmosphere, "the EOTs are a win-win for everyone involved," Travis remarks.
The furniture store drums up new business, the vendors sell product and Wipliance generates new business. And even if only a smattering of guests attend an EOT, Wipliance still considers it a success.
"I tell our team that it doesn't matter if a client declines the invitation to an EOT; it still gives our sales crew a valid business reason — or VBR — to contact them," Travis says. "This could lead to conversation about potential work they may be considering down the road."
Caught on Video
To maximize their party-hosting investments, Wipliance makes a point to capture EOTs and Happy Hours on video. "Our goal with these is not simply showing technology at work but to bring in the human element — people socializing and having fun while engaging with the technology," explains Travis.
Pet projects also make it onto the video production schedule. "Video helps add a new dimension and makes a bigger impact to a case study than photos do," Travis says. "It also gives our website a definite edge and functions as a testimonial when we get the client involved."
Wipliance employs a video production firm to record the event, but handles all of the scripting, directing and editing to minimize costs. Make no mistake, "it's a huge investment of our time and money," Travis says. It can take months to record and edit a single video.
For example, if a Happy Hour event was held before the flowers in the landscape were in bloom, Wipliance might send the videographer out later to get a snippet of video to add to the original footage. "We have at least six videos in the can currently that we need to finish up," he says.
Read Next: Wipliance Named CTA Integrator of the Year for 2019
Despite the work involved in planning and hosting EOT or Happy Hour events and having them as well as a number of projects recorded, Travis says it's been well worth the effort.
"These videos have become our main marketing tool. We have them available on our YouTube channel for potential clients to view at their leisure. We believe that video is the next frontier in marketing, and we're the pioneers."
Often featuring products and systems from brands in the Wipliance portfolio, the videos function as tutorials for tradespeople and clients who want to educate themselves on smart home technology. The informative videos also help establish and maintain great working relationships with manufacturers.
Pulling Double Duty — From Seattle to Scottsdale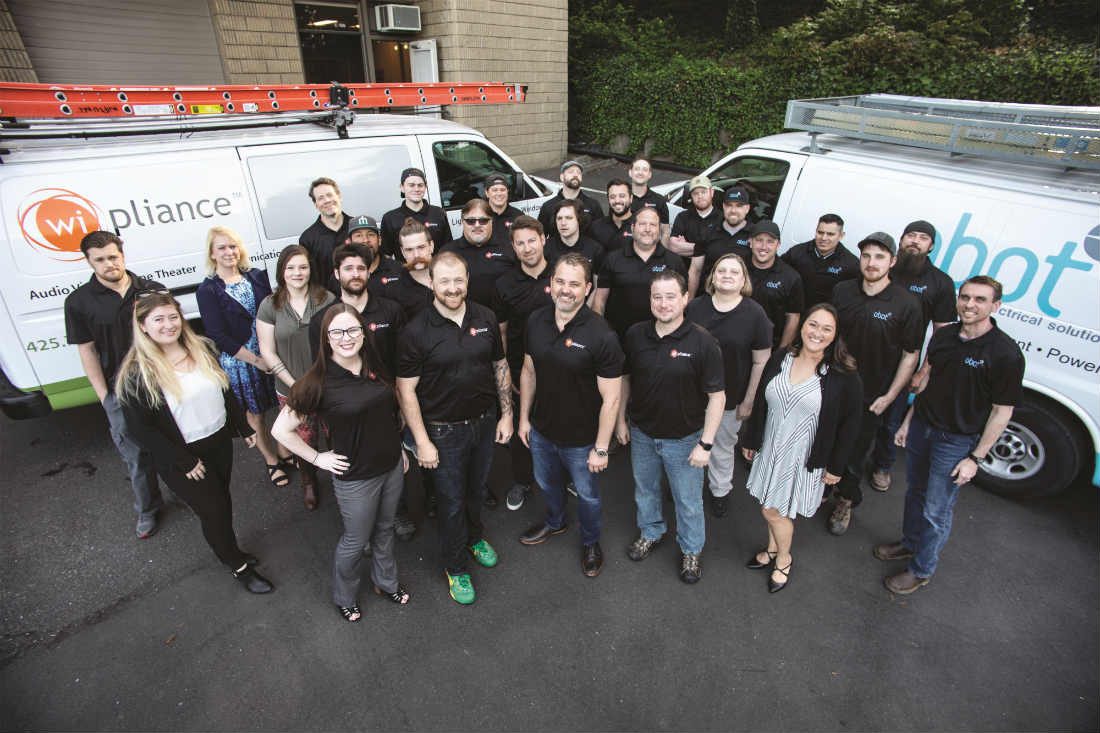 Adding to the complexities of its non-stop party planning is Wipliance's somewhat new Scottsdale location. Three years ago, Wipliance expanded into the well-heeled area with a second office.
Over time, Travis put together a complete design and installation crew there. It's a fully functioning Wipliance office currently, minus an administration team, which is housed at the Seattle office. With a team well established in Arizona, the same types of Happy Hour and EOT events were added to the docket.
Naturally, there was a lot more involved in setting up shop in Scottsdale than finding appropriate Happy Hour and EOT venues. For starters, the Wipliance team had to bone up a bit on the culture in Scottsdale.
"We knew it would be a good market for us, as many of our Seattle clients have second homes there, but there were many nuances about the community and the climate that we had to learn in order to develop relationships, drive business, and be successful," Travis says.
"We knew it would be a good market for us, as many of our Seattle clients have second homes there, but there were many nuances about the community and the climate that we had to learn in order to develop relationships, drive business, and be successful."
— Lee Travis, Wipliance
"And just like a home remodeling project, it took longer and cost more than we initially thought to get fully up and running."
So what did they learn about the ancillary locale? Due to a more mature demographic than that of Seattle, projects often move at a slower pace. A shortage of tradespeople in the area also affects the timeframe; Wipliance adapted by adjusting scheduling procedures.
"We proceed more cautiously in Arizona so we can continue as a company to execute at a high level," Travis says.
To stay on track, Wipliance follows a standard procedure: Project managers conduct an initial walk-through at the start of a job to determine a timeline, its scheduling department coordinates all appointments, and a dedicated sales rep fields all questions and coordinates each phase of the project with the project manager.
The lifestyle in Scottsdale also differs significantly from Seattle, with outdoor spaces demanding more attention than what Wipliance had been accustomed to.
The super-sunny environment and proclivity for entertaining outdoors bodes well for the integrator, which has identified exponential growth in motorized window treatments and lighting control, including tunable white lighting, RGB colored lighting, and low-voltage lighting solutions.
Then there's the climate's impact on the schedule.
"This was something we didn't really think about, but it's affected the way we work," Travis says. "We try to stay out of attics on hot summer days and do most of our 'heavy' work early in the morning."
Logistically, operating a remote location comes with its challenges, as well. "First and foremost, we had to learn how to best communicate with a team that's 1,400 miles away," Travis says.
A huge proponent of face-to-face communication, in the beginning Travis traveled to the Scottsdale location for meetings, events, and big projects. Now that the team is "complete," and has established its autonomy "it feels like its own entity rather than an off shoot of the Seattle office," he says.
As Travis reflects on Wipliance's ambitious endeavors — the ongoing stream of special events, the growing library of videos, and the opening of a second location several states away — he can say without any hesitation that the rewards have been well worth the risks.
"Our continual growth and expansion has been one of the most diffi cult parts of my professional career, but also the most rewarding."
And there's no signs of stopping, as Wipliance proceeds with a proven business strategy that has served it well for over a decade: becoming self-sufficient in areas of design and implementation, executing dynamic marketing and promotion programs through events and video, and taking advantage of resources and talents from within. "Our team is our real success story," Travis says.