PROVO, Utah — Vivint Smart Home announces the release of Vivint Car Guard, billed as a first-of-its-kind service that allows homeowners to manage the security of both their home and car with a single app.
The new service, available through an update of the Vivint Smart Home app, allows homeowners to monitor the security, location and diagnostics of a car from anywhere and sends notifications to users if the car is bumped, towed or stolen.
Many homeowners park their cars in vulnerable places, such as on the street. In the U.S., a car is stolen every 41 seconds, resulting in about 800,000 stolen vehicles per year, according to the announcement.
With a connected home and car, smart home lights and outdoor video cameras can observe if someone disturbs the vehicle in the driveway. Such disturbances then trigger the lights to turn on, doors to lock and garage doors to close. Car Guard also allows users to arm the security system when they are away.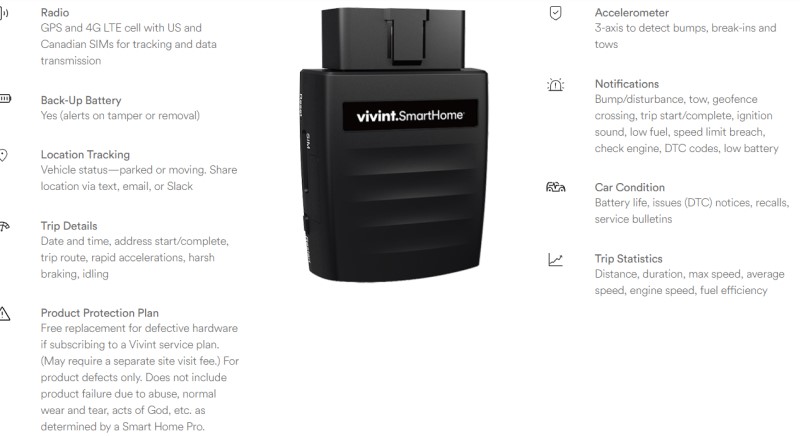 "Consumers want to protect their two most valuable assets — their home and their car," says Jeff Lyman, chief product officer, Vivint. "Connecting the car and home unlocks enhanced protection and convenience that weren't possible before."
The Car Guard device is said to be easy to install into the standard onboard diagnostics port (OBD-II) under the dashboard of most cars. The device is powered by Mojio, a leading platform and SaaS solution provider for connected cars.
Car Guard also helps locate a car with GPS tracking of the location and the direction the car is traveling in. The system even enables users to create geofences around important places such as the home, office or school and receive notifications when the car enters or leaves these areas.
Additionally, Car Guard provides reminders for regular maintenance as well as information about recalls. Likewise, parents and guardians of new drivers can receive alerts about smart driving analytics such as trip history, hard stops and rapid accelerations.
Users can purchase Car Guard along with a Vivint smart home system for integrated home and car security, or separately as a standalone service. Pricing starts at $199 for the device and $9.99 per month for service.