The Uberization of Smart Home Services: Julie Jacobson's 'CEDIA Talk' at ISE 2018
Video: CE Pro's Julie Jacobson presents a 30-minute "CEDIA Talk" during ISE 2018, encouraging integrators to embrace some of the principles that make Uber and Amazon so attractive to consumers.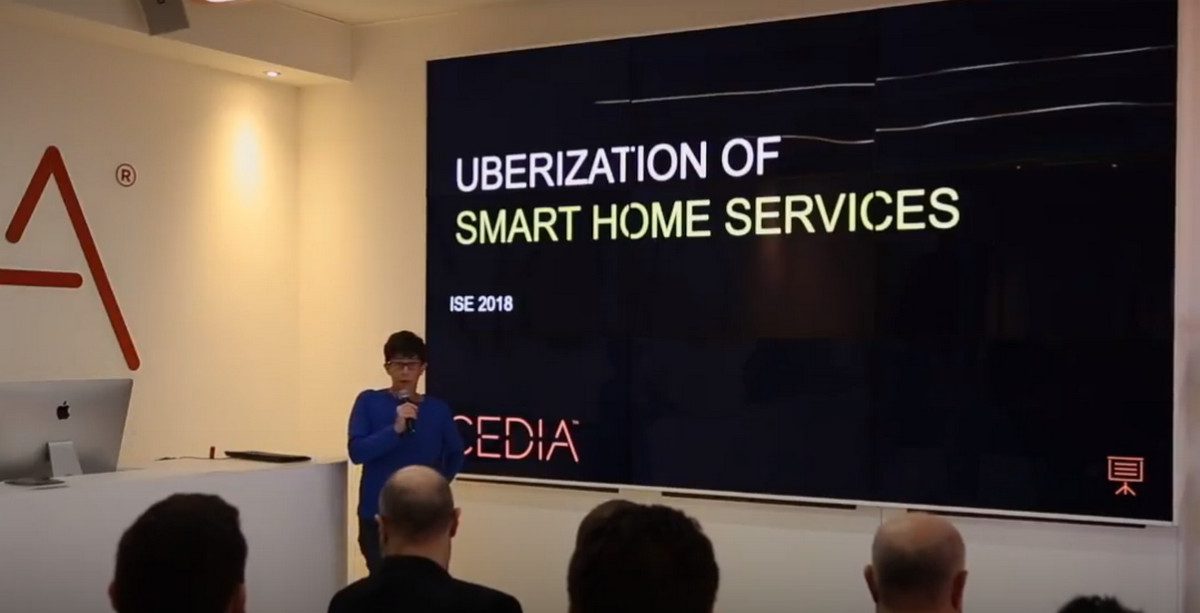 When CE Pro's Julie Jacobson talks about "Uberizing" your smart-home business, she first cautions: Don't be so literal.
"We're not talking about on-demand like Uber," she said during a 30-minute CEDIA Talk at ISE 2018. "Take the best of what some of these companies are doing, and the best of what you're doing, and try to make a nice blend for your customers."
She said the presentation was not a lesson on how to be like Uber or how to sell DIY products, but more "an exercise in business creativity" that hopefully would inspire integrators to "experiment" with new business models for a new era of smart-home delivery.
Even so, she did provide practical ideas for responding to the on-demand economy – like paring down product offerings, standardizing on programming, creating simple and predictable pricing models, and doing everything possible to keep customers from actually having to talk to a real person.
The concept of "low-touch," frictionless transactions dominated much of Julie's presentation.
She recalled the hate mail from a decade ago when she wrote about buying a big-screen TV from Amazon.
"You must hate custom," some readers charged. "I can't believe you ordered from Amazon just to save a few dollars."
Ten years later at ISE, she explained, "Well guess what. I don't know if I saved a few dollars, and it didn't really matter. What mattered is that it was just so simple. I went online, I searched a few things, I pressed a button and the next day it was delivered. It was fine. Done deal. I didn't have to talk to anyone."
Even today, she says, most home-technology integrators think their clients and prospects want to be pampered by doting salespeople and project managers, when really they just want to place their order, get the job done and paid for, and get those installers out of there.
RELATED: 10 Indications 2018 Will be a Big Year for Smart Home Installations
"We're still of the mentality in the industry that people like to talk to us," she says. "They don't. Nobody wants to talk to us."
She likened the integrator's business process today to that of a taxi company's back in the day, when customers would call the dispatcher, get some vague idea of when a cab might arrive, call again when the cab doesn't arrive, wonder which cab is theirs, and then have absolutely no idea how much the journey would cost with the metered fare and all the surprise "extras." The only virtue of the taxicab model is that riders could get a blank receipt and pad their expenses. With Uber, the record is irrefutable, down to the penny … and the driver and the timing, and the route ….
Ultimately, it's not about how low their prices are but rather how easy it is to do business with them.
'We Can't Do That'
When discussing the virtues of businesses like Amazon and Uber, Julie says, integrators typically roll their eyes and insist, "We can't do that."
She wonders: What is that? What do they offer that is so special? Ultimately, it's not about how low their prices are but rather how easy it is to do business with them. What they do is make it simple for consumers to:
Learn about products and services
Vet the company and the individual providers
Place an order
Schedule delivery and services
Receive services
Pay for everything
Complain by way of feedback and reviews
And consumers never have to talk to anyone, except when the technicians arrive to mount the TV or install a smart-home system.
When integrators say they can't compete, their reasoning typically revolves around these four fundamentals:
They sell and install the easy stuff. What we do is too complicated for those kinds of models.
They have unrivaled logistical systems and limitless IT resources. We couldn't possibly match their efficiency.
They can offer unbeatable prices because of their efficiency, as well as access to inexpensive in-house and contract labor, and of course massive scale and leverage with vendors. So we have to compete on specialty products and customized service.
They can provide products and services on-demand, or at least very fast, because of their massive fleets, flexible drivers and local distribution centers. We don't keep much inventory on hand, and our labor pool is fixed and finite.
Julie systematically addresses all four of these sticking points in her presentation (video above).
She will present an expanded 1-hour version of "Uberization of Smart Home Services" at the Florida Technology & Business Summit (CASTLE Summit), May 1-3 in Ft. Lauderdale, Fla.