When Vivint originally announced it was entering the pro install market, it came as a bit of a shock to many security integrators. Now, the company is hoping to provide a valuable resource to both established security integrators and residential integrators who also install security products. Vivint discussed the topic during its CEDIA Expo TechTalk and focused on how CE pros can grow their businesses via the Vivint Smart Home Authorized Pro program.
The Vivint program is built specifically for integrators with the intention of expanding their RMR. But you don't have to be a security integrator to benefit from the program, as Vivint works with residential integrators as well, providing training to those who want to learn more.
"I've seen presentations on selling and selling to this channel, but I've never seen anything as scientific as how Vivint presents it. It's based on years and years of learnings from the field," says presenter and CE Pro founding editor Julie Jacobson. 
An important thing to note about the service is that it is not about selling Vivint, it's about integrators selling themselves. This means taking Vivint's training and using it beyond just Vivint's products.
Vivint Handles The Installation
Perhaps the best news for over-worked integrators is that Vivint handles all of the security installations. The integrator is still the first one in the door, establishing a relationship with the customer, but then Vivint comes in and does the installation.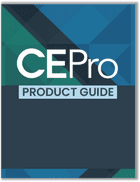 CE Pro's 2022 Product Guide showcases some of the latest and innovative solutions from manufacturers serving the custom electronics industry in a cross-section of categories.
Download the guide now!
From there, both Vivint and the integrator share in the revenue from the products. They also split the installation fee and any RMR for the life of the customer. Vivint handles any truck rolls, warranties, service, phone calls, etc.
"We create a registration of that homeowner against the dealer who sold it and it's a true revenue share, so even if a homeowner decides to add an additional camera two years into their contract, they will see the associated dealer margin paid to them on the 15th of the month directly deposited into the account. We pay them for the life of the client," comments Ivie.
This allows integrators to stop focusing their time on security installs and start focusing more on growth.
"I see the real potential of this is for these guys to go out and grow their companies, leveraging a massive organization without having to take on additional risk, overhead, or make additional investments into training new technicians," says Ivie.