Spears & Munsil Benchmark Test Disc Provides an Affordable Way to Evaluate 4K HDR TVs
Spears & Munsil created specific test patterns from scratch to help integrators and end users diagnose the performance characteristics of UHD 4K TVs.
Photos & Slideshow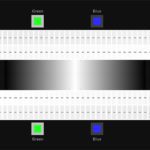 ---
For years the Spears & Munsil series of test discs have provided the public with an affordable way to evaluate home video products. The new $40 Spears & Munsil UHD HDR Benchmark disc provides integrators and end users with the capabilities to test 4K, HDR and more.
Spears & Munsil says its new release builds upon the company's previous products by adding new features and patterns to the UHD HDR disc.
Augmenting the existing materials, the new test patterns are designed to help professional integrators and others identify hardware and software weaknesses and correct them to maximize the performance of video systems.
"Every pattern has been rethought with high dynamic range and UltraHD in mind," says Stacey Spears, co-creator, Spears & Munsil UHD HDR Benchmark.
"We believe this disc completely changes the game for test and evaluation discs, by making use of all the features and range that HDR and wide-gamut standards can offer."
Spears & Munsil Disc Bundles Together Plenty of Patterns
Providing value, Spears & Munsil says that almost every pattern included with the UHD HDR Benchmark disc includes multiple test pattern versions.
These multiple patterns contain the appropriate metadata with their respective peak levels adjusted for a range of HDR display technologies.
According to Spears & Munsil, the unique aspect of these test patterns is that many of them were created from scratch using the team's in-house software.
"We build every pattern using our own tools, written from scratch in C++," comments Don Munsil, co-creator, Spears & Munsil UHD HDR Benchmark.
"If a pattern needs to be generated directly in a very specfic color space and data format, we generate it in that color space and format; we're not limited to what you can do with off-the-shelf graphics software. In a few cases we've had to create our own format, because no existing file format could represent the pattern we needed to create."
Spears & Munsil point out the existing test patterns that are included with the disc have also been updated.
"We've created the very best single pattern for evaluating which color space to output from your UHD player or set-top box (STB)," comments Spears.
"The problems of artifacts caused by color conversion and video processing remain as relevant as ever for HDR and UHD, but HDR adds exciting new problems to old ones. We rebuilt the color-space evaluation pattern from scratch, and put in one place everything an end user or professional evaluator needs. Every pattern we make goes through that same process, and is refined again and again to make it clearer, simpler and more precise."
Related: ABI Study States 4K Poised to Serve as the Public's Preferred Video Format
Spears & Munsil emphasize the patterns bundled together on the new UHD HDR Benchmark disc can be used by professional calibrators, custom integrators and enthusiast consumers to complement spectroadiometers and color meters.
"These patterns are tested by real industry professionals multiple times over multiple iterations bedofre we put them on disc," says Spears.
"These are the same patterns used regularly by the same people who produce your displays, [media] players and movie content."
Moreover, the duo state that HDR was designed for future applications, as well as today's content, which means that HDR will adapt to future market changes to allow tomorrow's content can be scaled using future displays' color depth and dynamic range capabilities to their fullest parameters.
"HDR represents a new way of thinking about video," adds Munsil.
"With a completly different approach to transfer functions or what we used to call gamma, which means that a bunch of old patterns just don't work anymore. Video is now encoded for very high-brightness devices and then [it] has to be remapped by the display to fit that display's actual capabilities.
"Needless to say every display does it a little different now. With the UHD HDR Benchmark [disc] enthusiasts and professionals will be able to get insight into exactly what the display does when it makes those important remapping decisions."