Wireless indoor/outdoor audio systems specialist Soundcast built upon the VGX Series offerings it introduced at CES 2017 by adding four products to the line-up at CES 2018 this week in Las Vegas.
The company showcased its VG1 and VG7 speakers last year and augmented the indoor/outdoor series with three more loudspeakers and the line's first accessory product while exhibiting in the Venetian Towers at this year's expo.
The company notes that it outfits speakers in a durable exterior equipped with shock absorbing and weatherproofing so users can bring quality sound to any environment. Having brought Bluetooth to the portable speakers last year, the company made the new flagship VG10 even more attractive by incorporating DTS Play-Fi.
Here's a brief look at Soundcast's new VG10, VG5, VG3 and VGtx products, which range in price from $100 (for the VGtx accessory) to $700 (VG10).
4 New VG Series Products from Soundcast
VG10: The VG10 is the first portable, outdoor Bluetooth speaker with DTS Play-Fi technology. Pair the speaker with over 30 interoperable speakers, soundbars and receivers in the Play-Fi ecosystem and enjoy high-quality lossless audio in any environment. Featuring long-lasting battery life and weatherproofing, the VG10 enables listeners to utilize DTS Play-Fi technology in the outdoors for the first time. ($699.99)
VG5: The VG5 includes features such as a capacitive touch interface, fuel-gauge LED array and weather-resistant exterior and, according to the company, balances huge party-filling sound and portability. Powered by a long-throw, down-firing 6-inch woofer and two 3-inch full-range drivers, the VG5 produces low-end booming sound. ($499.99)
VG3: Offering a capacitive touch interface to power the speaker off and on and a fuel-gauge LED that displays power, battery and volume, the VG3 provides ease of use for consumers and a comprehensive feature set for an outdoor Bluetooth speaker. At 3.5 pounds, the lightweight VG3 is designed with two 1.5-inch full-range drivers and a long-throw, 3-inch down-firing woofer for rich sound. ($299.99)
VGtx: Marking the first accessory Soundcast has released since the Bluecast, which enabled Bluetooth capability to the legacy Outcast and Outcast Junior products, the VGtx (shown below) allows connection from optical or digital input to any Bluetooth device. The long-range transmitter enables speakers to extend beyond the standard 30 meters and increases to 50 meter transmission and features optical pass-thru for adding supporting audio to any setup that includes a soundbar. The VGtx is accessible through a 3.5mm aux input. ($99.99)
"After years of closely studying the market before launching the VGX series, we've applied Soundcast's expertise in designing and engineering premium audio products to create a full line of products that offer detailed and robust sound in the outdoors," said Charity Hardwick, vice president, sales and marketing.
"Showcasing the entire VGX Series at CES 2018 is the result of years of extensive market research and embodies the notion that there shouldn't be a need to sacrifice really rich audio for a rugged, weather-resistant enclosure."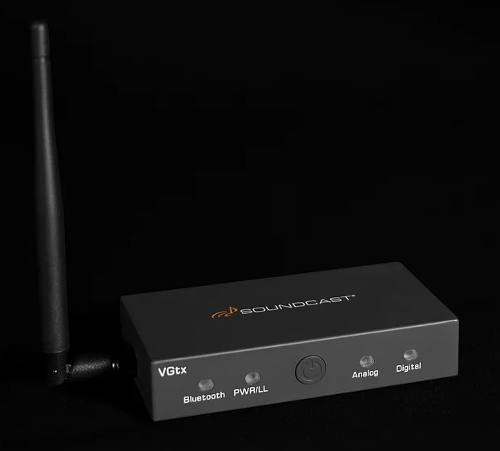 If you enjoyed this article and want to receive more valuable industry content like this, click here to sign up for our digital newsletters!