Sonos Kills it with New Sonos Amp, Seriously Open API, Sonance In-Walls, Channel Love
In grand gesture to the smart-home installation channel, Sonos launches powerful new Amp, opens API with plentiful tools for all who care to integrate, launches in-wall/in-ceiling speakers powered by Sonance and launches a genuine, generous dealer program.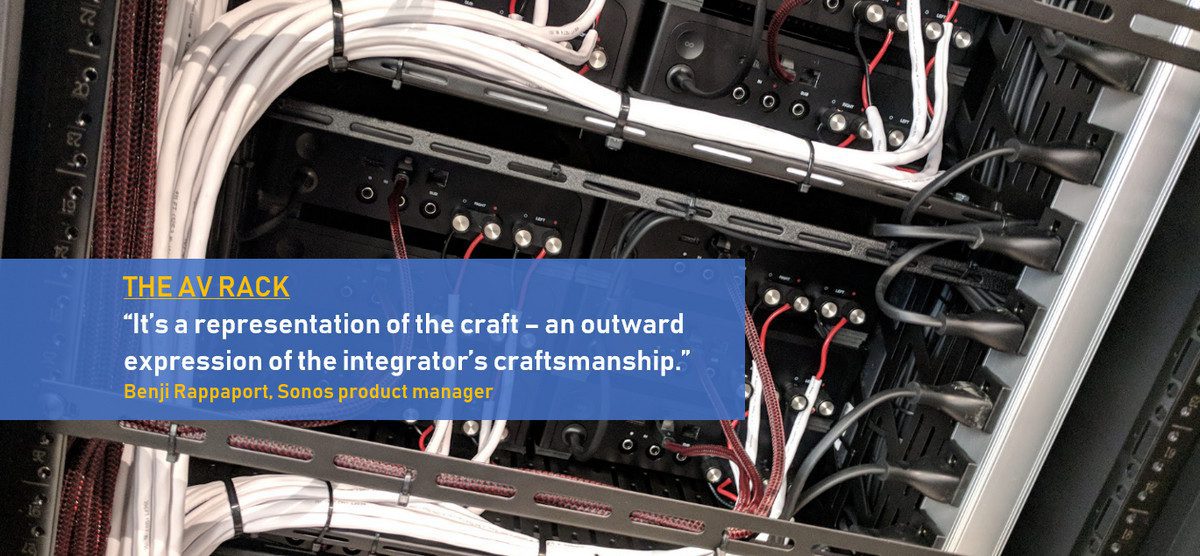 Photos & Slideshow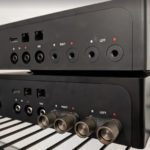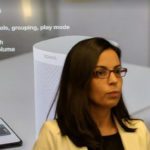 ---
Sonos (Nasdaq: SONO) could very well win CEDIA Expo 2018 with its brand new, pro-centric Sonos Amp, Sonance-powered in-wall/in-ceiling speakers, an open API for smart-home integration and a real dealer program that offers unimaginable benefits like early access to products before they're released to the masses.
Sonos brought a small group of reporters to its Boston offices recently to reveal these new products and initiatives. I thought I was in the wrong building because people were saying things like "Respect the rack" and "early access to product" and "better lines of communications."
At one point, Sonos product manager Benji Rappoport said the unthinkable: "Now, for the first time across the platform, we've made it easy to disable Wi-Fi."
The two integrators in the room – CEDIA board members Matt Scott and Heather Sidorowicz – wept.
Interesting Benjisms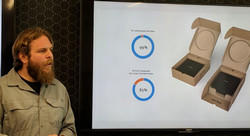 In the words and sentiments of Sonos product manager Benji Rappoport:
"We tested the heck out of it." Sonos tested for heat, poured cola into it and shoved metal objects into it.
Naturally, while Sonos was on the road, they heard complaints from dealers. "So why did you come back to us with all these complaints?" they ask. "Because you make really reliable product."
New for the subwoofer output – control of crossover frequency from 50 to 110Hz in 10Hz increments.
The amp has two Ethernet ports. "If we're going to borrow a port from the router, we're going to give them a port back."
Sonos omitted an IR port on the amp in favor of a generous IR receiver that wraps around the unit from the front to the bottom for utmost flexibility. Sonos "didn't try to hide" the shiny receiver because "It's just too important not to miss the receiver" with an IR signal.
The Sonos Amp is not packaged with cables because the product is too flexible and too customizable. Leave it up to the pro to select their own cables and adapters.
The amp packaging is recyclable and easily breaks down flat – a treat for any integrator that unboxes a bunch of these things at a time. The recyclable insert inside the boxes stack up for nicely for easy disposition. "We even thought about the unboxing experience from a dealer perspective. We want them to be able to throw it away, but still get a good unboxing experience."
The feature arose after an extensive "listening tour" that took product and marketing managers around the country to dealers' offices, jobsites and A/V showrooms.
"This is the year of Installed Solutions," Rappoport said, noting the new moniker for Sonos's custom-installation efforts.
Sonos Amp
Sonos hasn't built a new amplifier since introducing Connect:Amp (ZP120) a decade ago. To the company's credit, the product has stood the test of time – a Sonos hallmark. They don't make a lot of products, but the ones they make can last forever.
Their products typically are over-engineered to last five or 10 years, prepared for unexpected contingencies like the proliferation of voice control. Indeed, the Connect:Amp was developed long before Alexa, but nevertheless handles the platform beautifully.
But it's time for a new amp after all these years – something perhaps that supports AirPlay and sits nicely in a rack.
For 10 years integrators have been spec'ing the ZP120, all while bemoaning a manufacturer that "doesn't care about the channel," and cursing a form factor that wreaks havoc on an A/V rack.
When it came time to build a new model, Sonos turned to the channel: "Thousands of installers have installed thousands of Connect:Amps," Rappoport explains. "Let's go ask them: What's working, what's not working?"
He actually said that, and they actually did it.
The result is Sonos Amp ($599 retail), which seems to provide everything dealers have requested for many years.
"Genuinely it's the most exciting time of my nine years," says Andrew Vloyanetes, head of U.S. for Installed Solutions, and recipient of more than a little hate mail from dealers who swear they'll never do business again with Sonos because they "hate the channel."
This summer, Sonos introduced some 700 dealers to the new amp during regional training events, where Vloyanetes experienced some unfamiliar responses – hugs and high-fives.
"We got standing ovations and thank yous," Vloyanetes says, as if he still can't grasp the phenomenon. "When we talked to them about being able to shut off Wi-Fi, they said, 'Thank you so much. You listened.'"
'Respect the Rack'
Integrators (the good ones anyway) take great pride in the look and feel of their equipment racks – all black and flush. The ones who stack Sonos's existing amps in there must cringe. They do their best to make the white, four-legged boxes blend in with special Middle Atlantic plates, but they still look goofy as heck amid all those perfectly aligned black boxes.
It wasn't until this listening tour that Sonos really recognized the importance of the A/V rack as much more than a repository for gear.
"It's a representation of the craft – an outward expression of the integrator's craftsmanship," Rappoport says.
Sonos went to work on an industrial design that would work well in a rack – from the unremarkable black face to the thermal properties to the wiring accommodations.
"The hero of the amp is the back panel," Rappoport says.
Sonos went with removable binding posts on this iteration of its amp to facilitate easy wiring – banana plugs with thumb screws.
"Phoenix-style connectors are great for Arduino," says Rappoport in conveying how Sonos Amp is not a hobbyist's toy. "But they're a nuisance if you're installing many a day or week."
Alas, the new amp lacks rack ears, but does include started threaded fasteners for rack-mounting.
No, the new amp is not available in white. This baby is meant for a rack.
Power and Efficiency
Power – clean, efficient power and lots of it — is everything in a high-quality amp. Sonos turned to Qualcomm's DDFA digital technology, "one of the highest-quality digital amps you can find," according to Rappoport, who adds that you usually don't find this stuff in consumer-grade products.
To the amplifier, Sonos added its own discrete output stage as well as a custom power supply to squeeze "all that power into a tiny form factor," Rappoport explains.
The result is a 1.5 RU amp that is twice as powerful as the Connect:Amp – 125 watts per channel into 8 Ohms – that can "drive really difficult-to-drive speakers in a way that makes them sound musical," says Rappoport.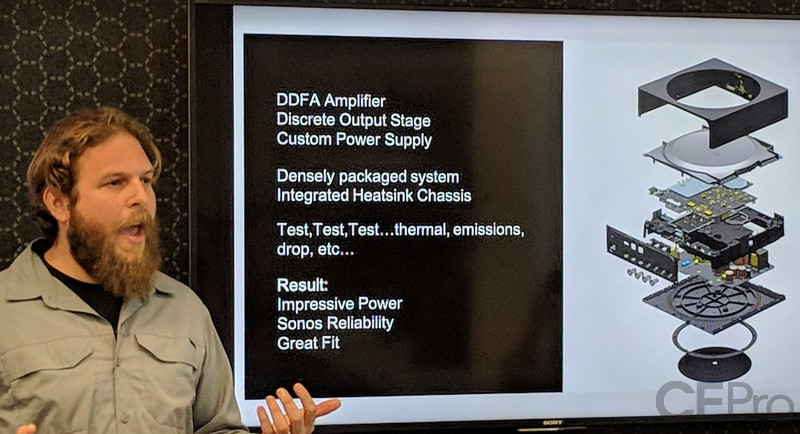 The fanless product is passively cooled; a circular indentation on the top of it allows for warm air to escape. The amps "had to be stackable even if cranking at full power," Rappoport says.
Just in case, Sonos partnered with Middle Atlantic to create a mechanism for communicating thermal performance in BTUs per hour.
"It matters for the entire system," Rappoport says. "We want to be good citizens" in a rack environment.
TV-Friendly
One of the biggest eye-openers on the Sonos listening tour was the fact that dealers had "TVs actually connected to Connect:Amps," Rappoport says. "I had no idea this was happening."
The scheme requires adapters and converters and other gizmos, which can cause sync problems, not to mention a gnarly mess.
"I was ashamed for integrators and Sonos," he says.
The new Sonos Amp features an HDMI ARC (audio return channel) for connecting to TVs with a single cable – just as with the new Sonos Beam soundbar – preserving cable cleanliness and audio quality.
Flexible Configurations
Sonos built its new amp for flexibility in a variety of environments.
"I don't know anyone else doing 4.1 with HDMI ARC."
— Andrew Vloyanetes, Channel manager, Sonos
The product supports four speaker channels and a subwoofer, for a maximum 4.1 configuration. In a surround-sound environment, the onboard DSP takes the center channel, parses it to the left and right channels to create a "phantom center channel," as Sonos calls it.
In a surround-sound demo at the Sonos office, we could hear dialog clearly through the L/R speakers.
Rear speakers can be hardwired to the amp or connected wirelessly – an announcement that elicited enthusiastic nods from the press pool.
"I don't know anyone else doing 4.1 with HDMI ARC," Vloyanetes says, marveling at the "amount of power and size that it is, and HDMI connectivity and all the Sonosness in it."
Open API
When Sonos crippled unsanctioned integrations a year or two ago, the company claimed it had an "open API," which really was neither open nor an API. Instead, Sonos worked with individual manufacturers to allow them to expose some basic Sonos data and control functions – playlists, volume controls, transports and not a whole lot more.
Now, it's the real deal – freely available and easily implemented. Sonos itself uses the API for its own development, and it's already used by several Sonos partners in the cloud realm – streaming services, voice control and the like. Starting in September, however, Sonos will have a whole suite of developer tools for home-control vendors.
There's a whole developer program around it, documentation, SDKs, simple apps to toy around with, vast knowledge base, and genuine developer community.
"We use the platform for our own integration, so we know it's a robust and exciting platform."
— Lidiane Jones, VP software product management, Sonos
"We use the platform for our own integration," says Lidiane Jones, VP software product management, "so we know it's a robust and exciting platform."
She explains that Sonos provides clear documentation on things like "how to manage sound," based on "everything we've learned over 10 years about Sonos listening."
Before you get too excited, no, you still won't be able to search Sonos music through a third-party home automation system, but developers will have access to so many other goodies that were previously unavailable to third-party systems.
Some of these goodies are enabled by the new amp, which provides such features as line-in switching. Through the API, developers can add this function to an automation system.
Additional features available through the API include volume pass-through, maximum volume, grouping, playback controls and one super-nifty features: notifications.
Sonos considers a "notification" to be something like playing an audio clip, "Daddy's coming home," when Daddy's gps indicates he's left the office.
Sonos's work in this function is to mute the audio when the notification is sent, and then return to playing when the clip is over.
It's not all that simple, the way Jones tells it. Sonos has learned over the years "how to disrupt the listening experience."
It's up to developers to create the useful scenarios that would trigger a notification. The implications for commercial installations are rather enticing – muting the sound for emergency notifications, for example.
One of the first big implementations of the API will be IFTTT integration. Imagine what you can do with notifications, line-in switching and other services now exposed to all comers. You'll be able to do a whole lot more than "Search Craigslist for Sonos."
The Sonos Developer Portal goes live Sept. 6.
Controlling the User Experience
One big reason Sonos has been so successful is the company's rigid oversight of the user experience … to the exclusion of third-party integration.
So doesn't an open API threaten that control? Sonos is willing to take the risk. Anyone is free to use the API, but only tested and certified implementations will earn the "Works with Sonos badge."
Dealer Program, Sonance In-Wall Speakers
There is much more to the big Sonos launch, including a robust dealer program and the company's first in-wall speakers, developed with and co-branded Sonance.
Stay tuned for the rest of the Sonos news AVAILABLE HERE.
Sonos Amp – Features and Specifications
The all-new Sonos Amp is the versatile amplifier to power all your entertainment and bring the sonic content you love to every room of your home. The new Amp has been redesigned to deliver more power, more versatility, and enable new experiences through the platform.
With Amp, play your favorite streaming content on Sonos, connect to your TV through HDMI Arc, or plug into any audio device, 

including a turntable to power your vinyl collection.

The new Amp has been redesigned to fit within any home environment, whether as a compact and elegant solution for in-rack AV 

installations, wall mounted, tucked under furniture, or on display in a room.

Packing 125 Watts per channel, more than twice the original Connect:Amp, the all-new Amp delivers high fidelity sound to even the 

most demanding speakers, up to four on a single amplifier.

Use Sonos Amp to add stereo sound to your TV, add wireless rears to a Sonos home-theater setup or use two Sonos Amps for 

surround sound.

Sonos supports over 100 services. Choose the ones you want and listen to music, podcasts, radio, and audiobooks. You can also 

play all the music stored on your computer or other devices.

Sonos has built a software platform that enables hundreds of partners and gives our customers unparalleled freedom of choice. Amp now features AirPlay 2, access to home automation partners, and voice control when wirelessly connected with Amazon Echo or Alexa-enabled devices, including Sonos One and Beam.
Use the Sonos app on your phone or tablet, your TV remote, keypads, AirPlay 2, or your voice with Amazon Echo and Alexa-enabled devices.
New APIs and deeper integrations with our platform partners let you create seamless smart home control.
Sonos is a system. Start with Amp and expand into more rooms with additional speakers through WiFi.
Sonos regularly updates with new features, voice services, and API integrations, so your options are always up to date and improving.
---
General
System Requirements
Passive speakers with speaker wire, broadband internet and Sonos app
Audio Amplifier
Class-D digital amplifier
Amplifier Power
Speaker Connections
Custom Banana plugs accept 10-18AWG speaker wire (2)
Line-In Sources Supported
Audio device with line-level analog RCA output or optical digital 

output (optical adapter required). TV device with HDMI ARC or 

optical output (optical adapter required)
Subwoofer Output
Auto-detecting RCA type with adjustable crossover (50 to 110Hz)
---
Music Access
Music Services Supported
Sonos works seamlessly with most music services, including Pandora, Spotify, Deezer and SoundCloud. For a complete list, see sonos.com/music
Internet Radio Supported
Streaming MP3, HLS/AAC, WMA
Playlists Supported
Napster, iTunes, WinAmp, and Windows Media Player (.m3u, .pls, 

.wpl)
---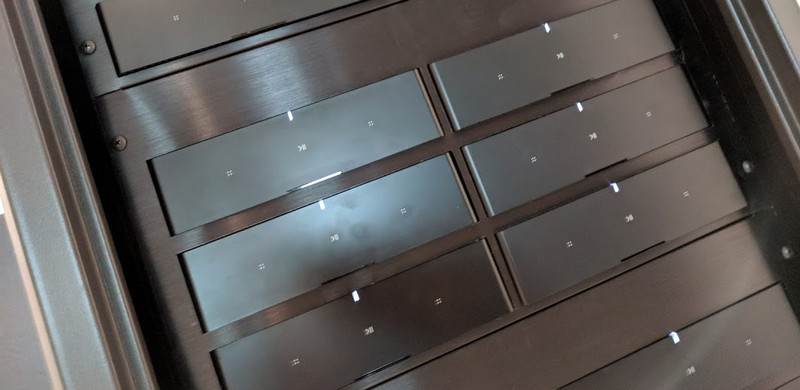 Physical
Dimensions
8.54 inches (or 217mm) x 8.54 inches (or 217mm) x 2.52 inches 

(or 64mm)

Standard rack fit
Product Finish
Matte black with black and silver banana plugs
Weight
Touch Controls
Touch controls for volume up/down, previous/next track (music only), play/pause. LED light indicates status.
---
Power and Networking
Wireless Connectivity
Connects to your home Wi-Fi network with any 802.11b/g/n router for uninterrupted wireless streaming. 802.11n only network configurations are not supported—you can either change the router settings to 802.11 b/g/n or connect a Sonos product to your router
SonosNet Extender
Functions to extend and enhance the power of SonosNet 2.0
Ethernet Ports
Dual Ethernet ports can connect Sonos Amp to a wired home network and allow for connection of additional Sonos players
Pricing and Availability
Available starting February 2019. (Available to U.S. channel December 1, 2018)
$599 / £599 / €699