As part of its efforts to simplify device setup and provide its users with increased choice and flexibility, Samsung has announced it will be teaming up with Amazon for users to better use SmartThings and Alexa in tandem with one another. This collaboration will allow users to tap into the Matter multi-admin feature while also enabling a streamlined onboarding process through the creation of a local Thread network.
This collaboration is built upon upcoming Alexa APIs enabling bi-directional multi-admin simple setup and Thread credential sharing for Matter devices. According to Samsung, these cloud-based APIs are designed to help simplify the more complex aspects of onboarding devices to a network, allowing users to add Matter devices to their preferred services with the need of complex workarounds.
Earlier this month, following the official release of Matter, Samsung announced it will also be expanding its partnership with Google to enable similar capabilities across SmartThings and Google Home. Both announcements arrive following Samsung's official launch of Matter functionality across all its smart home devices.
Users that opt-in to multi-admin will be able to control connected Matter devices through both SmartThings and Alexa without having to set up devices on each smart home system. By sharing Thread network credentials, users will then be able to tap into a more streamlined setup for other Thread-based devices.
Samsung also notes that the overall process will result in a more reliable smart home experience through wider coverage on a single Thread network.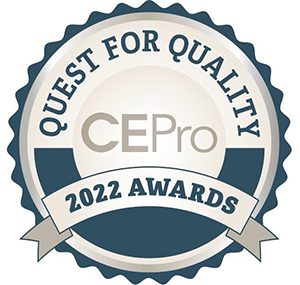 CE Pro urges integrators to recognize their suppliers that go above and beyond to deliver premium support and service. Cast your vote today to recognize the services (not the products) from your favorite manufacturers and distributors.
Cast your vote today!
"SmartThings customers have long enjoyed using Alexa's voice capabilities to give them more ways to control the home. We are excited to work with Amazon to help simplify the smart home experience and provide more choice to our mutual customers on the types of devices and services they use in their homes." said Jaeyeon Jung, Corporate Vice President and Head of SmartThings, Mobile eXperience Business at Samsung Electronics.
"This collaboration ultimately provides further interoperability and will help ensure the potential of Matter is fully realized."