Mark Buzzard, principal of Liberty Bell Smart Home, already had plans to overhaul his 12-year-old Sacramento, Calif., showroom when Control4 (Nasdaq: CTRL) invited him into its Certified Showroom program last year. That invitation was just the kick in the pants Buzzard needed to get going on his new space … and next-gen security and home-automation business.
"Our space was fairly dated anyway," he says (see the 'before' pics), "so this just gave us an excuse to move forward."
For more than a decade, Liberty Bell's space was small and dark, according to Buzzard: "It was 'in' at the time, but there were a lot of dark colors, and the home theater looked like a man cave."
The company spent six figures just to overhaul the theater, even stealing space from the warehouse. Custom installation manager Josh Morgan spent more than six months engineering, creating drawings for contractors, and getting his own hands dirty in the build-out.
Today, Liberty Bell is light, bright and welcoming. There's more to it than that, though.
"I just wanted it to be super-simple," Buzzard says. "You walk in, and we show the interfaces. We're totally simplifying the process. We redid all the 'systems' with 'packages.'"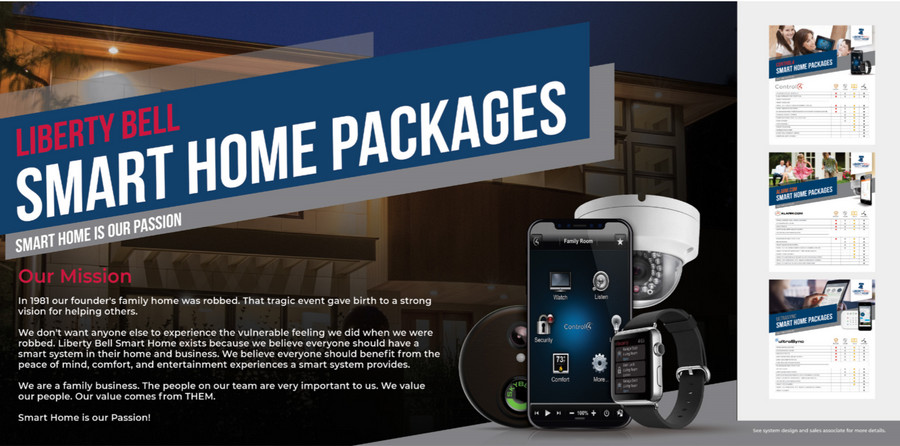 Liberty Bell now promotes Gold, Silver and Bronze packages within each of its three core offerings – interactive security and automation with Alarm.com and Interlogix Ultrasync, and full home control with Control4.
"It's so easy to sell from that. It's just so easy," Buzzard says. "We feel fully confident in the space. It feels like our operation is more legitimate."
With the fresh new space, Liberty Bell has been marketing itself with all new messaging, Buzzard explains: "New leadership, new vision, young tech company, fresh start …."
#C4Yourself – The Grand Re-Opening
Founded in 1981, Liberty Bell re-opened the doors to its newly "young tech company" on May 31, when it hosted a grand re-opening party on #C4Yourself Day. Liberty Bell joined some 70 other Control4 dealers to kick off the certified-showroom program, with about half of all "certified" companies participating in the big day.
Headlining the event was the band Thunder Cover, "Northern California's best live cover band," which Buzzard discovered at a Cinco de Mayo event a month prior to #C4Yourself day.
About 200 guests streamed into the Liberty Bell event, including customers, prospects and trade partners. Buzzard said before the event he expected about a dozen home-building companies to attend — "people that I have relationships with already, and a few that we want their business."
Liberty promoted the event across social media and through phone calls and flyers.
"Control4 is doing a lot of marketing as well," Buzzard said before the soiree.
In fact, Control4's marketing was one motivation behind Liberty Bell's participation in the showroom program to begin with. Control4 began a telemarketing and lead-generation program about three years ago, and has ramped up the program significantly since then. Today, Control4 passes "warm leads" only to dealers with certified showrooms.