Review: Emotiva Airmotiv E2 Speakers Offer Affordable Dolby Atmos, DTS:X Surround Sound
The versatile $459 per pair Emotiva Airmotiv E2 surround speakers can be configured to meet a variety of home theater applications.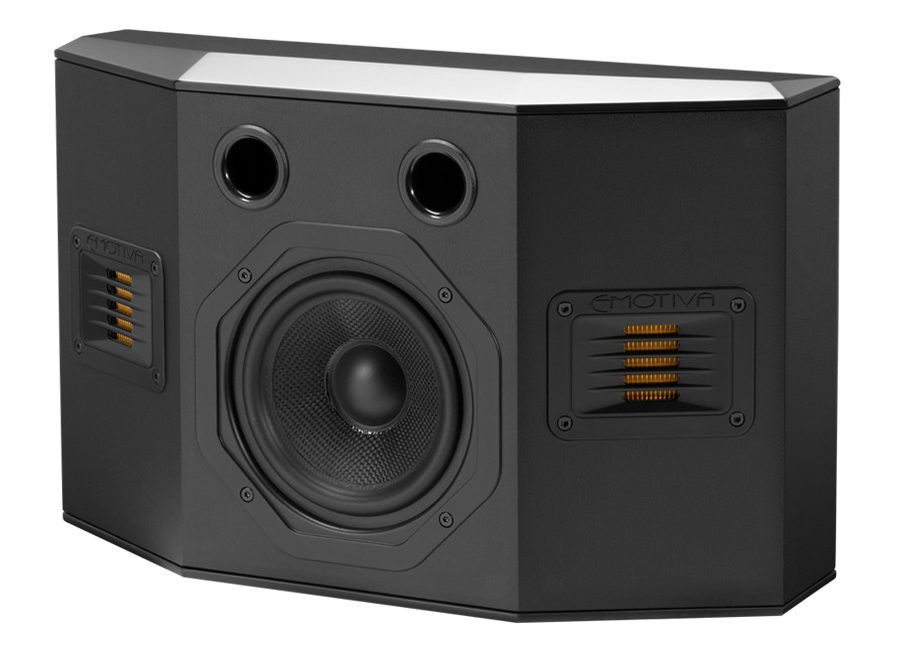 Helping to drive the resurgence of home theater from a product perspective, Emotiva's $459 per pair Airmotiv E2 surround speakers complement just about any multichannel configuration.
The versatile Airmotiv E2 is a modern-looking speaker that backs its looks with state-of-the-art, consumer-friendly performance.
Through its plethora of setup and placement options, the speaker delivers some of the highest levels of value in the entire home theater category.
Airmotiv E2 Features and Installation
Designed to serve as a rear surround or side surround speaker, the Airmotiv E2 measures approximately 10 3/16-inches long by 15 1/16-inches wide and 5 9/16- inches deep.
The 11-pound, black-finish speaker comes with wall-mounting hardware and a frequency response of 65Hz to 28kHz.
The 8-ohm Airmotiv also uses a multi-driver array with a 5 1/4-inch woofer, along with a pair of ribbon tweeters. Through the speaker's advanced crossover and configuration options, integrators can set the pair of tweeters and woofer to operate as a dipole, bipolar or "inverse bipole" speaker.
Features
Employs a single 5 ¼-inch carbon fiber woofer and a pair of 32mm folded-ribbon tweeters.
Employs a heavily braced MDF enclosure that includes a 25mm-thick front baffle
Precision crossover network with audiophile-quality film capacitors and air-core inductors
Integrators can deploy the Airmotiv E2 as a side and/or rear surround.
The speaker operates as a bipole, dipole or as an inverse bipolar speaker.
I tried each of the speaker's operating modes by setting up a few pairs as side surrounds and rear surrounds, with Onkyo and NAD A/V receivers.
After finishing the cable connections, I went to the speakers' rear panel, where there is a pair of switches near the bi-wire binding posts. The switches aren't marked, but they correspond to the tweeter closest to their locations.
I listened to the speakers in each of the three modes, starting by moving the switch to the left to run the speakers in a bipolar pattern.
Later I flipped the switches to the right to operate the tweeters out of phase in a dipole mode, and I closed my listening out by setting the speakers to run in Emotiva's "inverse bipolar" mode.
Performance and Final Thoughts
Listening to a variety of content including Game of Thrones (from broadcast HBO) and Cars 3 (on UltraHD Blu-ray), I found the speaker's bipolar mode to provide a more "up-front" presence than the bipolar speakers they replaced.
This characteristic provided a more immersive listening experience, especially once I had moved onto some Dolby Atmos demo content such as Shattered, Horizon, and Audiosphere.
Switching the operation mode to dipole, I listened to the same Dolby Atmos demo pieces and the Unbroken demo clip.
To my surprise—since I was previously not a fan of dipole speakers—I found that I preferred the dipole mode over the bipolar mode in my multimedia space. I found the content to have a greater presence than the bipolar mode, and that resulted in a more immersive and balanced listening experience.
Integrators should consider demonstrating the various operating modes when selling these speakers. It could be a nice, interactive way for consumers to experience audio terms and technologies they may have read about, but never had first-hand experience within a comparative environment.
Later I moved on to the "inverse bipolar" mode.
Related: 11 Audio Demos That Rocked CEDIA 2017
Building upon the content I had used for the other modes, I used the same Atmos content, and I added the Game of Thrones "Wildfire" Atmos disc.
In addition, I checked out Jurassic World and Fast and the Furious clips from a DTS-HD Master Audio demo disc. I also tried a demo clip from a DTS:X demo disc of the movie The Last Witch Hunter and found it an interesting operational mode.
Watching normal broadcast content like Boston Bruins hockey games, I thought the speakers helped deliver a more "game" like experience. I could hear pucks hitting sticks, players yelling instructions to one another, crowd noises, and more.
In my experience, the inverse bipolar mode provided the presence of the dipole mode but with slightly better imaging.
Accessing the three modes, I found I preferred the dipole and inverse bipolar modes, and would be happy with either mode as a choice within my media system.
In general, I'm really impressed with the Airmotiv E2 speaker. The product offers a lot of installation flexibility, performance options, contemporary looks, and overall—a lot of value.
Ergonomically, I would like to see the operational mode controls on the front of the speaker with a small operational key to help provide setup guidance, but that's a small complaint.
With all that said, I think the Emotiva Airmotiv E2 speaker is an excellent choice for large, state-of-the-art object-based surround systems, and 5.1 multimedia systems trying to cost-effectively fill room spaces.
CE Pro Verdict:

Pros:

Excellent performance, a very responsive speaker
Setup and placement options provide flexibility
Killer price point

Cons:

A choice of colors, finishes would help the speakers blend into more home environments
Operational mode switches on rear panel could be difficult to access if the speakers are wall mounted
Position markers for the speaker's operational modes would make for an improved setup and user experience