As resimercial integrators continue to look for new opportunities within the hybrid workspace, a new survey from PwC shows a few reasons to be excited about the future of work. According to the study, nearly three-quarters of companies offer some form of hybrid work option for employees, which signals continued interest in flexible working arrangements that necessitate new technology.
The PwC survey, "Executive views on business in 2022," sheds light on the ongoing hybrid work environment in which most organizations are operating. Those same working environments are forcing companies to invest in their digital transformation.
Breakdown of Hybrid Work Survey
According to the survey of 650 C-suite executives, 72% of organizations surveyed currently offer hybrid work options for employees. 43% of them say they will keep hybrid work options going forward. Meanwhile, 29% say they will revisit their hybrid work approach. Just 18% say they are considering hybrid work, but haven't yet made a decision.
Further, 58% of companies have made positions permanently remote if they allow for it. Of those, 30% plan to keep it like that, while 28% plan to revisit that policy.
However, companies are less likely to plan for employees being located outside of a core office location, as just 23% currently do and plan to in the future. 30% say they currently do and will reevaluate the policy. 22% have not made a decision.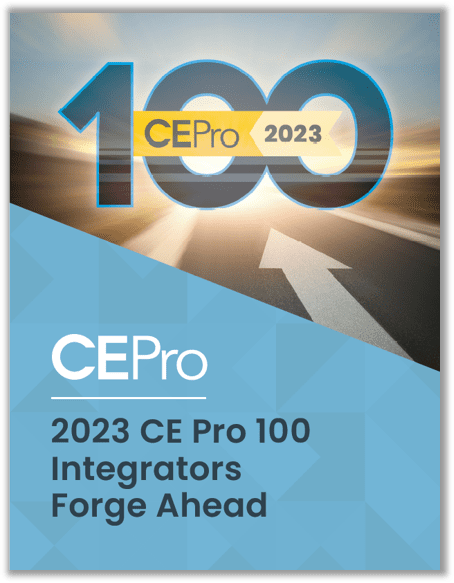 Which companies in the custom integration market made CE Pro's 24th annual CE Pro 100 list?
Those generally favorable views of hybrid work are in response to concerns about talent shortages. Only 36% of respondents expect voluntary turnover will return to the pre-pandemic rate by the end of the year. Meanwhile, 31% think talent shortages will ease by the end of 2022.
To address these talent issues, 73% of respondents plan to devote more time to workforce and diversity, equity and inclusion efforts.
In a statement, Julia Lamm, PwC Workforce Transformation principal, says 2022 will be an important year for employers to regain the employees' trusts and stabilize their teams.
"As employers look to attract and retain critical talent, they're shifting their investment into their employees – creating meaningful work opportunities, investing in learning and upskilling, and creating career advancement opportunities – all while providing new flexible working options to meet employee personal needs," Lamm adds.
Read the survey here.
---
A version of this article originally appeared on our sister publication Commercial Integrator's website.
If you enjoyed this article and want to receive more valuable industry content like this, click here to sign up for our digital newsletters!