People & Places – Q3 2017
People, places and other movement in the home-technology channel.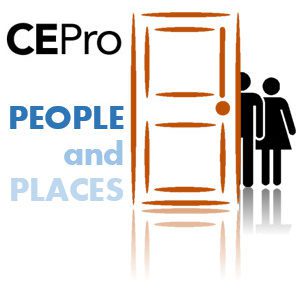 ---
September 28
Just Add Power (J+P), a manufacturer Ultra HD over IP products, has announced it has partnered with Audio America. Leveraging Audio America's service and support in the professional and home AV installation market, J+P will be able to offer its full line of networked video distribution solutions to a growing dealership base in Florida and the Southeastern United States.
"We're strategically expanding our distribution network to provide dealers with wider access to our products," says Taft Stricklin, sales team manager at Just Add Power. "Audio America is a well-known distribution leader in the world of AV and offers impeccable service that our dealers can appreciate. We're excited to have them onboard as we continue to broaden our reach."
Audio America will distribute J+P's entire lineup of solutions, including its 3G Ultra HD Over IP platform, backed by quality customer service, timely shipping practices, and support to meet the priorities and distribution requirements on any job.
---
September 26
Capitol, a national consumer electronics distribution source for residential systems and light commercial dealers, has announced the appointment of two new business development specialists to its team.
Christopher Kane and Thomas Duggleby bring a wealth of experience to their new roles at Capitol. Most recently, Kane served as a strategic account manager for Best Buy for Business, where he implemented numerous promotional program to increase performance of key accounts as much as 25 percent.
Duggleby comes to Capitol after senior sales positions with companies as Katun Corporation, Minntek Solutions, and the regional technology specialist, Minnesota Computers Corp.
---
CEDIA and IPRO (Independent Professional Representatives Organization) have announced an agreement for the IPRO membership to be integrated into the CEDIA membership under a new CEDIA IPRO affinity group.
"I'm excited about how this agreement positions IPRO in the rep community and positions our members' organizations with the manufacturers we represent," says Bill Zidek, president, IPRO. "This integration will add needed resources and create long-term value and stability for members. CEDIA has the infrastructure that will greatly benefit IPRO, particularly in marketing, events, and member services. Our members count networking with peers as the most important aspect of being an IPRO member, and current IPRO events will continue, just with the resources of CEDIA to help plan and execute."
As part of this new structure, Ray Wright, IPRO executive director will lead operations for the CEDIA IPRO affinity group, and an advisory council will be appointed to coordinate the activities of the group and support the mission. Additionally, the CEDIA IPRO affinity group will continue to have an annual conference in conjunction with a CEDIA hosted event. The CEDIA and IPRO leadership are currently determining the best option for the 2018 event.
---
HIFIMAN, a designer/manufacturer of high-performance headphones and portable audio products, announced the appointment of Andrew Regan as the company's chief marketing officer (CMO). Regan,
who will be based at his office in Florida, will direct HiFiMAN's sales and marketing efforts
for all worldwide markets, except China.
For over 30 years, Regan has held executive management positions with several top audio brands and most recently, was President of JH Audio, the premier supplier of Custom In-Ear Monitors.
---
September 22
Jobe Systems, has added Dean Callis to its team. Callis brings 23 years of industry experience to the company, and his hiring provides full time representation and coverage of the Vail/Aspen region, and the surrounding areas.
The company adds that by incorporating this region with its corporate headquarters and experience center in Houston, along with its offices and experience center in Nantucket, as well as its offices in Chicago, and San Diego, will provide it with the local support and service that have aided its growth and worldwide reputation.
---
September 21
Soundcast, has announced the addition of four new partnerships out of CEDIA, with the appointment of Indigosix, Oliver Marketing, The Jarmac Group, and The Progressive Group to support its VGX series of weather-resistant portable speakers. T
Oscar Ciornei, Soundcast President and CEO, appointed Indigosix to further enhance Soundcast's existing relationships and enrich their presence in key regions for bolstered distribution in both Asia and Australia. The territories within which Soundcast will gain representation include Australia, Brunei, Hong Kong, India, Indonesia, Japan, Laos, Malaysia, New Zealand, Philippines, Singapore, South Korea, Sri Lanka, Taiwan, Thailand and Vietnam.
The partnerships with specialty A/V sales and marketing firm Oliver Marketing, The Jarmac Group and The Progressive Group will see Soundcast gain widespread domestic distribution. Oliver Marketing has achieved success in representing everything from car and marine AV to custom AV and will be representing Soundcast in the Alaska, Hawaii, Idaho, Northern California, Pacific Northwest, Southern California and Western Nevada. The Jarmac Group holds deep-rooted relationships with specialty A/V dealers, architects, designers, and builders and will represent Soundcast within Connecticut, Maine, Massachusetts, New Hampshire, Rhode Island, Upstate New York and Vermont. The Progressive Group provides manufacturers with access to high quality mobile and home electronics, and will be serving Soundcast in Arizona, Colorado, Eastern Nevada, Idaho, Indiana, Kentucky, Minnesota, Montana, New Mexico, North Dakota, Northern Illinois, Ohio, South Dakota, Western Pennsylvania, Utah, West Virginia, Wisconsin and Wyoming.
---
CEDIA has announced that CEDIA Certification exams will now be available through Kryterion Global Testing Solutions, which has more than 1,000 testing centers worldwide.
"It has been a long-standing goal of CEDIA to make our certification exams more accessible to our members around the world," said David Whitney, CEDIA Certification Manager. "Members who previously could only take certification exams at the CEDIA show or at another CEDIA training event now have the flexibility to take the exam close to home."
Wendy Griffiths, vice president of global development, CEDIA, adds, "As we look to expand CEDIA's footprint, it is very exciting to offer our certification exams on a truly global scale. In the UK, for example, we previously had only one testing location and now there are 27 available locations for individuals to take a CEDIA Certification exam."
In addition to the numerous testing locations, Kryterion also provides extensive exam development resources that will help CEDIA make more frequent and efficient exam updates while continuing to follow testing best practices.
The certification tests include ESC (both in English and Spanish), ESC-T, ESC-D and ESC-N. Individuals looking to sign up for a certification exam will purchase a voucher to take the exam through the CEDIA website. After purchase, a link will be provided to a Kryterion login, allowing individuals to select an exam time and location. A map of all the testing locations can be found on the Kryterion website.
---
September 20
Following the launch of its MATRIX Creator Raspberry Pi-based dev board, that allows for the fast, efficient and affordable development of simple-to-complex IoT home automation applications, MATRIX Labs, has announced that it has achieved Z-Wave Plus certification. According to MATRIX Labs co-founder and CEO Rodolfo Saccoman, the announcement marks the MATRIX Creator's official introduction to the AV market, as it opens up entirely new possibilities for custom installers.
"Following a rigorous evaluation process, Z-Wave certification for the MATRIX Creator serves as a significant vote of confidence from the AV trade community," says Saccoman. "It validates our claim that custom installers can successfully leverage MATRIX Creator and our proprietary MATRIX OS to build MATRIX-based IoT apps that perfectly complement any home automation system, and deliver functionality that may not be available through the large-scale automation systems."
---
September 14
Screen Innovations (SI), a Texas-based manufacturer of two-piece projection and shade products, has announced the appointment of Jim Koenig as director, shading sales & marketing. In this newly created role, Koenig will apply more than 25 years of sales experience to help grow SI's presence in the shade category.
"Jim Koenig came highly recommended from my buddy Kim Parker," states Ryan Gustafson, owner of Screen Innovations. "After discussing Jim with Kim at our facility, we called him and realized he was driving to Austin as we spoke. Within one hour Jim was in our building. Within two hours, we knew Jim was the right guy. Within two weeks, Jim joined the SI team to change the world."
---
September 6
Almo Professional A/V, a national distributor serving the professional audio visual industry, has named Maureen Mead business development manager (BDM), focused on Samsung consumer displays and Planar display products.
Mead will be responsible for coordinating sales and marketing efforts and delivering technical training for Samsung consumer displays and accessories and the Planar Systems direct-view indoor LED products. She has an extensive background in various operations roles. In addition to having a Bachelor of Science in education from Springfield College, Maureen is an InfoComm Certified Technology Specialist (CTS) and a Digital Signage Certified Expert (DSCE).
---
The Digital Entertainment Group (DEG) has announced its incoming board of directors with commencement of its 21st year as an home entertainment industry trade association.
DEG's voting member companies elected the new board of directors to serve for the 2017-18 fiscal year (Aug. 1 to July 31). New to the board are Adam Rockmore of Fandango, which is represented on the DEG Board for the first time, Dametra Johnson-Marletti of Microsoft and Christopher Oldre of Walt Disney Studios. Returning to the board is Phil Goswitz of DIRECTV.
The Officers of the DEG Board are currently entering the second year of a two-year term.
"We are pleased with our membership's participation in electing the Board and enthusiastically welcome new Directors who represent the growth and diversity of distribution in the home entertainment industry," says Amy Jo Smith, President, DEG. "The Board of Directors creatively strives to produce deliverables that meet the needs of the industry and DEG is grateful for all of the Directors' commitment and passion."

DEG BOARD OF DIRECTORS
Fiscal Year 2017-18

Officers of the Board (Fiscal Years 2016-18)
Chair
Mike Dunn, president, product strategy and consumer business development, 20th Century Fox

Vice Chair
Matt Strauss, executive vice president, Xfinity Services, Comcast Cable

Chief Financial Officer
Sofia Chang, executive vice president, worldwide digital distribution & home entertainment
HBO

Secretary
Mike Fasulo, president and chief operating officer, Sony Electronics

Ex-Officio
Ron Sanders, president, Warner Bros. Worldwide Home Entertainment Distribution

Board Members
Bill Sondheim, president, Cinedigm

Phil Goswitz, senior vice president, video, space & communications, DIRECTV

Ron Geller, vice president, worldwide content relations, Dolby Laboratories

Adam Rockmore, senior vice president, head of marketing and communications,
Fandango, FandangoNOW & Rotten Tomatoes

Jonathan Zepp, head of YouTube content partnerships, Americas & Google Play Movie and TV partnerships, Google

Jeffrey Lawrence, general manager, senior executive director, global content policy, standards and content protection services, Intel

Tim Alessi, director, new product development, LG Electronics

Ron Schwartz, president, home entertainment, Lionsgate

Dametra Johnson-Marletti, general manager, digital stores business & category management marketing & consumer business, Microsoft

Bob Buchi, president, worldwide, Paramount Home Media Distribution

Marty Gordon, vice president, Philips

Jim Kiczek, Vice President, Product Marketing for Digital Video and Audio Products, Samsung Electronics

Darren Stupak, executive vice president, U.S. sales and distribution, Sony Music Entertainment

Jim Belcher, vice president technology and production global digital services, Universal Music Group

Eddie Cunningham, president, Universal Pictures Home Entertainment

Christopher Oldre, executive vice president, pay television, digital, canada & international home entertainment distribution, Walt Disney Studios
---
The SDVoE Alliance, has announced that WyreStorm, a manufacturer of A/V signal distribution and control technology, has joined the alliance as an adopting member and will introduce its first SDVoE-capable products at CEDIA 2017 (San Diego, Sept. 5-9, booth 2233).
SDVoE technology enales the WyreStorm NetworkHD 600 Series the power to deliver uncompressed instant seamless switching of full HDMI 4K UHD @60Hz 4:4:4 with HDR and zero-frame latency over Cat6a up to 100m via off-the-shelf 10Gb Ethernet switches.
On joining the SDVoE Alliance, James Meredith, networkHD and control product manager, WyreStorm, points out the move underscores the company's dedication to designing and producing state-of-the-art solutions.
"Our decision to become an Alliance member manufacturer illustrates WyreStorm's dedication to the rapidly accelerating transition to AV over IP technology, our unwavering belief in the importance of industry standardization in the adoption of new technologies and the exciting new era of AV connectivity this movement heralds."
---
August 29
Seymour-Screen Excellence (SSE), has announced the appointment of Todd Sutherland as its Southern California sales rep. Earlier this year, Sutherland was appointed to represent Northern California, and now SSE says he will maintain and build both West Coast territories for the brand.
Sutherland is familiar with Seymour-Screen Excellence due to his previous sales management role with Wisdom Audio. He worked with integrators on a number of installs and was often involved with the system calibrations where the brand's acoustically transparent screens were used.
"It was there that I learned of the distinct audio and visual performance advantages of using Seymour-Screen Excellence," says Sutherland.
---
August 28
ATEN, a manufacturer of IT connectivity and total management solutions, announced that it has become a contributor member of the HDBaseT Alliance.
The upgraded status will allow ATEN to contribute its nearly four decades of IT management and control experience to help the Alliance accelerate the integration of A/V and IT technologies occurring in the industry. It will also allow ATEN to enhance its next generation of Professional A/V products by offering access to the latest HDBaseT technologies.
A longtime member of the Alliance, ATEN has over 30 qualified HDBaseT trainers and over 20 Pro A/V solutions powered by HDBaseT technology, including video matrixes, as well as high-definition video/KVM extenders and splitters. In addition to new privileges such as a dedicated company page in the HDBT Alliance's Installer Zone, ATEN will also be invited to contribute its over 38 years of KVM and IT experience to define specifications for products that integrate AV and IT technologies, in turn helping both customers and solution partners to stay ahead of the curve.
---
August 25
Current Marketing has been named Newmarket, N.H.-based Russound's manufacturer's representative for the Arizona, southern Nevada, New Mexico, and El Paso, Texas territories, effective immediately.
"Russound has established itself as an industry leader over five decades, and we are excited to represent them," says Paul Epstein, president, Current Marketing. "We look forward to presenting all of their solutions and innovative products to our dealers."
---
Catalyst AV's distributor members met at Pioneer Music Co., in Kansas City back on Aug. 9 and 10 and discussed the state of the group. Catalyst AV's 11-member network with 25 locations examined the possibility of new product lines, as well as pricing and other programs.
---