Peerless-AV's Outdoor TVs Provide Weatherproof 4K Playback
The Peerless-AV UltraView is available in a choice of sizes, and includes features such as HDMI 2.0 and IPS panels designed for image fidelity in bright environments.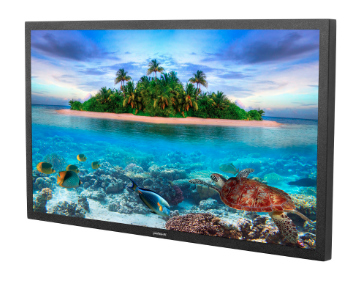 The new Peerless-AV UltraView UHD Outdoor TVs are built with versatility and performance in mind.
According to the company, the newest generation of its outdoor video solutions are engineered to provide quality 4K images in bright outdoor environments.
"Building off of the first iteration of the UltraView Outdoor TVs, we sought to create a solution that was exceptional for residential and light-commercial use," says Todd Mares, director of emerging technologies, Peerless-AV.
"The 4K resolution and weather-proof design enable even more flexibility in designing an outdoor space, as the TVs can withstand the elements and still provide incredible brightness and screen clarity [to] create an affordable and high-quality option."
Peerless-AV's newest outdoor televisions incorporate features such as HDMI 2.0 with HDCP 2.2 copyright protection. With the TVs' inclusion of HDMI 2.0, the products support the playback of native 4K content. It also enhances the viewing experience by utilizing TNI and IPS display panels designed to deliver vivid images in a variety of climate conditions, including bright sun.
Peerless-AV UltraView TVs More Than Seasonal Solutions
Built to serve as the center of entertainment for ski lodges in January and backyard pool parties in July, the UltraView UHD Outdoor Televisions can withstand temperatures ranging from -22 degrees to 122 degrees.
The outdoor 4K TVs also employ an aluminum construction designed to endure weather conditions like snow, wind, and rain, as well as common outdoor irritants like dust and insects.
Related: Peerless-AV Improves on PeerAir Wireless HD System for Home and Commercial Applications
Available in a choice of 49, 55, and 65-inch screen sizes, the TVs are designed to eliminate the need to replace filters, providing integrators with a choice of maintenance-free outdoor TV products.
The Peerless-AV UltraView UHD Outdoor TVs are also compatible with today's modern control and automation systems, giving the products even more flexibility.
Peerless-AV UltraView UHD Specs
All three outdoor televisions produce resolutions of 3840 x 2160 and are rated to produce brightness levels as high as 500cd/2

Inputs include HDMI 2.0, DisplayPort, coax TV input, VGA 15-pin D-Sub, 3.5mm analog audio, USB 2.0 female type A

Control options include RS-232, 3.5mm IR extender and 12-volt output trigger

400 x 400 VESA mounting pattern

Color temperature adjustments include cool, normal and warm

Refresh rate of 60Hz and response time of 8ms

Contrast ratio of 1,100:1, and they provide a horizontal/vertical viewing angle of 178 degrees