$895 Parasound Preamp Combines Traditional Audio Functions With Digital Technologies
The reasonably priced Parasound NewClassic 200 Pre preamplifier offers music fans an analog circuit path with modern conveniences.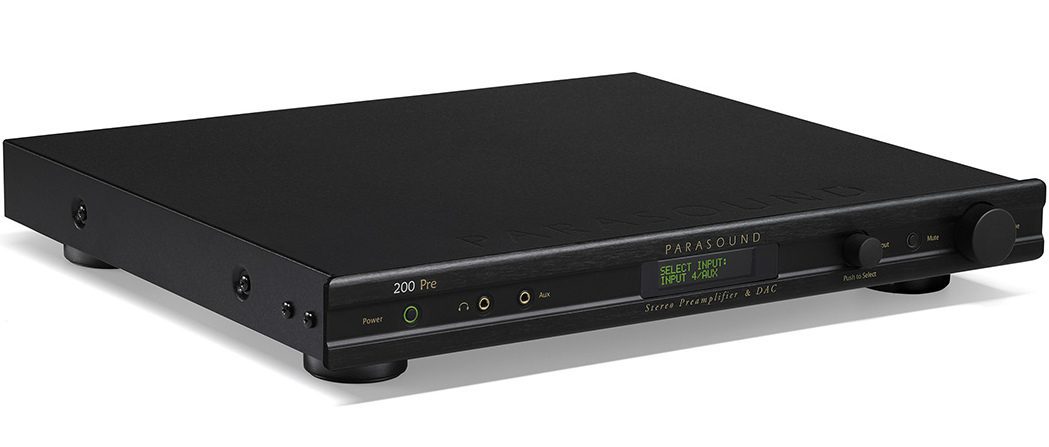 Streamlining the ability to deliver high-performance stereo audio and home theater content, the $895 Parasound NewClassic 200 Pre analog audio preamplifier and DAC is designed to serve as the centerpiece of a modern home A/V system.
Parasound says that at the heart of its latest preamplifier is a "versatile analog signal path, which includes analog bass management with high-pass and low-pass outputs."
The NewClassic 200 Pre offers inputs for moving magnet (MM) and moving coil (MC) turntables, as well as a pair of line-level inputs, a home-theater bypass for the left and right channels, and two subwoofer inputs.
The product's digital inputs include USB, coax and optical, and the preamp includes a front-panel auxiliary line level input with an automatic 12dB gain increase to bolster the sound of portable devices connected to the input.
Utilizing a similar architecture as its high-performance Halo P5 preamplifier, the NewClassic 200 Pre's home-theater bypass and built-in digital-to-analog converter (DAC) options are nearly identical to the more expensive preamplifier's, including both products' adjustable 20Hz to 140Hz high-pass crossover for the left and right outputs.
Related: $1,495 Parasound Halo P6 Preamplifier and DAC Debuts at Rocky Mountain Audio Fest
Supporting custom installation applications, the NewClassic 200 Pre provides turn-on volume preset, a favorite volume setting, a bi-directional serial port, a rear-panel IR input, and a 12-volt trigger output.
The $895 preamplifier also includes level matching input offset functions to help ensure all sources play at the same volume levels regardless of their respective output levels and a dimmable front-panel LCD display allows integrators to create custom names for every input.
The product ships with a backlit remote control to adjust left/right balance, bass and treble, and subwoofer on/off and level.
Parasound NewClassic 200 Analog Audio Preamplifier and DAC Features
Analog signal path
Home theater bypass
Phono input that supports MM and MC phono cartridges
USB, coax and optical digital audio inputs
Analog bass management options
Front-panel auxiliary input that features 12dB of gain to ensure the signal quality of portable devices
High-pass crossover for left and right outputs
IR input, RS-232 serial port and 12-volt trigger output
MSRP of $895