Nortek Security & Control Embraces Facial Recognition
Nortek's Elan line of surveillance cameras and touchscreens feature facial recognition for enhanced detection analytics; touch-free control.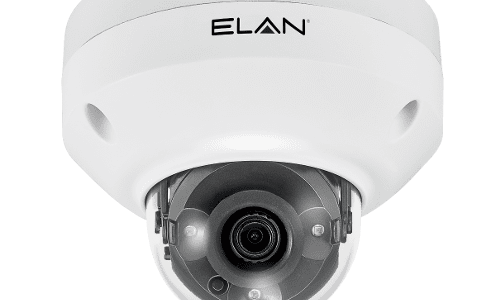 Facial recognition is a technology that has been relatively slow to infiltrate the smart home, yet it stands to make a huge impact on the way systems are configured, perform and utilized. Nortek Security & Control appears to be pushing the concept home and in a big way—with not one, but two product lines featuring facial recognition.
Offering integrators plenty of options, there are nine new cameras from Elan that have advanced motion detection analytics from IntelliVision built in. This includes both 2MP and 4MP indoor and outdoor cameras, with fixed and varifocal lenses.
The cameras can identify who the visitor is and react accordingly. The advanced analytics also reduce false positives.
Even though the cameras may be exceptionally sophisticated, Elan included technology to ensure a quick, easy installation.
Through Elan "Beacon," once the NVR and cameras are connected to the network, Elan "Discovery" takes it from there. It's Auto-Discover and Auto-Configure feature scans that network, including wireless connections, allowing installers to provision and install with a click.
Elan Touchpanel Launches Commands Automatically
Both the NVR and cameras can be controlled from an Elan user interface, mitigating the need for end-users to switch between a control app and a surveillance app.
Elan's newest touch panel goes so far as to employ facial recognition—as well as Alexa-based voice control—to simplify operations for your customers even more.
As explained by a Nortek Security & Control spokesperson at the CEDIA Expo, the touch panel can launch commands automatically based on its recognition of a user's face. This could include instant access to certain surveillance cameras, a "Home" macro, or a favorite music playlist, for example.
Related: Elan Intelligent Video Doorbell Features Tamper Resistant Tech
The process effectively mitigates the need to touch the touch panel. "With the control enabled by facial recognition and voice, these new interfaces go way beyond what we'd normally call a 'touch' panel," explained Elan product manager Jeff Shaw.
The color touch panels, available in 8- and 12-inch models, incorporate the same IntelliVision technology employed by the new line of Elan surveillance cameras.
The touch panels' high-resolution video and two way audio makes them a great complement for the IntelliVision-enabled surveillance cameras, as well as the Elan intercom.