Nortek Control Stays Focused on Service in 2020
Due to its commitment to excellent service throughout 2020, Nortek Control earned multiple CE Pro Quest for Quality Awards this year in categories like Best Sales/Marketing/Assistance and Best Technical Support.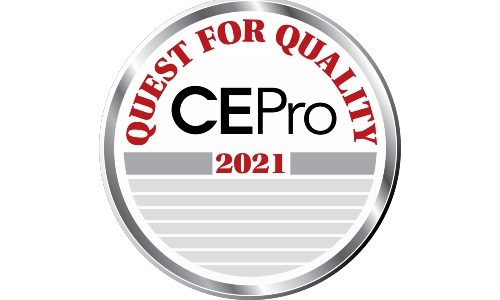 Throughout 2020 it was more important than ever for dealers to provide support and add new services to make the lives of CE pros as easy as possible during the pandemic, and companies like Nortek Control took this to heart. Thanks in part to its excellent COVID-19 response (for which Nortek won Gold) and dealer incentive programs, Nortek Control took home a total of five CE Pro Quest for Quality Awards this year.
Here's a quick look at all of the awards Nortek Control won in the 2021 CE Pro Quest for Quality Awards for manufacturers:
2021 Quest for Quality Awards Won by Nortek Control
Best COVID-19 Response, GOLD:
With some of our factories based in China, we addressed the pandemic very early in February. In doing so, we were able to make our customer needs a priority. Our team did a great job of bridging the gap created by the early China shutdown and delivered significant product to the U.S. We mitigated about a month of ocean freight shipments by air shipping to the U.S. and we were able to maintain our supply chain and have plenty of inventory. If customers, distributors or installers needed product, we got it domestically. We also made sure to communicate with all our customers on a regular basis so they stayed highly informed every step of the way. —Chris Larocca, CEO, Nortek Control
Best Technical Support, SILVER:
Our U.S.-based technical support team maintains a 'customer-first attitude' focused on solving issues and training our customers on how to best utilize our products. We include our technical support agents in all aspects of product development, which facilitates extensive product knowledge. The team is passionate about cultivating a center of technical support excellence through ongoing team collaboration and education with engineering, operations and sales. This enables the group to provide an exceptional customer experience on every customer interaction. —Greg Hancock, Sr. Director of Technical Support Operations, Nortek Control
Best Sales/Marketing/Assistance, PLATINUM:
Our dealers are special, and recently we've shined the PR spotlight specifically on our dealers' awesome projects around the globe via our new newsletters for all Nortek business lines, case studies, blogs, social media and other marketing efforts. Our dealers do amazing things, and it's been a pleasure to share their success.
We also launched a new Nortek Control and Elan website. Designed with our customers in mind, these new sites are positioned to help the success of our customers' businesses. We've fostered new opportunities for all our partners via enhanced integrator collateral with the launch of our new PRO Marketing Portal, a record number of webinar trainings and related marketing programs. Also, a key differentiator is our emphasis on our CTA Award-winning national Builder Program that brings integrators and builders together in meaningful ways. —Bruce Mungiguerra, SVP of Sales & Marketing, Nortek Control
Best Dealer Programs/Incentives, PLATINUM:
Our mission is to deliver market leading programs and to always be ahead of the curve for our dealers. We enable customers to buy the key products they need for their jobs from one company, simplifying their order process and vendor interactions, and saving time, labor and resources. This is an honor for us, as we work hard to offer the best rebates in the industry, and two premium dealer levels in addition to VIR. Our programs are geared to help increase margins and maximize dealer buying power. —Jeff Costello, VP of Sales, Nortek Control
Best Dealer Protection Policies, GOLD:
Dealers tell us the difference between our margin and sales programs and similar offerings from other vendors all comes down to one thing: while other programs look good on paper, they often cannot be adapted to the dealer's brand position, profit and growth goals. We focus diligently on the implementation of protection programs in the real world and how they translate to the dealer and their clients in terms of value coupled with performance. Focused efforts have been applied to tamp down online reselling and maintain proper price points. It's a proud moment for us that our dealers have independently selected us as worthy of this coveted award. —Richard Pugnier, VP of Marketing, Nortek Control