Noon Home Disrupts Lighting with 'Floating' Switch, Bulb-Detection Technology
Noon Home light switches perform built-in lighting design using patented 'automatic bulb detection' technology.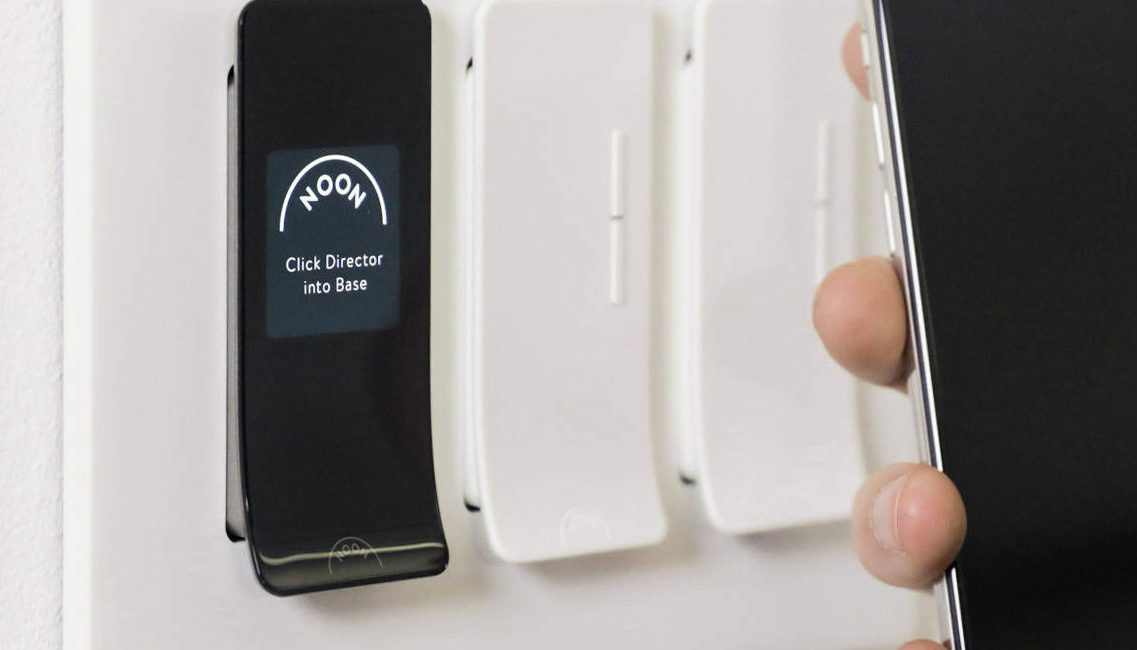 Aiming to disrupt the lighting control market, Noon Home is bringing highly stylized, intelligent and low-cost lighting switches to the custom installation channel.
The company, based in Cupertino, Calif., offers light switches that not only look different from any switches integrators have ever seen before, but also include patented "automatic bulb-detection technology" that enables the system to do automated lighting design using advanced algorithms that determine dimming levels by reading the electric current generated by light sources.
Aesthetically, the super-thin switches themselves physically "float" out from the faceplates and instead of aiming to blend into the wall, they are designed to visually stand out. The "switch" itself is a single-gang touchpanel, but the system comes in configurations as large as four-gang.
Erik Charlton, CEO, is certainly familiar with market disruption. Among his previous positions was the head of product marketing at Logitech. Most recently, he was head of marketing, product marketing and sales at Nest.
"There are about 140 million residential light switches sold each year," says Charlton. "This is a really great market and I thought we could do something really disruptive in terms of delivering a scene-based experience to a much broader market."
Noon Home Product Design, Installation
Noon Home's product offering consists of a $199 Room Director switch that connects wirelessly via Bluetooth with $99 slave extended switches.
As mentioned, the switches come in single-, double-, triple- and four-gang wall plate configurations, but are also compatible with Decora designs for five-gang or other unusual combinations, such as combination outlets and switches.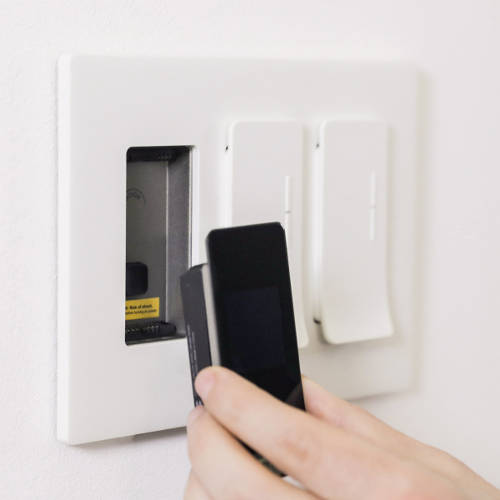 The switches are controllable via Amazon Alexa, Google Home or IFTTT integration with third-party devices, which also allow Noon switches to work with smart bulbs like Philips Hue, light-effect bulbs, or even music.
The system installs similarly to any wall switch, with a neutral wire required. There is no specialized DC wiring needed.
The wallplates also have a special feature to speed up installation: The metal chassis behind the wallplate allows the technician to hang the dimming base from it while he is connecting the wires. That feature lets the technician keep both hands free.
"The Room Director is the central touchpoint for the user in the room," says Saket Vora, head of hardware engineering.
"It basically is the scene controller. The Room Director has both Wi-Fi and Bluetooth technology, so it connects over to the home network's Wi-Fi, which enables remote control through a smartphone app. It also allows us to send notifications."
The Room Director is paired to the different extension switched over Bluetooth, so the idea is that in any central-switch location you'd like, you put the Room Director.
Then, in all the other switches that control the lighting loads in your room, you can put the extension switches. What's cool about this is that by having the extension switches in all the other locations, you're still able to control the lights like you normally have been used to controlling them.
The unique design also allows the integrator to upgrade or change out hardware easily. There is no external hub…everything is in the switch itself.
"We don't believe in changing user paradigms. People love switches. People know switches," says Charlton. He says future upgrades could include health-sensing technology built into the switches or integrated security features.
"Today, our goal is best-of-breed lighting," he notes.
Automatic Bulb-Detection Technology
Vora says the company's automatic bulb detection technology is "truly industry-first" using Artificial Intelligence (AI), machine learning, and algorithms based on the profile of the electric current to determine what type of lighting load is connected to the switch.
Inside the dimming base unit, the algorithm can identify the low-level current waveform of the lighting flowing through the switch. That could be an LED, halogen or incandescent bulb in a magnetic low-voltage (MLV) fixture, electronic low-voltage (ELV) fixture, chandelier, recessed light, sconce… anything.
"This allows us to bring a truly universal dimmer to the market, rather than having to look at different catalogs to figure out which is the right dimmer for the lighting load. The intelligence inside the switch is able to do this," says Vora.
"We are able to exactly dial in the appropriate dimming scheme, the dimming range, and all the other parameters that really help the integrator get the best dimming performance."
— Saket Vora, Noon Home
"Based on that, we are able to exactly dial in the appropriate dimming scheme, the dimming range, and all the other parameters that really help the integrator get the best dimming performance out of whatever lighting load he has connected to the switch."
Related: Four Key Things to Look for When Selecting a True Smart Light Switch
In other words, looking at the electronic signatures of the lighting loads, the Noon Home switch's built-in lighting designer knows the switch is connected to four recessed cans, one chandelier, and one accent lamp, for example.
Using that information, it will preconfigure three different scenes for the homeowner: Relaxed Mode, Everyday Mode, and Bright Mode.
Noon has six issued patents, 36 pending and over 170 identified. Several of the company's patents are focused on bulb identification and control.
"It dials in the different light levels for each of those loads to create that experience," says Vora. Using a smartphone, the homeowner can reconfigure and modify it if desired, and create new experiences, such as Movie Night Mode.
"We're pretty excited about that, and I really think that's a valuable differentiator," says Charlton, indicating the technology eliminates the need for the technician to scour catalogs or websites to determine if a dimmer is compatible with a certain type of bulb or fixture.
For integrators, the system also helps eliminate the need to bring in a lighting designer for the project, according to Charlton.
The system does not currently allow integrators to remotely access their client's lighting configurations and make changes on their behalf.
Channel Strategy
Charlton sees the lighting control market as "90 percent professional," with only a limited DIY market.
"Lighting control is great for someone who wants to try to install a smart switch or two, but most of these lighting experiences require at least seven switches, or dozens of switches, to deliver the right experience. There is only one in a handful of people out there who wants to take on that kind of project. We highly encourage homeowners to use a professional, and I think that's the right path for most people.
"We are looking with a laser focus at the pro channel to help contractors open up new markets by making accessible price points for people who could never afford these lighting systems before," adds Charlton. "Have no doubt that we are a serious pro player, and you'll see we're opening up channels now, and investing in that marketplace."
The company offers online training for integrators, who must have an electrical license to install the products. Noon Home is also scheduling training across the country at various distributors, including CED and Skywalker AV.