Unfortunately, many consumers have gotten used to the idea that wireless audio in the home — from brands like Sonos — is meant purely for background music. SVS is hoping to change that attitude with its new Prime Wireless powered speakers and Prime Wireless SoundBase integrated amp, introduced at CES 2018.
"Isn't it about time that wireless audio be more than just background music?" asks Mitch Witten, senior director of strategic development, and one of the 2015 CE Pro Masters.
He says Prime Wireless is the first high-fidelity multi-source, multi-zone wireless loudspeakers on the market: "These are wireless speakers that can be used to for true listening as well as part of an immersive home theater audio experience."
The speakers, which are expected to sell for $499 a pair, use DTS Play-Fi technology and SVS relies on the DTS app for smartphone control.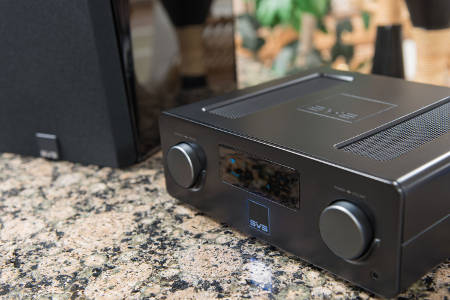 "But how many times do you want to just get to your favorite streaming audio channel quickly without having the launch an app?" says Witten. That's why the Prime Wireless speakers have six front panel presets that can access various music services or personal playlists. Using the two simple knobs on the front of the speaker, users can adjust volume or move to one of the presets.
Witten says Amazon Alexa voice control will be in place by the time the Prime Wireless speakers hit the market this spring.
The bookshelf speakers, which are much larger than most of the popular wireless speaker options on the market from Sonos to Bose to Riva Audio, include a precision 24bit/192kHz DAC and a built-in 200-watt (50-watt x 4) amplifier. The rear of the speaker includes inputs for Bluetooth (AAC and aptX), Optical, USB Audio and Aux, as well as a subwoofer output for adding bass enhancement.
SVS first launched its Prime Series value-priced speakers back in 2014. The speakers are sonically matched to pair with the company's Ultra Series, which has a full line that includes tower, bookshelf, center, and satellite speaker models.
In conjunction with the speakers, SVS also unveiled its Prime Wireless SoundBase integrated amp designed to transform any speakers into a high-resolution wireless audio system. The high-fidelity, high-power 2-channel wireless power amplifier is expected to retail for $399.