Meridian DSP In-Wall Loudspeakers Feature Built-In 'Dynamic' Hi-Res Amps
Meridian has introduced two in-wall loudspeakers incorporating the company's new CLASS-M DSP engine that improves low-end resolution.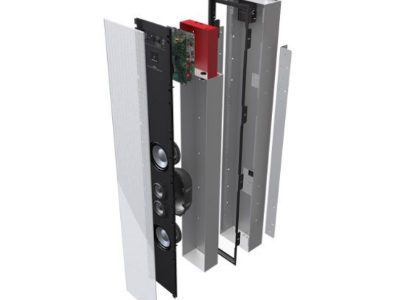 Updating its high-performance DSP series of architectural loudspeakers, the new Meridian DSP640.2 and DSP520.2 in-wall loudspeakers can be used to meet the sound quality aspirations of homeowners wanting benchmark performance.
Meridian says that its latest speakers are characterized by their ability to produce high sound pressure levels (SPLs) and "strong" bass performance.
The British company explains the DSP640.2 and DSP520.2 in-wall loudspeakers are its first products to incorporate its new CLASS-M DSP engine.
The engine features an aux filter that improves low-frequency resolution, and the speakers' built-in dynamic bass protection technology is said to maximize bass extension.
Driving the speakers are Meridian's built-in "Dynamic" Hi-Res amplifiers. As part of the speakers' active configuration, Meridian employs dedicated amplifiers for each driver to deliver high-resolution audio.
The amplifiers utilize high-mass torodial transformers that are electrically screened, potted, and optimized to offer the lowest possible mechanical noise, while post-filter feedback is used to deliver lower output noise and improved total harmonic distortion (THD).
Meridian DSP640.2 Plays Down to 40Hz
The DSP640.2 incorporates a total of eight amplifiers that produce 100-watts per drive unit, and its L+R mode offers integrators a powerful soundbar option.
The in-wall loudspeaker is capable of producing SPL levels as high as 105dB for extended periods of time, and it is capable of playing down to 40Hz.
Meridian's Enhanced Bass Alignment technology helps align high, mid, and upper bass frequencies with low frequencies for improved clarity.
Related: Meridian to Discuss Hi-Res Audio During CEDIA Expo 2018
The DSP640.2 also includes the company's Centre Elevation technology that raises the perceived image location from a speaker that is placed below a video screen to help it create a more lifelike listening experience.
In addition, the speaker includes FIFO buffering, DSP upsampling, apodizing filters, and Meridian High Resolution (MHR) technology to allow integrators to set the speaker up as a full-range solution that doesn't need the support of a subwoofer.
Meridian DSP520.2 Features Wide-Range Drivers
Offering similar features as the DSP640.2, the Meridian DSP520.2 in-wall loudspeaker employs a quad-amp DSP design that includes 100-watts of power per drive unit.
The DSP520.2 also provides the L+R soundbar mode and Centre Elevation options and is capable of playing down to 50Hz via a driver configuration that includes a 140mm driver (5.5 inch) and a 85mm (3.3 inch) wide-range driver.
The speaker's grilles can be painted to allow it to blend into a variety of spaces, and its slim profile help to facilitate in-wall installation.