Not even the traffic nightmare due to street closures created by the United Nations General Assembly opening (with President Trump in town) prevented more than 250 integrators from jamming into the new Lutron Electronics Experience Center and training facility for a grand opening last week.
The third floor space, which is located in the Decoration and Design (D&D) Building in the heart of Manhattan, is nearly three times the size—more than 4,500 square feet in total—of Lutron's former New York City space, which was located in the same building on the ground floor and opened back in 2009.
"Lutron is making significant investments in business tools and product innovations to ensure the continued success of our customers," said Ed Blair, executive vice president at Lutron.
"Lutron's experience centers help you close more jobs by providing your clients a rich, fulfilling experience and authentic understanding of a day in the life with a Lutron system. This new space is nearly three times the size of the previous New York space, giving you additional ways to tell the story and delight your clients in the process."
The new Experience Center features a broad range of Lutron products showcased within residential vignettes.
Products include everything from Lutron's Caséta Wireless to HomeWorks QS systems, a full range of Lutron shading solutions, including the luxurious new Palladiom shades, plus samples of shading fabrics and keypad finishes.
In all there, are more than 60 shades on display at the location, according to Michael Smith, vice president of residential sales, who greeted visitors at the official grand opening.
"This Experience Center will always have the latest and greatest. You will see every shade style we make here," says Smith, who also highlighted that the showroom has Ketra (and Lutron Ivalo) LED light sources incorporated throughout. Lutron acquired Ketra and its intelligent lighting fixtures in April.
Read Next: Lutron to Acquire 'Natural Light' Maker Ketra
"Twenty-six years ago we brought lighting control to the CEDIA community. Twenty-three years ago, we did the same with shades. With Ketra, we are at that moment in history again. Three to 10 years from now we will be talking about how the custom electronics industry transformed once again."
Blair adds, "Dealers wanting to explore LED fixtures as a business expansion opportunity will have plenty of chances to do so in the new space. Here, Lutron customers can witness the powerful performance of LED fixtures, drivers, and control solutions from our Ivalo Collection – and as a result of our recent acquisition – from Ketra."
Lutron, Ketra, Ivalo & A/V in Showroom
"More than 90 percent of the people who visit a Lutron showroom end up buying Lutron products."
— Michael Smith, Lutron
The facility features multiple fabric samples, keypad colors and finishes, Ketra, Ivalo placed in various vignettes, including a living room, dining room, kitchen, bathroom and master bedroom.
There is also a 20-person training room. In the facility, integrators can bring clients, either by appointment or simply drop by, to see HomeWorks QS, RA2 Select, Palladiom Shades, Caséta Wireless, Serena shades, Ketra and Ivalo lighting, Lutron drivers and a full line of window treatments.
There is also an A/V element to the space with multiroom audio and video, along with several large displays.
There is a Lutron showroom manager staffed at the location to guide integrators and their clients through the products. Blair says Lutron wants to help facilitate the conversation between the dealer, client, and specifier to ensure fixtures are being considered earlier in the design process and from a controls compatibility standpoint.
"This is not our space… this is your space," Smith told the crowd of integrators. "Use it to build wealth for your family and your business."
Integrator Reaction Positive
Matt Emmi, co-founder of OneButton in Brooklyn, is one integrator who plans to use the location frequently, even though he has his own showroom across the East River. Emmi says he is able to get clients to purchase more home electronics after they visit a design center and get to actually touch and feel the products.
"This Lutron facility will become our primary demo space now."
— Matt Emmi, OneButton
"We definitely plan to use this experience center more now. Getting my Manhattan-based clients to Brooklyn is like trying to get them to go to Disneyland," he quips. "This Lutron facility will become our primary demo space now."
Emmi is excited to engage his clients with the Ketra line, noting that he already has clients who ask about how light can affect their circadian rhythms. OneButton has already installed intelligent lighting in its own office environment. The company has been installing Ketra light sources for about 18 months.
Emmi says he has seen via time-lapse photography how the shifting light colors and temperatures can affect employee energy throughout the day.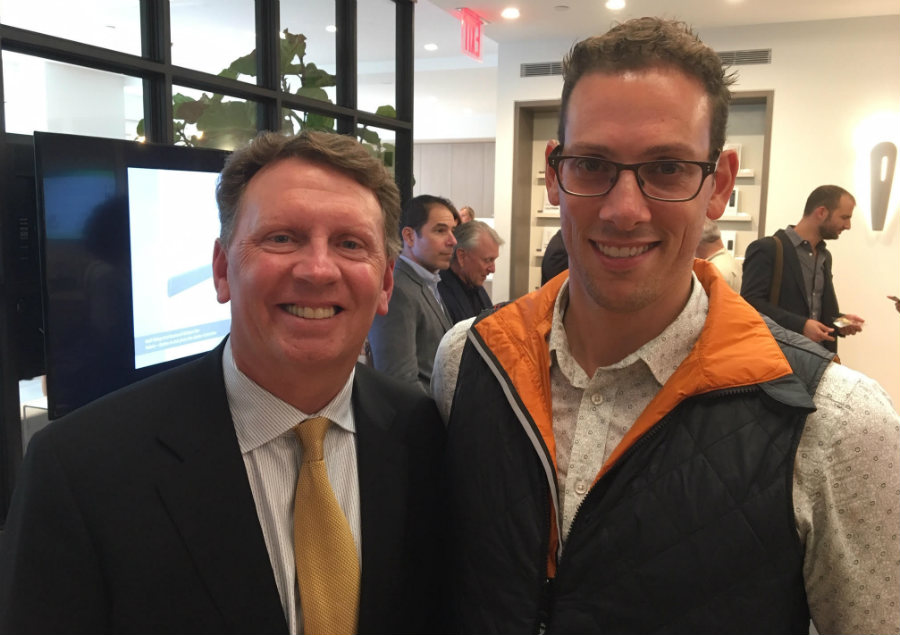 "Circadian light shifting is one of the most important developments in the past 10 years," states Emmi emphatically.
OneButton creates a "report card" for its clients for each light fixture, depicting how well it pairs to each lighting control driver.
"The ability to verify dimming capability of a fixture when paired with lighting control has allows us to close jobs based just on that skill. Now throw in color temperature shifts and the circadian element, and the whole thing is even more complex. Now I don't have to figure out how to combine lighting and shade control with light fixtures… Lutron is doing it for me," he says.
Related: Lutron—Lighting Fixtures Are 'Greatest Opportunity' for Integrators Today
In regards to Lutron's investment in the new Experience Center, Smith says the company will track the number of appointments and the number of visits, but it's difficult to know exactly how much more integrators are able to get for a project after visiting the showroom.
"I can tell you that more than 90 percent of the people who visit a Lutron showroom end up buying Lutron products," he notes.
Lutron opened its first Experience Center in Plantation, Fla. in 2001. The company has since added facilities in Coopersburg, Penn., Irvine, Calif., New York City, Washington, D.C., Toronto and London.
Located at 979 Third Avenue, Suite 319, in New York City, the new Lutron Experience Center is open Monday-Friday, 9 a.m. to 5 p.m. with private tours available.