Lutron Names 2020 Excellence Award Winners, Inducts TVTI/AVDG into Hall of Fame
Thirteen integration businesses have been named 2020 Lutron Excellence Award winners, joining the more than 110 dealers that have won the award since its introduction in 2003.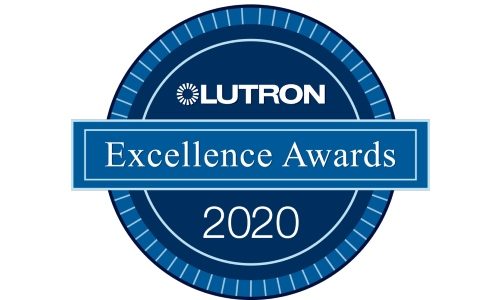 Recently, Lutron Electronics announced the winners of the 2020 Lutron Excellence Award competition as well as the newest Lutron Hall of Fame inductee. The announcements were originally made during a virtual event.
Established in 2003, the Lutron Excellence Awards competition recognizes the world's best projects that use Lutron lighting and shading controls and Lutron Ivalo and Ketra fixtures.
More than 110 Lutron dealers have been honored since 2003, and this year Lutron added another 13 names to its list of Excellence Award winners.
2020 Lutron Excellence Award Winners
The 2020 Lutron Excellence Award winners are:
The Essence of Pleasance

– Laser Definition (Bangkok, Thailand)

Best Sivoia QS or Triathlon Shading Project

– Harrison Home Systems (Lakewood, CO)

Best System Upgrade

– Fowlstone Electric (Vancouver, British Columbia in Canada)

Best Ketra Experience Showroom

– Audio Video Resource (Mount Vernon, WA)

Best Lutron Experience Showroom

– Echo Systems (Omaha, NE)

Best Ketra or Ivalo Lighting Project

– NorthStar Home Technologies (West Lakeland, MN)

Best HomeWorks Project

– BlueSpeed AV (Bixby, OK)

Best Collaboration with an Architect, Interior Designer, or Lighting Designer

– Integraciones Modo (Valencia, Spain)

Best RadioRA2 or RA2 Select Project

– DemNET Technologies (Lake Orion, MI)

Judges' Choice

– Lighting Control Solutions (Ardmore, PA)

Judges' Choice

– Future Light Design (East Horsley, Surrey in the United Kingdom)

Judges' Choice

– DEL Motorized Solutions (Bensalem, PA)
TVTI/ADVG Joins Hall of Fame
In 2009, the Lutron Hall of Fame was created to recognize excellence and dedication in the marketplace. Potential inductees are evaluated on several components: years of doing business with Lutron, loyalty, reputation, dedication to their business, market expansion efforts, execution of initiatives, project innovations using Lutron products and revenue growth.
Joining the 26 existing member companies, the 2020 Lutron Hall of Fame inductee is TVTI/AVDG. AVDG is the No. 7 company on the CE Pro 100 in 2020.