Austria-based Loxone is setting down even stronger roots in the U.S. market with a new U.S. headquarters with a showroom demo area, as well as a three-day training program and configuration kit for integrators.
Those deeper U.S. roots support the company's unique smart home automation control offering that features more than 150 SKUs of products with the idea that integrators can fully control everything from lights, shades, climate, audio, video and more staying within the Loxone ecosystem of products… either cloud-free or fully connected.
Last August, Loxone moved into a new U.S. facility in Garnet Valley, Pa., just outside Philadelphia. The new 9,000-square-foot facility, complete with a training center, showroom apartment, and logistics warehouse, joins the company's model smart home in nearby Media, Pa.
Using the moniker "No Gimmicks. Real Smart Homes," Loxone, which is already one of the leading smart home control systems in Europe, has several unique elements in its product offering. For example, the company is fully committed to helping integrators create "interface-less" homes where various functions are activated via sensor technology.
The system can also be configured cloud-free or connected to the Internet, which could be attractive to homeowners concerned about privacy issues associated with smart home technology.
Loxone Show Apartment Demo
The showroom apartment in the new U.S. headquarters offers a venue for integrators to show exactly what a "sentient home" can be like. In addition to hosting tours for integrators, builders and end-user clients, Loxone also offers Facetime or Google Hangout remote video tours.
"We are not about products, we are about experiences," says Mark Skazenski, vice president of sales and business development, North America.
As soon as you enter the apartment showroom, a Welcome scene automatically activates based on motion sensors. Lights, music, ceiling fan and even the fireplace all click on to pre-programmed levels. Every product is made by Loxone.
The company's portfolio of products includes occupancy sensors, temperature and humidity sensors, water sensors, low-voltage 24V LED lighting fixtures, smoke and CO detectors, glassbreak sensors, door and window contacts, weather stations, architectural loudspeakers, media server, amplifier, sirens, video doorbells, wireless routers, switches and more.
"At first we avoided voice because we wanted the Loxone home to be cloud-free but we now know there are legimate use cases for voice control."
— Mark Skazenski, Loxone
Yes, switches. Even in an "interface-less" environment, Loxone recognizes the comfort level people have with switches, particularly for lighting control. But even Loxone's interfaces are not run-of-the-mill.
Its unique 4×4 glass square form factor Loxone Touch Tree (wired version) or Loxone Touch Air (wireless RF via a proprietary mesh network) switch enables the user to perform a variety of different functions for blinds, light levels and colors, music and more using a series of single, double and triple clicks.
Feeding the growing healthy home trend, the Touch interface also has a built-in temperature and humidity sensor and can interface with the CO detector, so when anomalies are detected, fans or dampers in the HVAC ducts (also made by Loxone) can activate.
Window sensors are also tied into the HVAC system to automatically activate a damper for a particular room when a window is opened. All of these actions are pre-programmed by Loxone in the default code, making it easier for integrators.
The company also makes an award-winning interface dubbed the Loxone Touch Surface that turns any non-conductive material (tile, glass, wood, granite, etc.) into a control interface. In the show apartment, both the bathroom shower and the kitchen countertop in the mock kitchen have a Touch Surface.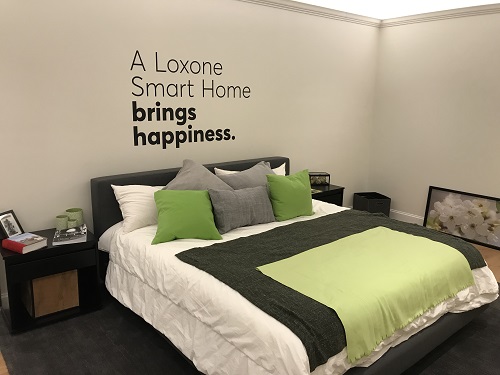 Additionally, the system is voice controllable is a third-party driver written to allow Amazon Alexa voice control.
"At first we avoided voice because we wanted the Loxone home to be cloud free," admits Skazenski, "but we now know there are legitimate use cases for voice control."
The Loxone system also can control 120V line voltage equipment, from major appliances to electric vehicle charging stations. All of it is based on a European-style DIN rail mounted system that takes up much less real estate than conventional systems.
The company's lighting fixtures cover a variety of form factors, from canned lights to pendants to LED strip lights. Its newest offering is the aptly named Loxone Ceiling Light, which is a large tunable 24VDC, 1800-lumen light fixture with a photo cell built in that senses ambient light levels in the room.
The show apartment also includes a glass shelf in the kitchen is illuminated using an LED strip light placed in the wall at the base of the shelf.
The system is attractive to builders due to the lower cost when full lighting is included. If a builder uses Loxone low-voltage lighting run on Cat 7 wiring, it can significantly reduce the overall cost compared to constructing a home with a separate control system and a separate line-voltage lighting infrastructure.
3-Day Training, Configuration Kit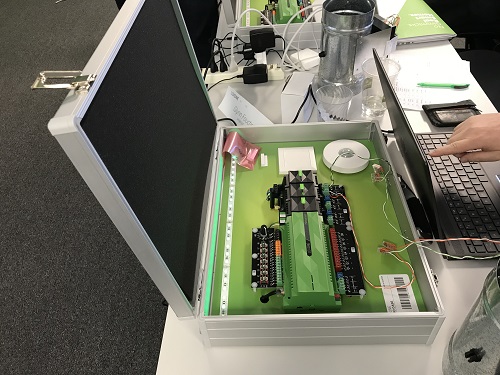 The new U.S. headquarters also allows Loxone to expand its training regimen. Gary Reinhardt of CMI Interiors in Springfield, N.J., is a new believer in the ecosystem.
Reinhardt recently came to the new headquarters for three days of training. Every participant in the training gets access to the new Loxone Kit, which includes all the configuration tools a dealer needs to perform demos for prospective clients.
"Having a single company that provides the full smart home solution is significant to me."
— Gary Reinhardt, CMI Interiors
"Having a single company that provides the full smart home solution is significant to me," he says. "There can't be any finger-pointing. It's all one system. I don't want to reinvent the wheel on every project… I want to buy the wheel."
Reinhardt says having a support structure in the U.S. is key. He is now starting to spec Loxone as a replacement for other control systems in a retrofit application.
One of his best practices is to press every single button in the existing control system, document it, then program the new control system to mimic those commands.