LG Was Late to 4K Projectors, But First Product is a Doozy
Debuting at CES 2018, LG's first 4K UHD projector (model HU80KA) is small, mobile and smart … and projects images up to 150 inches.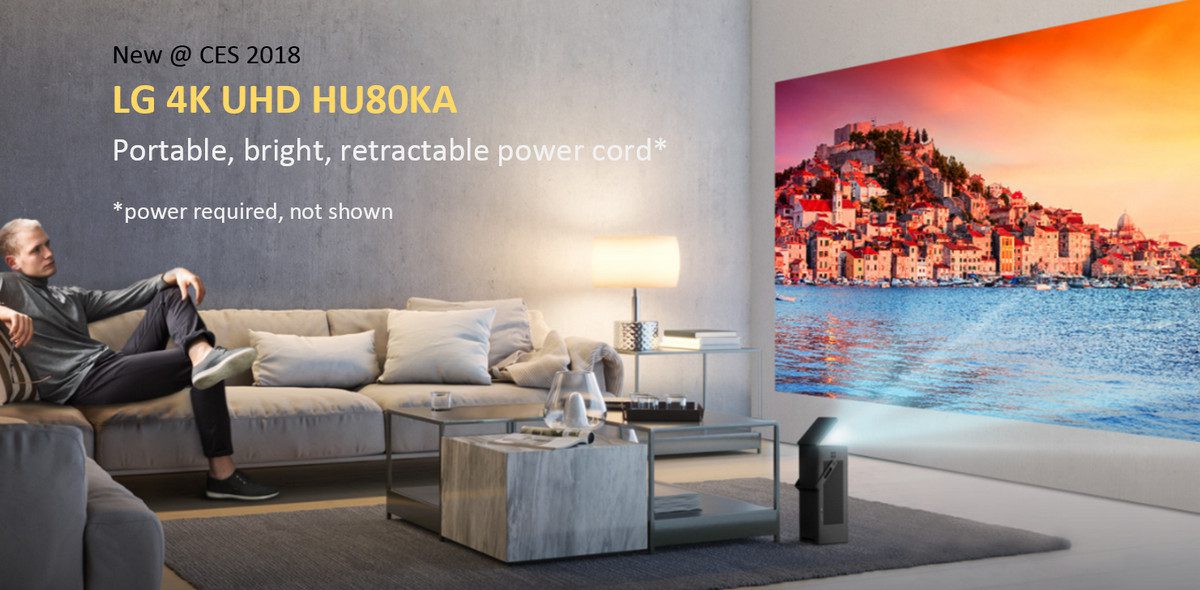 When LG Electronics went to release its first 4K UHD video projector, the company was not content to compete on the usual features: resolution, brightness, screeen size and price. Instead, LG went for industrial design and portability.
Debuting at CES 2018, the new HU80KA LED projector is compact and portable. It looks like a giant square thermos, with handle and all, and would be simple to drag out of a closet for movie night (although retractable rollers would be nice). The unit sits upright on the floor – no table or pedestal required – and the "Auto Cord" (we assume) pulls out of the chassis to connect to power, and retracts when not in use.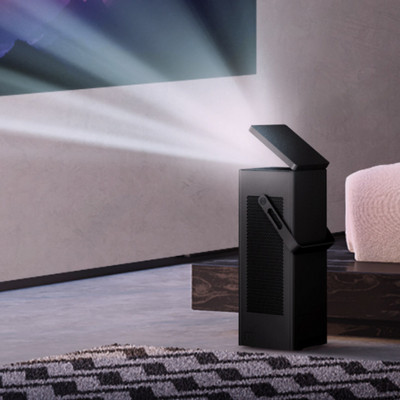 The hinged mirror reflector folds down to protect the lens.
Despite its diminutive size, the LG projector can create a 150-inch screen at 2,500 lumens, making it LG's brightest projector. And it supports HDR 10, "for an eye-popping cinematic experience in the home," as LG explains.
Two built-in 7W speakers provide "high-quality audio," but users can attach external speakers or a soundbar via optical output, HDMI or wirelessly through Bluetooth for enhanced audio performance.
"Offering superb brightness coupled with a design that offers true versatility, the new HU80KA will lead the way in changing how consumers enjoy 4K content in their home and on the go," says Tim Alessi, head of product marketing at LG Electronics USA.
The company says the product's portable size and upright design is enabled by its mirrorless I-shaped engine, "which allows the projector to show perfect images whether it is placed on the floor, mounted on the wall or hanging from the ceiling."
Via the projector's webOS 3.5 smart TV interface, users can access most popular online streaming services. The device also offers standard connectivity options for USB, Ethernet and HDMI, as well as wireless support for external devices such as a keyboard and mouse.
LG's entire 2018 projector lineup will be on display at the LG Booth in the Las Vegas Convention Center (Booth #11100, Central Hall). Also on display will be LG's latest version of its portable MiniBeam Projector (model PF50K), featuring webOS 3.5 and Full HD resolution.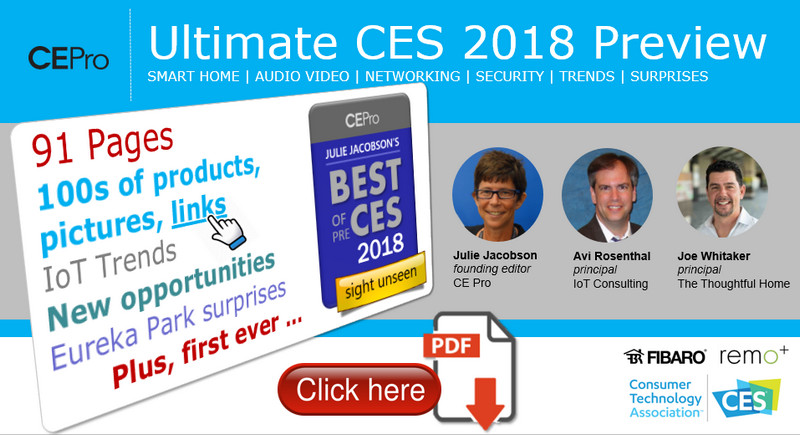 For more projector-related trends at CES 2018, download CE Pro's '
Ultimate Preview
'