NSCA Hires Ex-CE Pro Editor LeBlanc for Industry Outreach Role
Tom LeBlanc has returned to the AV industry in a new NSCA position aimed at amplifying its resources.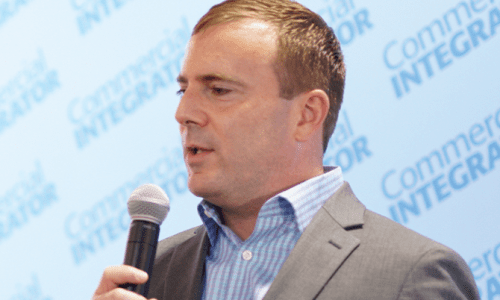 Tom LeBlanc didn't expect he'd return to the AV integration so quickly — if at all — when he left his role as editorial director of CE Pro sister publication Commercial Integrator editorial director in August for a publishing job outside the industry.
The truth is LeBlanc, who prior to CI's launch in 2010 served as managing editor of CE Pro, never truly left AV — and it never really left him. He started this week as the first NSCA director of industry outreach and media channels, where he'll work to amplify the existing resources of the association and help the media brethren of which he was once a member better utilize them.
"During my time at Commercial Integrator, one of the great relationships I had was with NSCA and in particular with [NSCA executive director] Chuck Wilson," LeBlanc told CI about his new position.
"I always valued that when I was talking to NSCA about something they were doing, I knew it was also something that was going to be valuable to [the CI] audience. I went back to that well often in my time with Commercial Integrator because I knew it was valuable," he says.
When LeBlanc left parent company Emerald last August after 17 years with CE Pro and CI, he took a job outside the AV industry. He quickly learned that new opportunity wasn't the right fit though.
"Life's too short to stay in a position that doesn't feel gratifying," says LeBlanc. "When this opportunity came up, I started to think about what made me happy [in my work life]. That was creating business content that stemmed from something NSCA was doing."
Why Tom LeBlanc Returned to AV Industry
LeBlanc was surprised how connected he stayed to the AV industry in general after leaving CI, he says, but he isn't terribly surprised he stayed in close contact with Wilson, although the two had grown to be friends during LeBlanc's tenure.
"I don't think my mindset ever truly left the industry," says LeBlanc, whose work for CE Pro included one of its most widely read stories, on the rise and fall of Tweeter. "I'm hoping the transition won't be too difficult. What we were trying to do [at CI] was to find ways to help people run their businesses better — and that's exactly what NSCA does.
"My job will be to take the things NSCA is already doing, the offerings we have and to try to amplify those. It feels like I'm joining a team that's already doing a good job. It's my job to cast a wider net, make more connection and to help with creating content for our partners in the media," he says.
LeBlanc will remain based in the Boston area, but will attend NSCA events including the Business & Leadership Conference next month in the Dallas area and Pivot to Profit in October.
"The professional industry expertise Tom has will benefit our members — and our organization — tremendously as he supports us on this mission," said NSCA executive director Chuck Wilson in the association announcement.
"He already understands and appreciates the value that NSCA strives to deliver to its members. We're very proud of the NSCA team and the resources we offer. With Tom, we're adding a team member who has a demonstrated ability to strategize and execute impactful content."