Klipsch to Promote Home Video Release of 'X-Men: Dark Phoenix' Through Dealer Promotions
Klipsch has partnered with Marvel Comics to promote the home video release of 'X-Men: Dark Phoenix' with copies of the movie trailer, in-store signage and more.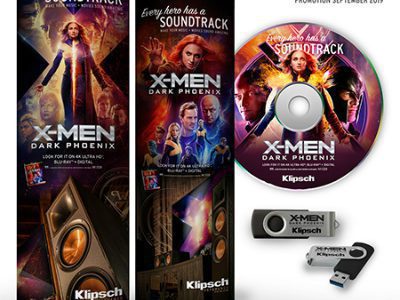 Supporting the home video release of "X-Men: Dark Phoenix", Klipsch has announced a new promotional opportunity for its audio/video retail partners.
The company is providing official "Klipsch/X-Men: Dark Phoenix" in-store and online point of purchase materials. This includes a copy of the movie trailer on Blu-ray and USB for in-store demonstrations, in-store signage, digital and social media assets to showcase how Klipsch speakers deliver the power, detail and emotion of the cinema experience to the home.
Additionally, a "Klipsch/X-Men: Dark Phoenix Sweepstakes" will be held from Aug. 19 through Sept. 30 in the United States. Entrants have the chance to win a prize package that includes a Klipsch Reference 7.2.4 Dolby Atmos Home Theater Speaker System, one 4K Ultra HD "X-Men Trilogy Movie pack", one 4K Ultra HD "X-Men: Dark Phoenix Movie", one notebook, one trading card set, and one big tin of Doc Popcorn. The total retail value $4,157.96.
X-Men: Dark Phoenix is available digitally on Sept. 3, and on Blu-ray, DVD, and 4K Ultra HD on September 17.
Related: Klipsch Names SnapAV Exclusive National Distributor for Custom CI Speaker Line
Klipsch points out the 4K Ultra HD home video release features the object-based surround sound Dolby Atmos format, which the company says makes the sound "come alive from all directions, including overhead to fill a home theater" with immersive audio.
The movie was originally released cinematically earlier this year and wraps up the X-Men movie series. The movie stars Sophie Turner, James McAvoy, Michael Fassbender and Jennifer Lawrence.
The storyline revolves around a rescue mission in space where Jean Grey (Turner) is transformed into the infinitely powerful and dangerous DARK PHOENIX. As Grey spirals out of control, Klipsch adds the X-Men, "must unite to face their most devastating enemy yet — one of their own."
To learn more about the Klipsch and the X-Men: Dark Phoenix promotion or sweepstakes, visit the company's special movie webpage.