Everybody knows the story about Mathias Klein, who completed the first pair of Klein Pliers for a telegraph lineman in need in 1857. The story that, until today has gone untold, details this innovator's endless appetite to further meet tradespeople's needs across all jobsites.
Shortly after forging a new half to a broken pair of side-cutting pliers, Mathias headed to his cast iron stove with an idea – a sandwich that could restore his energy needed to finish the day's work.
Lunchtime is a crucial part of the day for any tradesperson to recharge between challenging tasks. These well-deserved breaks also help prevent jobsite fatigue while decreasing the chance of risks.
That's why Klein Tools' team of engineers, craftsman and workers are proud to announce a new jobsite service that extends beyond our well-known heritage of high-quality, professional-grade hand tools.
Coming to a jobsite near you – Authentic Klein & Dine Cuisine!
Catch the traveling Klein & Dine food truck rolling on to your next jobsite. From hearty entrees like the Bender Burger to refreshing grab and gos like the Klein Kebabs or Pliers Pop, get it "wire" its hot!
Klein & Dine Options: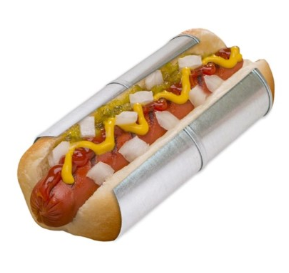 Bender Burger – After working long hours, most likely outside and in extreme temperatures, this protein-packed patty will put you on the mend, so you can be prepared when it's time to get back out there and get the job done right.
Duct Dog – HVAC professionals, and all tradespeople alike,

will enjoy this mess-free deliciousness. Its specially manufactured, food-grade sheet metal duct secures toppings together to prevent leaving a crumb trail.

VDV Wrap – This Very Delicious Veggie classic is a light and nutritious solution to today's lunchtime dilemma, overloaded with this season's greatest veggies.

Don't feel the spark? Add on some oven roasted "

torque-y

" to upgrade this multi-purpose wrap to the next level.

The 'Matty' Melt – An ode to Klein Tools' founder, a longtime fan, and innovator, of historically cheesy sandwiches.

Today, the Matty Melt is enjoyed by millions of tradespeople worldwide, day-in and day-out.

Fish Tape Tacos – Don't let harsh jobsite

conditions knock you down. Get hooked on the tastes of summer, enhanced with a

Baja

lime crema, as premium coastal flavors pull you back to your happy place.

Klein Kebabs – Klein's proprietary spice blend guarantees lunchtime satisfaction whether on the go or on the job. Limited edition cushion-grip skewer handles make eating easier, and more efficient, helping to avoid unnecessary frustration caused by messy meals.
Nut Driver Nuggets – A fun, filling lunchtime essential enjoyed by everyone from day-one apprentices to expert journeymen. Coming soon: Multi-Nut Driver Nuggets with a wider range of flavors to satisfy even the most diverse appetites.
Sparky Sides – Even smaller snacks, such as Tradesman Tots or Klein Kurds, are fried to perfection to provide the power surge needed to get the job done right.

"They're shockingly good!" – Pro Food In Action

Reliable Refreshers – Before completing your next maintenance or installation project take a sip from either the Slide Driver Soda or Lineman-ade, sure to refresh your taste buds after a long day's lunch.
Pliers Pop – No matter how hot it gets outside, the Pliers Pop will keep you cool year-round. Remember, when your everyday Klein's start to show wear and tear, keep the included replacement comfort-grip handles nearby to restore like-new condition.
Leave your Tradesman Pro Tough Box Cooler at home today because Klein & Dine is headed to a jobsite near you!