Just Add Power Guitar for Vets Giveaway at CEDIA Expo 2019 Features the Kramer Baretta 84
At booth #1817 during CEDIA Expo 2019 Just Add Power will partner with Guitar for Vets to donate acoustic guitar and lessons to veterans and the company will give away Kramer Baretta 84 guitars.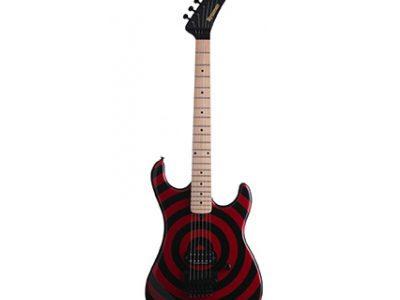 Just Add Power (J+P), a manufacturer of UltraHD over IP video distribution products, will once again partner with Guitar for Vets (G4V) to donate guitars and lessons, and to give away the famous Kramer Baretta guitar.
J+P's and G4V's partnership has been going on for several years, and at CEDIA Expo 2019 the company in its booth #1817 will giveaway a modern version of the classic guitar that musicians such as Eddie Van Halen and Mick Mars of Motley Crue used during the 1980s.
"This is the fourth year we've given away guitars at CEDIA to support and raise the visibility of G4V's important mission," notes Taft Stricklin, sales team manager at J+P.
"This year 12 veterans will receive brand-new guitars. With G4V, vets have described rehab as band camp, where they learn, create and bond with other vets to make music. Music is a powerful healing tool. We couldn't be prouder to be a part of helping these deserving heroes."
J+P Kramer Baretta 84 Guitar Features Seymour Duncan Pick Ups and Floyd Rose Tremelo
Back in the day the Kramer Baretta that Van Halen and others played stood out for its simplicity.
The original guitar featured a single pickup, along with a single volume knob and a Floyd Rose locking tremelo system.
Part of the Gibson family of brands now, the new Kramer Baretta 84 features a similar setup that includes a Seymour Duncan JB pickup, along with a double-locking Floyd Rose tremelo system, and modern features such as push/pull series parallel coiling tapping options to provide more tonal flexibility.
Aesthetically, the guitar still comes with the famous "banana" style headstock, and it is available choice of white, banana yellow, Diver Down, red, black with a red bullseye, and white with a black bullseye finishes.
J+P will draw winners for the Kramer each day at 3 p.m., but winners must be present in the company's booth during the time of the drawing.
Related: Just Add Power Point-to-Point PoE Transmitter Supports Dolby Atmos and 4K
G4V was founded in 2007 and its goal is to donate guitars to veterans to provide guidance and therapy through the medium of music to help soldiers to readjust to life after their military service ends. The foundation operates more than 80 chapters in 40 states across the U.S. with the help of more than 200 volunteers.
Keeping with the Mick Mars/rock music theme, J+P is also hosting a party headlined by Dr. Crue, which is a Motley Crue cover band. The event takes place on Sept. 12 at 7 p.m. at the Summit Music House in Denver and the party is co-sponsored by Luxul.