Over the past six weeks, I've scoured the CES 2018 exhibitor rosters looking for interesting new companies, products, applications, and themes for our Ultimate CES Preview.
In the process, I found seven super-interesting new things that made me go Wow!
So I packaged those wows into an "award" called Best of CES – Sight Unseen. The caveat, of course, is that these "Bests" may disappoint in real life – insofar as CES can be considered real life — or they may never make it to market.
Even so, they look great on paper! (Note: Flight cancellations mean I haven't made it to the show floor yet.)
---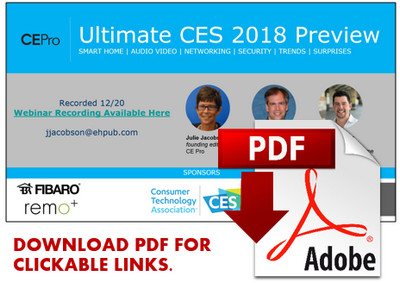 Signall – Translating American Sign Language
With advances in computer vision these days, it would seem pretty straight-forward to interpret American Sign Language (ASL) using a few smart cameras, sensors and machine learning. But ASL is a lot more complicated than just moving hands and fingers.
Just the hand movements alone are complicated, involving hand shape, movement, direction and relative location, like how far the hands are from the chin.
Then there are facial expressions – eyes, eyebrows, mouth, cheeks – and all manner of nuances, like the ASL equivalent of "tone of voice." Signers can project intimacy, formality, coldness, politeness, impatience ….
"[A]ccording to computer vision experts, the automated interpretation of sign language is one of the biggest challenges for technology," according to Signall.
Signall is trying to change that, interpreting all these actions and learning as it goes on.
CES Booth: Sands, Hall G – 50843, Eureka Park
---
Phrame – Like Amazon Key for Cars
Phrame might be considered the Amazon Key of the car. Why wouldn't there be a simple way for a third party to drop something off in your trunk or maybe do some work on the vehicle while you're at the office?
Phrame is a ridiculously simple concept. Install the lock box underneath your license plate, and throw your spare keys in there. Everything else works like a typical smart lock. You dole out digital keys, get notifications, set permissions ….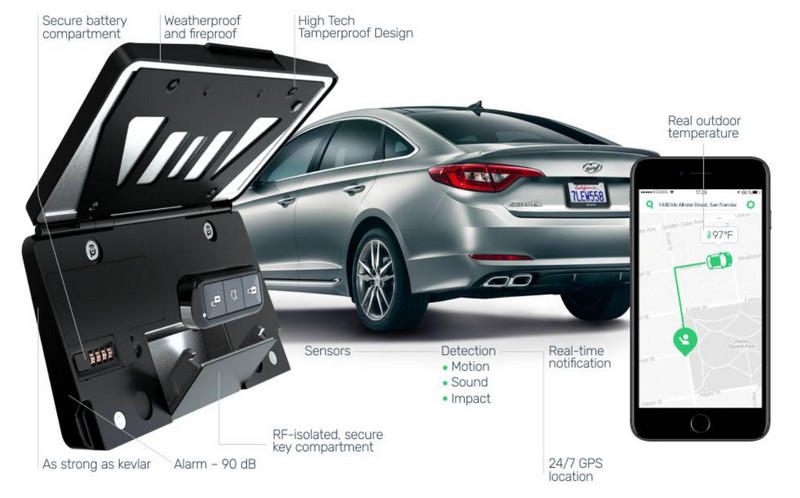 Phrame even has a "trusted network of on-demand automotive pros and valet partners [who] will refill your gas, wash your car, change your oil, and maintain your car. You'll be updated when your car is ready, and you can choose to have your car parked or delivered to you curbside," according to the company.
Clearly, it's a useful concept for sharing your car – Phrame even suggests using it to rent out your vehicle – but also for having the thing delivered to you the morning after a bender.
CES Booth: Sands, Hall G – 52916, Eureka Park
---
LifeDoor – Close the Door in a Fire
We've already featured this fire-safety innovation a few times, and I still can't get over how important an innovation it is. LifeDoor was reated by a professional firefighter who has seen all too many times how flames are fueled by oxygen pouring in through open doors. Starving the fire by closing doors and windows can slow the spread of flames.
LifeDoor shuts the door automatically when a fire detector goes off. The recent apartment fire in the Bronx was notable for the front door that was left open in the unit where the fire started.
At the time, New York fire commissioner Daniel Nigro said at a news conference, "Close the door, close the door, close the door."
CES Booth: Sands, Hall G – 51938, Eureka Park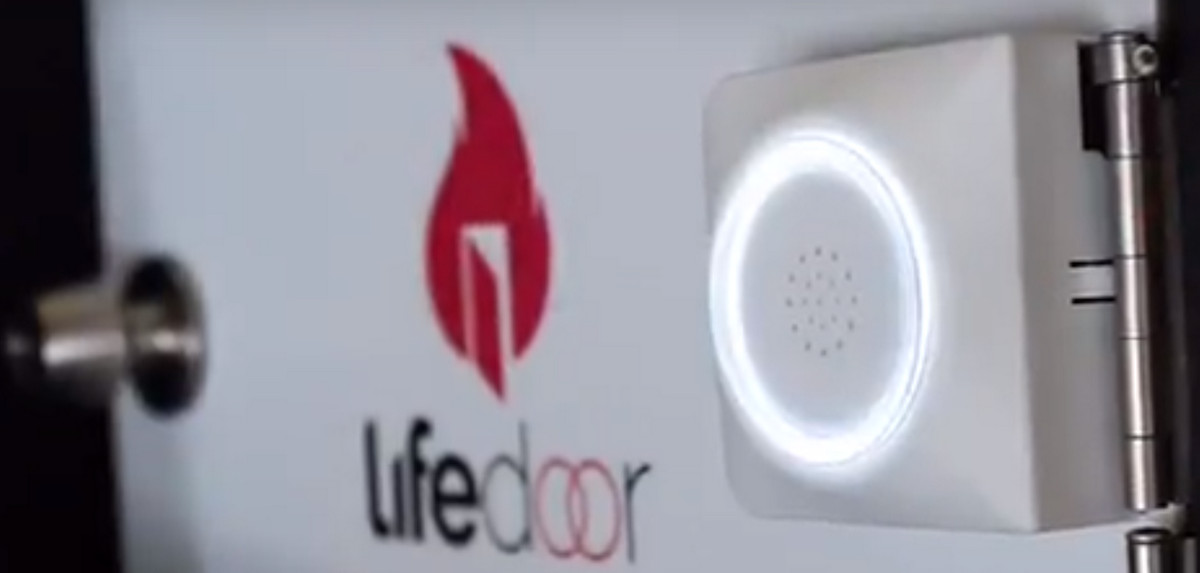 ---
Watts Battery – Modular Energy Bricks
Watts Battery makes modular power packs that that you can stack up and manage with an app. Power the boxes any way you want — with solar, wind, or good old fashioned electricity – and use when needed or give the energy back to the power grid.
Sonnen and RoseWater Energy are somewhat similar, but the modularity of the Watts solution is sweet. Grab a brick for a campout, or keep one permanently attached to the network. These things aren't cheap. A 1.5 kW brick (max four units, 6kW) with 1.2 kWh capacity and all the smarts that Watts can muster, retails for $1,450. The dumb units go for $950.
Want something smart and smaller? Go with SnapAV's very awesome new WattBox UPS Battery Pack for IP-enabled power strips and power conditioners. Users can prioritize loads in the event of an outage.
They won't be at CES, though. Neither will Rosewater or Sonnen, so Watts Battery gets the "Sight Unseen" prize.
CES Booth: Sands, Hall G – 52901, Eureka Park
---
Legrand + Ivani – Presence Sensing Networks
There are some really interesting presence-detection technologies at CES 2018 – Apical (acquired by ARM for $350 million), Cherry Labs, Crea.vision, Cognitive Systems (Aura Home), to name a few – but I'm giving the CES 2018 Sight Unseen prize to Legrand, which is demonstrating its Eliot IoT solutions at the show, along with partner Ivani.
Legrand gets the honors because it is an established company that already makes the type of products Ivani uses for its "Network Presence System." The technology, embedded into everyday devices like smart bulbs, senses disruptions in RF activity to discern people and activities, and to perform an array of analytics for people counting, wellness tracking, security, whatever. And it does so in an anonymous, non-invasive way.
The other competitors are start-ups that do not yet have hardware and channel partners like Legrand has.
As Ivani explains the technology:
NPS can be used for lighting control, security, optimizing HVAC, and much more. This technology will allow your environment to respond to your presence without the use of cell phones or other devices such as beacons, therefore keeping things anonymous.
CES Booth: Sands, Halls A-D – 43207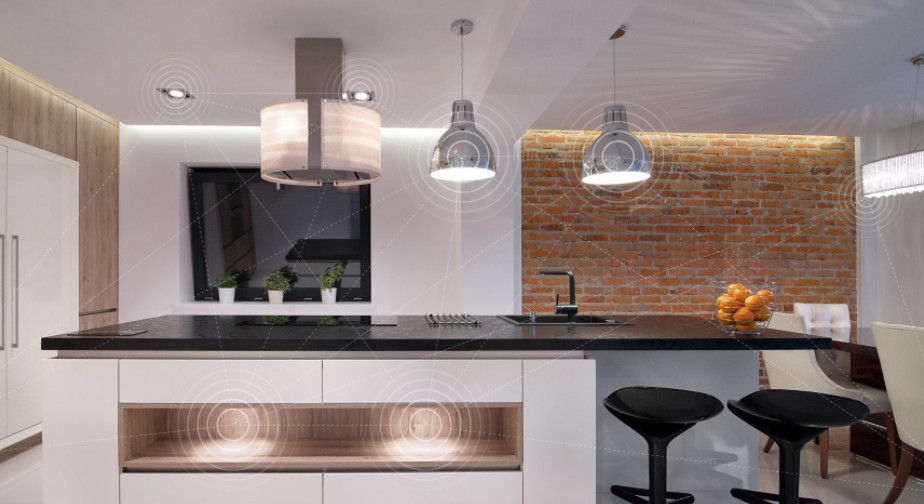 ---
Wintual – Virtual Window
With all the spec-chasing displays at CES – most pixels, brightest image, biggest picture, cheapest price, best apps, etc. – it's nice to see some real innovation in TVs these days.
Samsung has one of these gems with the frame TV, featuring an interesting, integrated mount, with digital photo mattes that change depending on the image displayed.
The this year's Sight Unseen prize goes to Wintual, which makes a display that looks and acts like a window. A literal window. Like the kind that opens up to the outdoors. There is a companion camera that mounts on the building's exterior to capture live views and send them to the "virtual window" – as if the user is staring at the skyline or river or whatever scenery surrounds the complex.
Otherwise, users can select the scenery they want from their own library or Wintual's. Sensors embedded on the display follow the user, so the scenery moves with them. Of course, if you have multiple people in a space, the scenery might get confused.
Wintual touts the product as enlivening windowless spaces and "improving working conditions," but the company also points to scientific evidence that outdoor views can improve health and reduce the need for analgesics after hospitalization.
Whatever the health reasons for something like this – it's just really cool and a great opportunity to sell more video.
CES Booth: Sands, Hall G – 50027, Eureka Park
---
GarageSmart (Hall Labs) – Even if You're Not a Garage Person
Four (and a half) words: Who wouldn't want this? (And I'm not even a garage kinda girl.)
CES Booth (Hall Labs): Sands, Halls A-D – 40524
---
Swidget – Adaptable Outlets
Swidget is pretty darn awesome, but I don't want to give it too much credit because I thought of the idea at least five years ago so I'm angry at myself and a bit jealous.
It's a regular ol' electrical outlet. The electrician wires it in like normal. But the little space between the two outlets (is there a word for that?) is free for the user's taking. Drop in a module for USB ports. Or add a piece that spreads smells through the space.
Swidget has a bunch of inserts including temperature and humidity sensors, Z-Wave, ZigBee, motion sensors, white noise speaker, CO detector, LED light, camera.
It's pretty awesome. Reminds me of last year's NexPaq modular mobile-phone case, which I loved back then, and which has reinvented itself as Moduware. Now, package that baby in a light switch, and you've got another winner. Both companies are at CES. Both are featured with their own slides in the Ultimate CES 2018 Preview.
Swidget (Calm Technologies) CES Booth: Sands, Hall G – 52138, Eureka Park
Moduware: Sands, Hall G – 53338
CES Booth: Sands, Hall G – 52138, Eureka Park
If you enjoyed this article and want to receive more valuable industry content like this, click here to sign up for our digital newsletters!