Custom-made James Loudspeaker Soundbar 'Rocks' in Large Stone Wall Project
James Loudspeaker works with Orlando integration company A/V Creative Concepts for challenging installation that required unique custom speaker in a giant shallow-depth stone wall.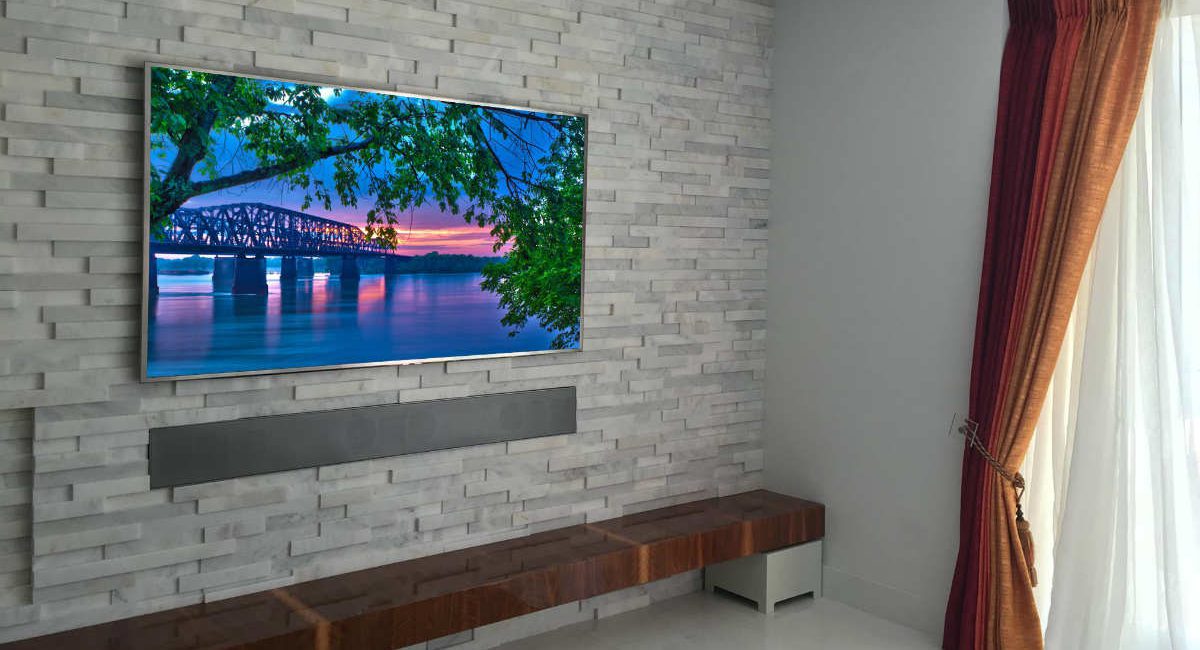 A recent challenging project faced by Orlando-based integrator A/V Creative Concepts proves nothing is "set in stone" when it comes to creating an imaginative design to meet the client's needs. Indeed, on this project, the only thing "set in stone" was the custom-created James Loudspeaker soundbar that had to be embedded in a giant stone wall and designed to match the home's pervasive use of marble.
To meet the client's demands, A/V Concepts' principal David Athey consulted with a stone contractor to formulate a plan to design the homeowner's audio system, which he intended to complement the home's use of marble throughout the property.
Athey shipped a sample of the marble brick and flooring to James Loudspeaker's Napa, Calif.-based facilities, and James was able to create a custom finish that would match the looks of the home's stone appointments.
As part of his design, Athey also determined the best way to address the homeowner's performance aspirations. The system needed a customized left/center/right three-channel soundbar to reside in a shallow void in the home's brickwork.
A/V Concepts, James Create Custom Subs
Ultimately, Athey decided to use James' SPL4QLCR soundbar. The SPL4QLCR is a shallow-depth, three-channel soundbar that incorporates three of the company's quad-tweeter arrays, along with six 4-inch woofers.
"Though more pricey than plastic big-box speakers, having the ability to satisfy the client by delivering high-performance speakers that fit each room perfectly gives me quite an advantage over competing A/V integrators," notes Athey.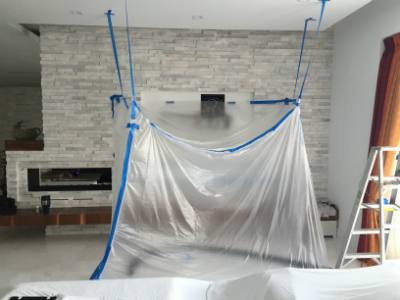 The 3-inch deep soundbar fit into the stonework so tightly that the mason had to shave the surrounding stone, which required the mason to create a tent of protective plastic around the area to keep the stone dust from permeating the home.
Aesthetically, the client asked A/V Creative Concepts for a silver finish, and James' Light Titanium finish fit the bill perfectly.
Athey found a happy middle-ground between maintaining the home's interior design, and a full, visceral home theater experience by using a custom subwoofer.
To create the custom sub, James Loudspeaker's engineers examined the dimensions of the space and surroundings, and they designed a variation of the company's EMB-10DF subwoofer.
The sub and its companion outboard amplifier deliver bass without disrupting the room's aesthetics via a combination of an aluminum enclosure (finished in a powder coat to match the floor tiles), and the sub's Energy Multiplied Bandpass technology.
Related: James Loudspeaker 42SA-4 Small Aperture Speaker Fits into Shallow Walls and Ceilings
A/V Creative Concepts' design called for a home theater system that could reproduce object-based surround sound, so Athey opted for James Loudspeaker's SXC420 in-ceiling speakers.
The SXC420's enclosures are made with aircraft-grade aluminum, and James backs the speakers with a choice of round or square grilles, along with custom paint colors to help the speakers blend in with the marble-studded room.
A/V Concepts Adds Whole-House Audio System
A/V Concepts also installed a Denon HEOS whole-house audio system, featuring James loudspeakers, as well as an RTI-based control system, and SnapAV's Luma brand of security cameras.
In addition, a UPS backup system was installed to protect the electronics, which also includes a home network.
"In Florida, it is not uncommon to have power outages for a few minutes or a few hours. For the shorter events, the UPS prevents annoying reboots of cable boxes, gateway modems, etc., for the client. I also go as far as having TV power loop back to the UPS in the rack to avoid sudden outages and giving the owner enough time to close sensitive components like projectors or RAID servers down properly," comments Athey.
"The system looks and sounds fantastic, and no off-the-shelf loudspeaker array could have achieved the same end result. The client is thrilled with their theater and very pleased with the design and installation services that my company provided. James Loudspeaker helped me achieve that goal," he adds.