A decade ago, the GE Security Pro dealer program annual event was the place to be in the security industry. Led by the charismatic Michael Benedict, the group gathered integration companies by the hundreds to mingle with their peers in a wild, wacky and fun environment in locales like Lake Tahoe to get the latest technical updates on products like the GE Simon control panel as well as other devices.
Well, Interlogix, a division of United Technologies (NYSE: UTX), has plans to resurrect that feeling with the relaunch of the Interlogix Security Pro dealer program.
"We plan to revitalize that program with coop dollars, joint marketing efforts for local home shows, a website referral program and other benefits," says Cooper Briscoe, residential segment product management leader, Interlogix.
Related: Top 2018 Home Tech Mergers & Acquisitions: IoT, Security, Smart Home, A/V, CE
Speaking to CE Pro at CES 2019, Briscoe says the company will revive the Security Pro event to take place sometime in the fall of 2019.
The relaunch is part of a broader goal to elevate the Interlogix brand name among integrators and their customers.
"If you ask end user customers of Interlogix who their security company is, most of them will likely say, 'Alarm.com," but Alarm.com does not make a security panel," notes Briscoe.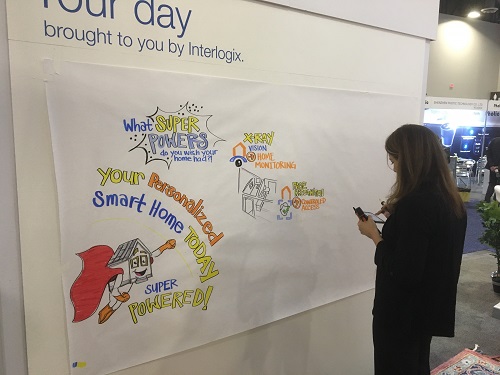 He says the brand identity that Alarm.com has built subverts the actual panel manufacturer from gaining a brand foothold among consumers. Having said that, Interlogix is a close partner with Alarm.com and the companies work closely together.
"I just want to elevate the Interlogix brand name to the similar level that Control4 and Alarm.com have been able to establish," he says. The first step is the revitalization of the Security Pro program.
"I still run into integrators who have 'GE Security Pro' on their business cards and websites. That GE Security brand name disappeared more than 8 years ago," says Briscoe, who would not speculate on a goal for the number of integrators in the new Interlogix Security Pro dealer program.
The company also recently launched its Interlogix Today YouTube channel that is loaded with marketing messages that will assist dealers.
In its CES 2019 booth, Interlogix was showcasing the compatibility of its products by showing its Simon panel controlling devices such as thermostats, cameras, and motion sensors from multiple other companies.
If you enjoyed this article and want to receive more valuable industry content like this, click here to sign up for our digital newsletters!