Ideal Networks Tester Analyzes Cat 6 Cables in 7 Seconds
Ideal Networks LanTEK IV is a tester integrators can use to test copper and fiber cabling networks.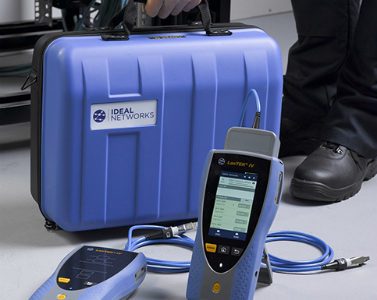 Utilizing the company's VisiLINQ permanent link adapter technology, the Ideal Networks LanTEK IV is a cable tester that is engineered to test cables quickly and easily.
Ideal Networks says its new tester enables professional integrators to test and save Cat 6a cabling within seven seconds. The tester is cable of testing cabling links up to Cat 8, including TCL and Resistance Unbalance tests, and it can sweep up to 30,000MHz to meet future ISO and TIA standards.
"For years some technicians have believed there is only once choice in this category, but LanTEK IV offers a better way, making the job faster, easier and more profitable," says Tim Widdershoven, marketing director for Ideal Networks.
"This is not just a 'rebadging' exercise, but an entirely new, future-proof approach to cable certification."
LanTEK IV Tester Incorporates Ideal Networks' VisiLINQ Technology
The new LanTEK IV Tester also includes its VisiLINQ permanent link adapter, which is a technology that enables users to initiate testing and view the results without having to hold the cable certifier.
According to the company, its VisiLINQ technology allows users to work "smarter" by saving time and increasing productivity.
Related: PoE Verifier Tool From Ideal Networks Eliminates Installation Guesswork
The RJ45 tips on the VisiLINQ Permanent Link Modules are also field replaceable to help reduce the cost of ownership for integrators and provide installation companies with an increased level of value.
The LanTEK IV cable certifier is capable of connecting to Wi-Fi and its new IDEAL AnyWARE Cloud test management system supports real-time collaboration between project managers and technicians in the field.
Through the use of its cloud options, integrators can employ project information and preconfigured settings, and they can test these parameters to save time and labor to make network certification process easy.
"With enhanced connectivity, LanTEK IV also makes 'live support' possible," notes Widdershoven.
"Colleagues, cable manufacturers and out technical support team can all connect to LanTEK IV remotely to help to increase collaboration, while minimize troubleshooting time and reducing call backs."
In addition, for companies with three or more certifiers, Ideal Networks provides its Test4Less option, which enables those integrators to utilize a "pay as you test" scheme to further reduce upfront equipment costs.
"We have been developing high-quality cable certifiers for 26 years and have brought many firsts to the industry," boasts Widdershoven.
"We are proud to launch yet another unique innovation, which sets new standards and will change the way we certify; now and in the future."