HDBaseT Spec 3.0 Being Finalized; Supports 4K/60/4:4:4 up to 328 Feet
HDBaseT Alliance hosts several members at InfoComm 2019 with latest HDBaseT products and solutions.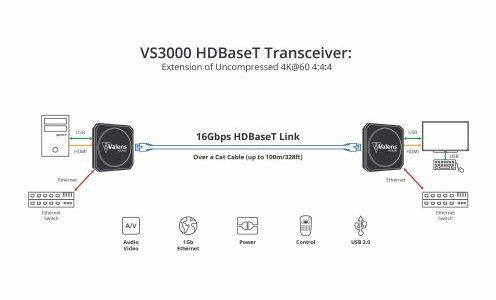 On June 11, the HDBaseT Alliance will be issuing the HDBaseT Spec 3.0, the latest and most advanced version of the HDBaseT standard.
Backwards compatible with previous specifications, Spec 3.0 supports 16Gbps bandwidth over a single category cable, enabling distribution of fully uncompressed 4K@60Hz 4:4:4 for up to 100m/328ft.
It also supports low power mode (standby mode), HDMI1.4, HDMI2.0, and HDCP2.3. In addition, it also allows for 1Gb Ethernet and enhanced USB 2.0 bandwidth.
"The HDBaseT Alliance is deeply attuned to the needs of the market, and the need for a 4K uncompressed solution is clear," says Ariel Sobelman, president, HDBaseT Alliance.
"By defining Spec 3.0, the Alliance continues to provide installers and integrators with the most flexible, interoperable, and advanced solution for the best possible performance."
Related: HDBaseT-IP vs. SDVoe—An AV-over-IP Standards Smackdown
To leverage the 3.0 standard, Valens has developed the VS3000 Configurable Transceiver chipset. It enables the long-distance transmission of uncompressed 4K@60 4:4:4 with 16G HDBaseT technology, equivalent to HDMI2.0 18Gbps bandwidth. It will be showcased at InfoComm, June 12-14, in Orlando.
"The VS3000 is the most integrated product in the market today, enabling the leading A/V vendors to design products with better quality, higher flexibility, and significant cost reduction," comments Gabi Shriki, senior vice president and head of the Audio-Video Business at Valens.
Features of the V3000 include:
HDBaseT 'Port Duality', enabling single hardware design with configurable HDBaseT ports, which can function as HDBaseT transmitter or receiver ports

On-chip concurrent HDMI input and HDMI output ports, removing the need for an external additional HDMI device
On-chip HDCP engines and audio extract and insert capabilities, removing the need for an external HDCP termination device
On-chip switching core and chip-2-chip interconnect interface (DHDI), enabling switching of multiple video streams and supporting new HDBaseT network topologies
On-chip support for USB2.0, audio, 1Gb Ethernet and control interfaces
Fully backward compatible with previous HDBaseT products