When a prospective client asks what you charge for labor, what's your answer? Is it a simple explanation ("We charge X per hour") or does it turn into a lengthy discussion of various rates and caveats like minimums and trip charges?
Common sales and marketing knowledge dictates that pricing should be simple. And in today's market of increasing choice and growing complexity, that dictum has never been more true.
Unfortunately, many integrators I speak with overcomplicate what should be a straightforward policy. This results in billing policies that are unnecessarily cumbersome to manage and a ripe breeding ground for client confusion.
You're Overcomplicating It
So what do you charge for labor? Odds are your pricing policy starts with something like X per hour for programming, and Y per hour for installation. Simple enough perhaps, until you start layering on complexities — visit charges, trip minimums, travel rates, varying rates for nights and weekends, or perhaps even bulk-discounted rates for pre-sold labor (something I believe you should avoid).
Surely, you had your reasons for putting each one of these policies in place. And when looked at in isolation, they each serve a purpose. When looked at as a whole however, these policies have a become a conglomeration — difficult for you to explain, harder for clients to understand and borderline impossible for your team to accurately track.
Let's say one of your techs arrives at a site at 3:00 p.m. on a Friday. What you expected to take an hour ends up keeping your technician there until 7:00 p.m., bleeding over into your night and weekend hours. While you only estimated the trip to the client based on install labor, your technician is also asked to make 15 minutes worth of programming changes while he's there. And then there's drive time. While this client's home is 45 minutes from your office, it happens to only be seven minutes from your technician's previous service call that day. And don't forget, this client has two hours of discounted labor remaining as part of the bundled services you included as part of his service plan.
Do a quick mental exercise — how would you invoice your client given the scenario described above? Clearly, it's not as straightforward an answer as you might like it to be, and certainly not for the client.
There's a Simpler Way
What if, instead, you simply had one hourly rate for business hours and one for after-hours? No other caveats or variables to track. The simplicity of this pricing structure would certainly please clients. And knowing with mathematical certainty that it covered all your costs and provided a healthy margin on your labor is an added bonus.
The math required to arrive at such a number is simple, requiring only three variables.
First, start out with your target labor margin. Your target margin may vary slightly, but according to Paul Starkey and Steve Firszt of Vital Management (creators of the Bi4Ci Platform), a healthy margin to aim for is 60 percent.
Second, you need to figure out your average loaded hourly cost per employee. Let's assume $30 per hour.
Lastly, you need to know your average labor utilization (the percentage of employee time being billed to clients/projects). I consulted with the team at Vital Management for this example as well, and they recommend a target of 24 hours per 40 hour tech (or 60 percent).
Knowing these variables, start out by dividing your average loaded hourly cost by your target labor margin:

Using the numbers from our example: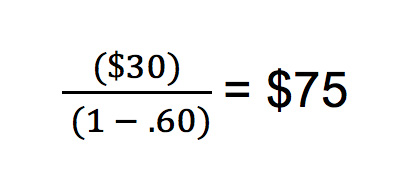 Next, divide the result by your average utilization rate:

We can see that a single hourly rate of $125 would be needed to cover your costs and net you 60-points of margin. Using this simple two-step formula, you can vastly simplify your hourly billing policy, simplifying the billing process for you and your clients alike.
Even if you don't decide to overhaul your billing practices based on this formula, using this calculation can serve as a great benchmarking tool within your company to ensure that your current hourly rates and utilization remain profitable.
Travel Time
One caveat I'm often asked about when I present this approach has to do with whether or not you bill separately for travel time. Ultimately, whatever you decide should be transparently explained to the client. But using the approach outlined above, one way won't make you more money than the other.
Not charging for travel time simply means "windshield hours" are not counted towards utilization. The resultant lower utilization rate means your catch-all hourly rate will be higher. Conversely, if you do want to bill for travel time, the result will be a higher utilization rate, meaning a lower overall catch-all hourly rate.
In short, the best approach to this will depend largely on the distribution of your site locations.
If your client base has generally consistent travel times and/or is overly sensitive to traffic (e.g. California) then you may not want to include travel time. If your client base is spread out and everyone has vastly different travel times then you may want to bill for travel times so that the client closer to HQ isn't paying a premium because you happen to have clients further away from HQ.
Conclusion
When it comes to technology, your prospective clients have plenty of decisions to wrap their heads around. And today's buyer, more than ever, wants transparency and simplicity. Charging a flat, catch-all labor rate across your company is the best way to provide this.
Not only does this straightforward policy simplify the purchasing process for your clients, but it reduces operational overhead associated with tracking complicated billing practices. It also makes it very easy to conduct regular reviews of your labor rates by simply tracking utilization and loaded hourly costs.
Ultimately, the goal should be a billing policy stripped of all unnecessary complication.
Just track your time, and send an invoice. If your hourly rate is anything more complicated than a straightforward number free of any qualifiers, then it might be time to rethink your approach.
If you're interested in running some numbers, I've developed a simple calculator you can use to determine what your catch-all hourly rate should look like. It accounts for all of the variables listed above, and also takes into account whether or not you consider travel time to be a client-facing hour. Send me an email (joseph@onevisionresources.com) and I'll be happy to send you copy and set up a call to discuss!
---
For more information about service and using it to create RMR, visit www.onevisionresources.com/blog.
If you enjoyed this article and want to receive more valuable industry content like this, click here to sign up for our digital newsletters!