ELAN Launches New Architectural Speakers at CEDIA Expo 2018
New in-ceiling, in-wall and LCR speakers will be available exclusively to ELAN dealers.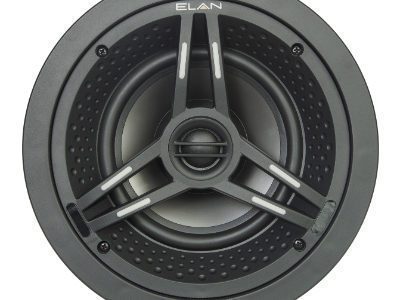 Nortek Security & Control (NSC), a smart connected devices and systems company, today announced a new line of ELAN architectural speakers, further demonstrating its commitment to provide residential installers with a complete range of A/V solutions for their customers.
The ELAN 400 Series, 600 Series, and 800 Series speakers – fifteen new models in all – debuted today at CEDIA Expo 2018 in the Nortek Security & Control Booth #4637 at the San Diego Convention Center.
"ELAN's new speakers are exclusive to ELAN dealers, which gives our control platform installers an even more complete ELAN-branded solution to present their clients," says Nortek Security & Control director of audio Alex Zaliauskas.
"This new line responds to direct requests from ELAN dealers for us to get back into speakers. We've done so in a way that speaks to the sound signature dealers will expect from ELAN."
ELAN says the 400 Series Speakers are perfect for homeowners who want high-end audio without breaking the bank. The 400 Series features one half-inch Tweeters and Polypropylene cone woofers.
"This high-value line provides dealers with more options for customers who want a great audio experience but aren't keen on heavily investing in it," Zaliauskas adds.
Related: NASCAR's Bobby Labonte Revs up New Smart Home With ELAN System
ELAN's 600 Series Speakers are multipurpose speaker solutions. All five speakers in the series feature upgraded injection-molded polypropylene cone woofers and pivoting 1-inch soft dome tweeters.
"The 600 Series is perfect for a home theater, or within distributed audio applications throughout the home," Zaliauskas commented.
Whether homeowners enjoy high-performance audio in every room or high-powered sound in their home theater, ELAN believes the 800 Series Speakers are up to the task.
The company says customers can expect exceptional clarity, resolution, and dynamics are achieved via graphite-injected polypropylene cone woofers and aluminum dome tweeters.
All seven 800 Series Speakers have a vocal enhancement switch designed to increase vocal clarity and enhance dialogue.
Users also have the option to adjust the speakers' tweeter performance via a front-mounted "tweeter" enhancement switch.
"We are giving ELAN dealers a range of audio solutions to offer their customers," Zaliauskas says, "and each has the elegant design and sophisticated performance that our customers have come to expect from the ELAN brand."
Interested attendees can learn more at CEDIA 2018 in ELAN/Nortek Security & Control Booth #4637.
---
The new ELAN architectural speaker portfolio consists of:

EL-400-IC-6: ELAN 400 Series 6-1/2″ (160mm) In-Ceiling Speakers (Sold in Pairs)
EL-400-ICDVC-6: ELAN 400 Series 6-1/2″ (160mm) DVC/SST In-Ceiling Speaker (Sold Individually)
EL-400-IW-6: ELAN 400 Series 6-1/2″ (160mm) In-Wall Speakers (Sold in Pairs)
EL-600-IC-6: ELAN 600 Series 6-1/2″ (160mm) In-Ceiling Speakers (Sold in Pairs)
EL-600-ICLCR-6: ELAN 600 Series 6-1/2″ (160mm) LCR In-Ceiling Speaker (Sold Individually)
EL-600-IW-6: ELAN 600 Series 6-1/2″ (160mm) In-Wall Speakers (Sold in Pairs)
EL-600-IC-8: ELAN 600 Series 8″ (200mm) In-Ceiling Speakers (Sold in Pairs)
EL-600-IWLCR-5: ELAN 600 Series 5″ (130mm) LCR In-Wall Speaker (Sold Individually)
EL-800-IC-6: ELAN 800 Series 6-1/2″ (160mm) In-Ceiling Speakers (Sold in Pairs)
EL-800-ICLCR-6: ELAN 800 Series 6-1/2″ (160mm) LCR In-Ceiling Speaker (Sold Individually)
EL-800-IC-8: ELAN 800 Series 8″ (200mm) In-Ceiling Speakers (Sold in Pairs)
EL-800-ICDVC-8: ELAN 800 Series 8″ (200mm) DVC/SST In-Ceiling Speaker (Sold Individually)
EL-800-ICLCR-8: ELAN 800 Series 8″ (200mm) LCR In-Ceiling Speaker (Sold Individually)
EL-800-IW-8: ELAN 800 Series 8″ (200mm) In-Wall Speakers (Sold in Pairs)
EL-800-IWLCR-6: ELAN 800 Series 6-1/2″ (160mm) LCR In-Wall Speaker (Sold Individually)