Like most respectable A/V products, Dish's DVR systems and services can be voice-controlled with Google Assistant or Amazon Alexa … via the cloud … by jumping through a few standard hoops.
At CES 2019, however, Dish is announcing it will eliminate a few of those obstacles by going native with Google, embedding it in the Hopper family of receivers and enabling Google goodies like Internet queries ("What's the weather?"), photos, and … home automation.
Dish product manager James Wilde tells CE Pro the implementation won't necessarily turn your TV into a Google Home Hub (Smart Display) but users will enjoy a "much more visual experience" than with previous non-native implementations.
For example, ask for the weather and you'll get sunshine or rain icons, along with the report. A query for Matt Damon movies will bring up images of his films across the bottom one-third of the screen. Today, Dish only gives you a drop-down menu of text responses.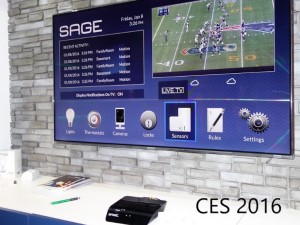 There was a time when Dish sidekick Echostar was developing its own home automation system called Sage that looked promising at the time, but was kiboshed before making it to market.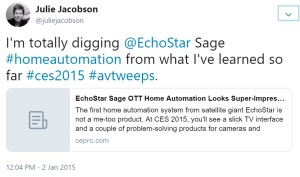 With the native Google Assistant, Dish customers will continue to control the TV and content via compatible Dish remotes, rather than third-party always-listening devices that make people nervous … and loud.
Users don't have to say, "Hey Google," either. Just utter the command into the remote.
Dish + Google Brings Home Automation to TV
In addition to providing a more elegant experience for TV control and content management, the Dish/Google integration offers home-automation functionality never before offered through the Dish platform (without Control4, anyway).
Wilde says you won't be able to navigate your TV screen like a smart-home app, but you can issue voice commands to control lights, temperature or whatever else you might use Google Assistant for – much more discreetly than you would if you had to shout a command at smart speaker across the room.
Eventually we might see the full Google experience through Dish as we would with Google Chrome plugged into the TV, but things like native integration with Nest video doorbells and cameras won't be available at launch.
But other Google awesomeness like Google Photos, with all its AI glory, will be available so you could say, "Show me photos of Julie Jacobson" – you know, just as a for-instance.
Wilde says the implementation will also support Actions on Google.
No new boxes or components will be necessary for the switch to native Google. Dish will push the update to its boxes and servers "in the coming months."
For now, you can catch a glimpse at CES 2019 in the giant Google tent in the Central Plaza lot in front of the LVCC.