How 'Digital Media Expert' Shelly Palmer Gets it Wrong on High-Res Audio
2016 CEDIA Expo keynote speaker and 'King of the CES Tour Guides' Shelly Palmer says we don't need high-resolution audio because most people listen to music on earbuds anyway.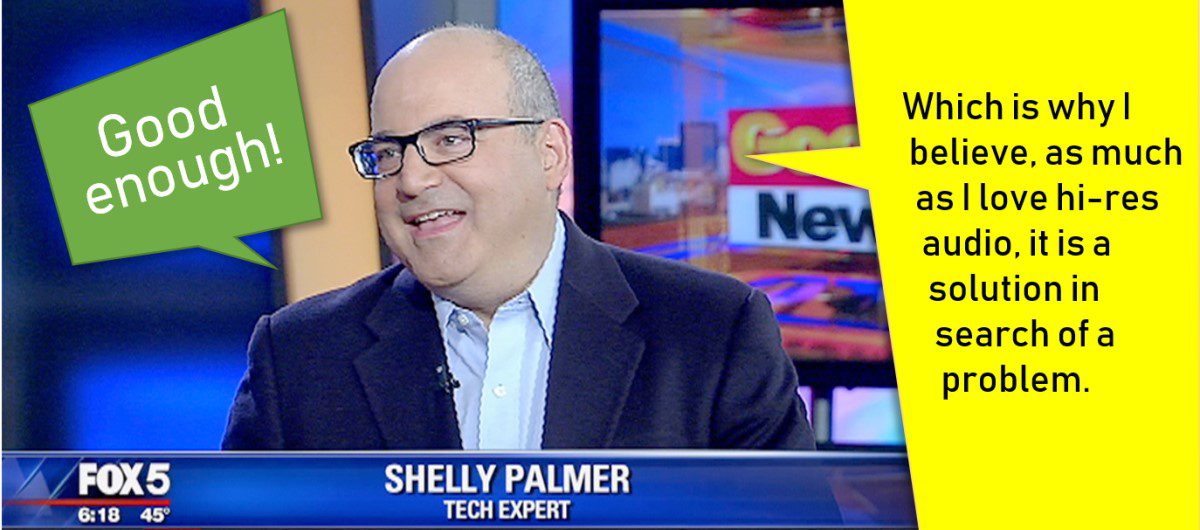 A couple of consumer-electronics media moguls are duking it out on linkedin about the merits of high-resolution audio (HRA).
Shelly Palmer, "Digital Media Expert" and "King of the CES Tour Guides," who charges thousands of dollars per head to lead dignitaries around the CES show floor, says HRA is "a solution in search of a problem."
His reasoning? Most people listen to audio through smart phones and earbuds anyway, and you really need a dedicated listening room to enjoy CD-quality audio or better.
So, how much time and money have you spent on your listening room? Because that's the only place hi-res audio is going to matter to you – if it matters at all. If you're listening to hi-res audio through your AirPods while walking on the street or sitting on a bus or sitting in your house with the air conditioner running or in a motor vehicle or on an airplane, the ambient noise in the environment will make it all but impossible to hear the difference between a pretty good 320 kbps AAC file and a very amazing 9,216 kbps hi-res audio file.
At the same time, he tells followers there is "a huge difference between mp3/AAC files and high-res audio files" and that in the right environment HRA "is one of the great pleasures in life." He even confesses to "love" hi-res audio. And yet, he concludes in his lengthy piece:
I am not telling you that there is not a huge difference between mp3/AAC files and hi-res audio files. There is, and it is demonstrable. In the right listening environment, hi-res audio is one of the great pleasures in life. But the vast majority of people probably don't have (or frequent) such an environment, and the convenience of the lower-sonic-quality files make them good enough. This was Steve Jobs's key insight. Good enough! Which is why I believe, as much as I love hi-res audio, it is a solution in search of a problem.
So, since the majority of the population is happy with "good-enough" anything, then we don't need a better alternative? Most people eat hamburgers from fast-food restaurants; ergo, gourmet burgers as a category is silly? Most people drink wine at home, so why do we need fancy restaurants that charge three times as much for a kind-of-better bottle?
Ah, Shelly, to think CEDIA selected you as a keynote speaker for the 2016 CEDIA Expo!
CE Expert Responds: Like a Fake Rolex
Robert Heiblim, long-time consumer-electronics executive and consultant, called out Palmer on social media. The co-founder of BlueSalve consultancy wonders: "Does that mean there should be no HD video if many watch on a mobile device?"
Heiblim's response is posted in full below, with his permission:
While I understand the position Shelley takes here, I do not agree.

It has ALWAYS been the case that most acoustic environments, especially mobile ones in cars or on personal audio devices are lacking. None of that ever stood in the way of wanting to own what the artist actually made for you. Today, many still buy vinyl and CDs.

Mostly these are not being used, but instead are bought for fandom and the love of the music and artist that created it. It is also for the archival value of having the real thing. Since there is no overall system issue with having the Hi-Res file, why should people not have it? Does that mean there should be no HD video if many watch on a mobile device? Does that mean books should be not printed, because they can be read on a digital device? No, and we see vinyl sales increasing (no this is not a revival) as well as book sales.

When the consumer buys, they think it is the real thing. Are buyers happy when they learn they got a fake Rolex, or fake designer bags? Why then should we allow up to 95% of the data to be stripped of what we paid for? And if taste and budget allow the purchase of better audio equipment used in a better environment, why should we not get what we paid for? Artists and music lovers deserve better.