The smart home technology market is kicking in strong for IT-centric companies, not just custom residential integrators.
That trend is clear from the financial results from Harrisburg, Pa.-based IT-centric D&H Distributing, which just ended its 2018 fiscal year with a remarkable 77 percent increase in its connected home product category.
Overall, D&H had experienced growth of 11.3 percent for Fiscal Year 2018, which ended April 30.
For Q4, the distributor had a 23 percent sales increase year-over-year, and is closing in on $4 billion in revenues.
In addition to the connected home growth, D&H saw particularly strong sales in other key categories, including:
Premium Notebooks—up 120%

Pro A/V – Commercial Displays—up 77%

Connected Home—up 77%

Televisions—up 23%

Desktops—up 19%

Printers—up 16%
The results made for another profitable quarter for the company, which has now had 400+ consecutive quarters of profitability.
D&H Celebrates Several Company Milestones
D&H Distributing is celebrating its 100th year in 2018 as a distribution partner offering service and support in the technology marketplace.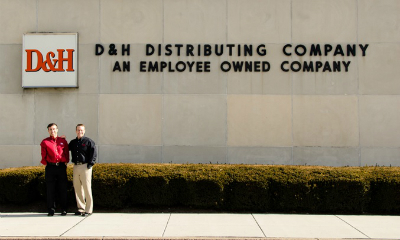 The company transitioned to focus on consumer electronics in the 1920s. D&H also attributes its success to its North American Service Model, providing each customer with a dedicated representative to serve as a long-term consultant.
The company has realized several other recent milestones in 2018, including its 20th anniversary as an ESOP company, through which co-owner/employees own approximately 36 percent of the company.
Its "D&H Cares" in-house charity foundation marked its tenth anniversary in 2018, supporting both regional and national causes.
D&H just celebrated its tenth year in Canada in 2017, and CEO Izzy Schwab recently hit his 60-year anniversary of employment with the company, which dates back to his high school years.
D&H Cracks the Top 125 Companies on Forbes List
D&H is on the Forbes List of America's Top Private Companies once again, appearing in the top 125 since debuting on that list in 2009.
"D&H is proud to have thrived through repeated market fluctuations over the decades, resulting in consistent profitability over time.c
"As we move into the next fiscal year, we will continue to emphasize opportunities that keep our customers on the cusp of the market's most compelling sales strategies."
— Michael Schwab, co-president
"Due to that fact, we've been able to extend the resources to help our customers grow in challenging environments and take advantage of increased opportunities during economic boons," says Dan Schwab, co-president at D&H Distributing.
"Our ability to persist on a long-term basis has allowed us to serve not just as a source of top-flight products, but as a consultative, vested partner with unique programs that develop our customers' businesses.
"D&H's team looks forward to Fiscal Year 2019 with similar optimism, for ourselves and for our retailers, dealers, and integrators" he continues.
"D&H has been on an extraordinary journey in the channel, focusing on strategies that make our customers more capable and competitive," says D&H co-president Michael Schwab.
"We believe that if we give customers the tools they need to flourish, then we will have strategically laid the foundation for new business opportunities that lead to our mutual success. As we move into the next fiscal year, we will continue to emphasize opportunities that keep our customers on the cusp of the market's most compelling sales strategies."
If you enjoyed this article and want to receive more valuable industry content like this, click here to sign up for our digital newsletters!