Dennis Erskine, founder of Colorado-based Erskine Group, Inc., will be recognized on October 8 for the honor at the 2020 CEDIA Awards virtual edition. A key figure in shaping several significant aspects of the residential technology integration industry and CEDIA as a global organization, Erskine becomes the 30th industry contributor to be selected by the CEDIA Board of Directors as a CEDIA Fellow.
"Dennis' name is synonymous with CEDIA," says CEDIA Board of Directors chairman Rob Sutherland. "His efforts to drive higher standards, progress best practices, and strengthen outcomes and rigor for CEDIA Certification have been exceptional throughout the years. Dennis represents the best of spirit and service in the industry and he joins elite company, indeed, as a CEDIA Fellow."

Erskine currently serves as chairman of the CEDIA Certification Commission, which recently helped shepherd in a new era in CEDIA Certification with the launch of the Cabling and Infrastructure Technician Certification and the Integrated System Technician Certification and the ongoing improvements and modernization efforts of CEDIA Certification.
He has served as a dedicated volunteer and home theater design subject matter expert for years with the organization, holding key leadership positions, including a two-year term as chairman of the CEDIA Board of Directors beginning in 2016 and multiple stints as a board member. He has been instrumental in the development of standards and certifications as a volunteer for CEDIA.
Erskine Group, Inc., which specializes in architectural acoustics, room construction, and installation, currently produces designs, blueprints, and specifications for home theaters. Erskine has also served as an instructor for the Home Acoustics Alliance.
He previously served in high level leadership for companies and organizations including: Holiday Inns Worldwide, Intelligent Networks, iNet Company of America (subsidiary of Bell Canada), ITT Dialcom, and Electronic Data Systems. Erskine previously played a role in defining international telecommunications standards. He is a licensed commercial pilot and flight instructor.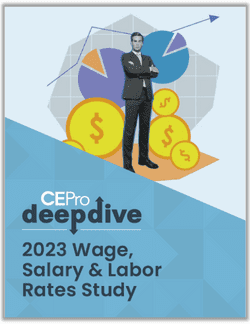 Discover the drastic difference a year can make when it comes to wage, salary, and labor rates in the custom integration industry.
The full list of CEDIA Fellows and the years they were selected includes:
2019 — Jeremy Burkhardt
2018 — Larry Pexton
2017 — David Graham
2017 — Julie Jacobson
2017 — Len Wallis
2015 — Bill Skaer
2013 — Leslie Shiner
2012 — Ken Erdmann
2012 — Eric Grundelman
2012 — Jeremy Glowacki
2012 — Eric Lee
2012 — Joaquin Rivera
2011 — Rich Green
2011 — Maureen Jenson
2012 — Steve Moore
2011 — Dr. Floyd E. Toole
2010 — Fred Ampel
2010 — Anthony Grimani
2010 — Jeff Zemanek
2009 — Eric Bodley
2009 — Tom Doherty
2009 — Michael Heiss
2009 — Mitchell Klein
2009 — Jeff Kussard
2009 — Ray Lepper
2009 — Marilyn Sanford
2009 — Chris Stevens
2009 — Richard Stoerger
2009 — Frank White
The CEDIA Awards program recognizes technical excellence, product innovation, and individual professionals succeeding in the home technology industry. The global, virtual celebrations will be held on October 8 and will position the finest work of CEDIA members on the industry's largest global stage in a well-produced, compelling presentation. During three jubilant ceremonies, all eyes from the industry will be on the winners and finalists in each of CEDIA's three regional awards programs — Americas, EMEA, and Asia Pacific.
Find out more information on the 2020 CEDIA Awards and register for your free digital party pack here.
Connect to more about the CEDIA Fellows program by clicking here.
If you enjoyed this article and want to receive more valuable industry content like this, click here to sign up for our digital newsletters!