Dayton Audio MK402 Loudspeaker Plays Down to 60Hz
The two-way Dayton Audio MK402 is designed to provide homeowners with an affordable bookshelf speaker solution.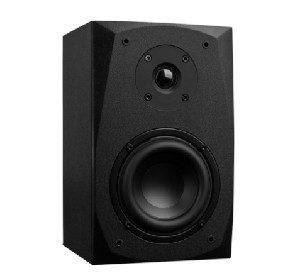 Known for its affordable loudspeakers, the audio company Dayton Audio is reinforcing its reputation through the release of its MK402 bookshelf loudspeaker.
The newly announced MK402 bookshelf loudspeaker is described by the company as a sophisticated and elegant two-way speaker.
Internally the MK402 bookshelf speaker employs a 3/4-inch silk-dome tweeter, along with a treated-paper 4-inch woofer. Controlling these drivers is a crossover network that utilizes a 2.5kHz first-order low-pass filter and a second-order high-pass filter.
Dayton Audio says the speaker's rear panel features a recessed terminal cup that houses a pair of gold-plated five-way bindings.
Related Content: Dayton Audio's Small Aero Speaker Hits Bullseye on Sound Quality
According to Dayton Audio, the MK402 bookshelf speaker produces a frequency response of 60Hz to 20Hz, and it says the 4-ohm speaker is also 84dB sensitive.
The speaker comes with a black finish and it is backed with a five-year warranty.
Dayton Audio MK402 Loudspeaker Installation Advice
Helping with the installation process, Dayton Audio recommends to start by placing the speakers directly in front of the primary listening position. The company cautions dealers to avoid hard vertical edges within three-to-four feet of either side of the speaker cabinets, and says to place the speakers about a foot to two feet from the walls.
Utilizing familiar recordings to hear the performance differences, the company states moving the speakers around a few inches to optimize their soundstage.
Ideally, Dayton Audio says the speakers' tweeters should be 10 to 12 feet from the listening area, and when viewed from the main listening seat, the speaker angle should be 30 to 60 degrees.
Dayton Audio emphasizes that during the installation of the speakers, integrators pay attention to the bass because the relation between bass response and room position is highly important to achieve a balanced sound.
"The most common position error involves getting the bass level right for one note, but not for others," says Dayton Audio. "The secret to proper positioning is to keep the worst of these spots from falling on the primary listening position."