DALI Subwoofer Brings the Bass in a Smaller Space
The DALI SUB C-8 D subwoofer is designed to augment speaker systems for the playback of music and TV content in smaller spaces.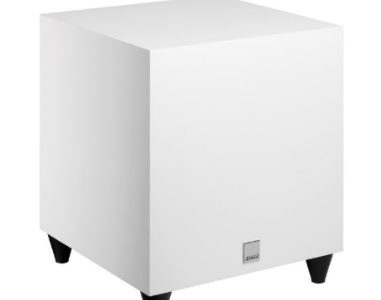 These days most people own a single A/V system, which means that system must be able to reproduce movie soundtracks and music equally well. The newly announced DALI SUB C-8 D subwoofer is engineered to reproduce music and video soundtracks without compromise, and without taking up too much space in a client's home.
Available in the U.S. from its new American distributor Lenbrook, the DALI SUB C-8 D subwoofer is a small-footprint solution that integrators can use in multichannel home theater systems, 2.1, and 3.1 A/V systems.
According to DALI, the sub was designed to excel at streaming Netflix and Bluetooth audio, as well as to provide immersion while watching Ultra Blu-ray content.
The Sub C-8 D is built around DALI's 8-inch downward firing wood-fiber woofer and 170-watt RMS Class D amplifier. The sub's rear panel features a mono LFE input for home theater applications, and RCA and stereo (low-pass filtered) inputs.
Other rear panel features include crossover frequency adjustments, a phase switch, volume (gain), and a standby (auto power) on/off switch.
The sub measures just over 13 inches tall, approximately 11.6 inches wide, and a little more than 12 inches deep, making it small room friendly.
The 29-pound subwoofer is available in a choice of black or white finishes. For best performance, DALI recommends integrators place the sub anywhere from 4 inches to 12 inches away from a wall.
DALI SUB C-8 Subwoofer Specifications
The SUB C-8 D subwoofer employs an 8-inch woofer with an oversize suspension.
A 170 RMS Class D amplifier drive the 8-inch woofer, and the amp is capable of producing 220-watts peak.
DALI rates the subwoofer's frequency response at 33Hz to 200Hz, and its maximum sound pressure level (SPL) is 109dB.
The SUB C-8 D sub utilizes a ported bass-reflex design.
DALI points out the subwoofer offers a choice of LFE, RCA, and stereo inputs.