Crestron has added Battery-Powered Shade to its line of shading products to offer dealers and homeowners more product choices.
Crestron Electronics has announced the expansion of its custom shade portfolio with the addition of Crestron Battery-Powered Shades.
The shades offer homeowners a shading solution that natively integrates into the Crestron Home platform to provide a home shading solution that works in concert with other smart home endpoints throughout the home. Crestron's shading portfolio now includes wired, wireless, and battery-powered options giving homeowners the ability to have intelligent shading solutions integrated into almost any space, meaning dealers will not have to rely on multiple manufacturers to outfit a home, whether for a new build or a retrofit.
"Battery-Powered Shades represent an important milestone for the Crestron Home platform, we are now able to offer a complete solution that meets all the needs of homeowners," states John Clancy, executive vice president, residential, Crestron.
"Dealers no longer have to piecemeal a system together if there is a window located in an awkward location where wires can't be run. The robust control options within Crestron Home coupled with our new fabric options make our entire shading portfolio an incredibly attractive solution for dealers and homeowners alike."
Crestron Battery-Powered Shades Eliminate the Challenges with Mixing Products from Multiple Manufacturers
Crestron points out that over the years motorized shading has presented dealers with several problems that are associated with cross-manufacturer integration that limits homeowner control.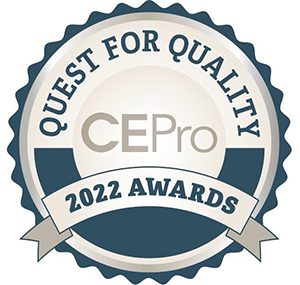 CE Pro urges integrators to recognize their suppliers that go above and beyond to deliver premium support and service. Cast your vote today to recognize the services (not the products) from your favorite manufacturers and distributors.
Cast your vote today!
Crestron emphasizes that its portfolio of shading options changes that by offering a holistic hardware and software ecosystem that goes beyond the superficial control provided by mismatched systems. At the touch of a button, the N.J.-based company says, homeowners can configure, schedule, or execute a shading scene that synchronizes shading throughout the house with other Crestron Home solutions, including the Horizon Thermostat, and third-party extensions to maximize homeowners' comfort and security.
As part of the native integration with Crestron Home, battery life will be intelligently calculated to proactively notify homeowners when they need to replace the battery. Though discretely tucked in the fascia, the Crestron-designed battery cartridge swings down to make replacement easy. The battery can be replaced like most consumer devices, and the shades can be snapped back into place, with no disassembly required. Whisper-quiet and energy-efficient QMT motors bring great indoor range and performance.
Ensuring customers, dealers, and designers will not have to compromise on style, an updated collection of over 400 fabrics, including 240 new designer-lead fabric choices provides dealers and their clients with a choice of design-friendly and customizable style options. Contained within Crestron's new design book collection, these fabrics and Crestron's custom-color match policy further improve customer choice, and Crestron notes the Battery-Powered Shades are available with both Architectural and Décor brackets.
Crestron will back its Battery-Powered Shades with a three-year battery life and limited lifetime warranty on the motors. Crestron Battery-Powered Shades will start shipping in December. Crestron will be hosting a webinar on December 8, 2021 to offer greater detail on this new product offering and how dealers can prepare to add it to their portfolio.