Control4 has officially announced the Control4 dealers and distributors awarded for exemplary project work, business growth, and commitment to their customers.
Control4 dealers were recognized across three categories, Dealer of the Year, Circle of Excellence, and Top Volume. This year, eighteen companies were awarded as Dealer of the Year and two companies were awarded as Distributor of the Year in their respective regions.
"Dealers around the world are advancing their businesses and serving customers by leveraging Control4 Smart Home OS 3 as well as the Neeo Remote. Our dealers have done tremendous work in the last year," says Bryce Judd, chief sales officer of SnapAV.
"Each of the 30 award wins highlights dealers who have excelled either in project excellence, business practice, as well as exemplary customer service."
The full list of dealers recognized by award category and country include: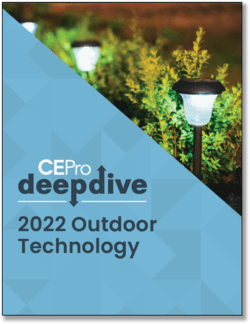 The 2023 CE Pro Outdoor Technology Deep Dive reveals unique set of impediments, including explaining pricing and interacting with outdoor-centric trades.
Get your copy now to take a "deep dive" into the trends and challenges of outdoor technology.
Download the report now!
Dealer of the Year, by country:
Belgium: Marechal
Finland: Digisähkö Oy
France: Elite Integration
Germany: ib company GmbH
Germany: Radio Wuntke
Gulf Countries: Metric Technologies
Italy: Amadeus Network Solution
Netherlands: Van Maanen
North Macedonia: Kodi
Norway: SoundPeople
Portugal: Deritec Exclusive
Russia: ART-IN
Spain: TD Sat & Sound
Sweden: Hages
Switzerland: So Smart Sàrl
United Kingdom, Watford: Aonyx
United Kingdom, Weybridge: ATI Group
United Kingdom, Nottingham: Trusted Technology
Distributor of the Year, by region:
Asia Pacific: Homemation
Europe & Middle East: Canseda
United Kingdom: Circle of Excellence
Leeds: Bespoke Home Cinemas
Sunbury-on-Thames: Homeplay
Woodmancote: Seven Integration
Top Volume Dealers:
Croatia: Smart Touch
Germany: Better Connected – Audio Video Network GmbH
Germany: Radio Kox
Switzerland: Olvision SAGL
United Kingdom, Tonbridge: New Wave AV
United Kingdom, Watford: Aonyx
United Kingdom, York: Art of Smart