CEDIA Find: Cellgate's Cell-Based Access Control with Streaming Video; Control4 Integration
Cellgate, maker of cellular-based gate-entry and surveillance systems, will demo Control4 integration at CEDIA Expo 2019.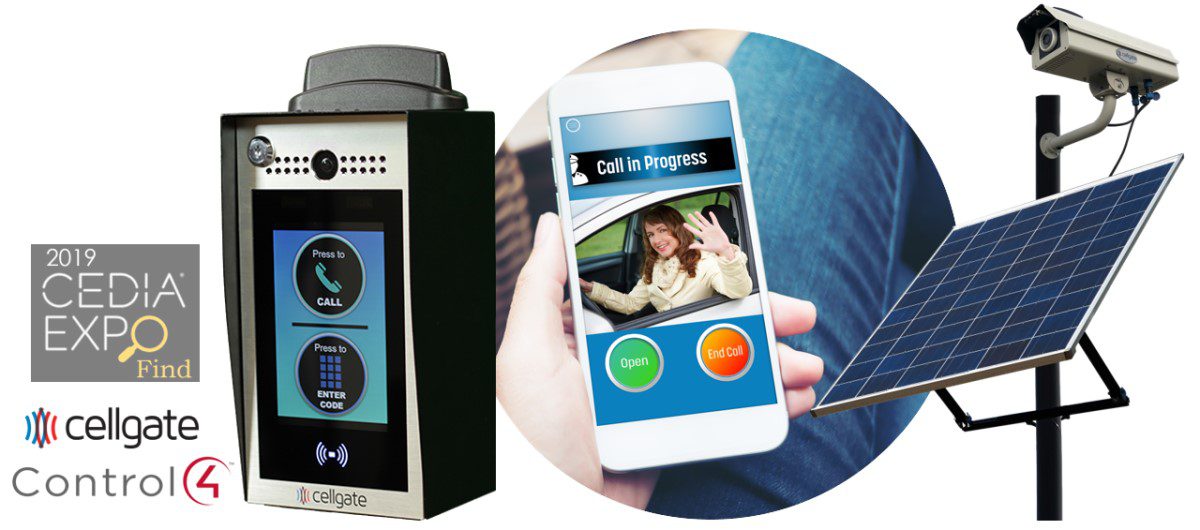 5G might not be a big story this year at CEDIA Expo 2019, but mobile communications will make a strong showing, thanks to exhibitor Cellgate, a rare company that makes cellular-based access control and surveillance systems.
This year, Cellgate will showcase the integration of its telephone-entry and camera systems with Control4 home automation. Users can access the Cellgate services via Control4 touchscreens and app as if they were utilizing the Cellgate app directly.
Cellgate, Control4 Integration: How they do it
Control4 integration requires an Ethernet connection to Cellgate's W460/61 access-control systems. That's because Control4 does not (officially) support external SIP servers like Cellgate's. In order to allow Cellgate to work with Control4, the access-control system sends a SIP call to Control4,which "calls" the touchscreen units in the house. If there is no answer in the house, the W460 reverts to Cellgate's SIP switch, which begins contacting the tiered call list: three contacts via smartphone app, then a second batch of three contacts via app, and finally three voice lines.
When a visitor presses the call button on a Cellgate Watchman gate/entry station, the Control4 system rings, and live streaming video from the gate will appear. From there, homeowners can chat with guests, remotely open the door or gate – momentarily or for a period of time – or close the gate.
If no one responds to the access request, Cellgate starts dialing phone numbers on the owner's call list.
Users also can take pictures on demand, review past access attempts, and perform other Cellgate functions through Control4.
The hitch with the Control4 integration is this: It doesn't work with Cellgate's cellular communications; it requires a hardwired Internet connection (see sidebar, right).
Also, the driver currently is only available for Cellgate's multi-tenant telephone-access systems (W460/W461), which accommodates a hardwired Ethernet connection, and not for the company's single-family model (W450).
Cellgate Cellular-Based Watchman Access Control & Camera Systems
Cellgate offers two versions of its Watchman telephone-entry systems: the single-family model (W450) and multi-tenant versions (W460 pedestal-mounted, W461 wall-mounted).
Each comprises three elements: the door-entry hardware, smart phone app, and TrueCloud portal for administration.
The company claims to be the first to offer cell-based access-control systems to the fence/gate industry more than 10 years ago, and touts its long history in the cellular business as a key differentiator in the access-control industry.
"Cellgate is unique in that most other access control product manufacturers begin their product lines with hard-wired telephone-based systems, and are now attempting to learn cellular technology," says Cellgate president Noel Gouldin. "Cellular technology is all that Cellgate has ever known, and is part of their corporate DNA."
The system works with both AT&T and Verizon services, and the company claims it has the only cell-based access control system that works on Verizon.
Also differentiating Cellgate from the pack is the ability to add external cameras to the entry stations to show secondary views of people/vehicles at the gate. Cellgate claims to be the only company to offer this capability.
Features: W450 Single-Family System
Streaming video telephone entry
Allows users to control their gate from their smart phone, from wherever they are
Provides push notifications with photos of all access attempts
Can call a total of 9 voice numbers in 3 tiers
Allows up to 500 unique local numeric codes, and 64,000 non-local codes
Native 26-bit Wiegand Expansion port for card reader, keypad or wireless remotes
Utilizes the Cellgate TrueCloud web-based portal for administration, allowing users to set up call tiers, add users, set up hold-open schedules, view date/time/photos from historical access attempts and manage notifications.
Works with either AT&T or Verizon cellular networks.
Optional external camera can be added to show secondary views of people/vehicles at the gate.
The multi-tenant model (W460/W461) accommodates up to 1,500 directory listings, allows up to 10,000 unique local codes, includes a built-in HID card reader and 26-bit Wiegand Expansion port, accommodates up to three external cameras, and provides administration tools for property managers.
Unlike the W450, the multitenant system can communicate either via cellular or hardwired-Ethernet … which is why it can be integrated with Control4.
5G … Eventually
5G is so hip these days, why isn't Cellgate riding that craze?
The next-gen mobile service "may eventually be a game-changer," says Gouldin, "but we still want to see how it will be implemented and how its problems around penetrating walls/buildings will be solved."
Currently Cellgate's products are installed predominantly in outdoor environments, Gouldin notes, "and they need to communicate easily and without fail to both our servers and with consumers using our app, wherever they may be."
For now, Cellgate is erring on the side of "foolproof," but they're "ready to evolve to newer cellular technologies as soon as we are sure they will meet our standards and consumer's needs," Gouldin says.