According to a recent press release, CEDIA has officially announced four new elected directors who will serve on the CEDIA Board of Directors for the 2021-2022 term. Michael Sherman was elected to fill the open EMEA position and Shannon Bush, Albert Mizrahi, and Eddie Shapiro were elected to fill the open positions for the rest of the world.
CEDIA members also approved the Amended and Restated portions of the CEDIA Articles of Incorporation and the CEDIA Bylaws. The updated version of the Articles of Incorporation can be viewed here and the updated version of the Bylaws can be viewed here.
"The four elected directors bring to the table a wealth of knowledge, an infusion of new ideas, and a track record of dedication to the industry," says CEDIA Board of Directors chairman Rob Sutherland.
"CEDIA membership, the industry, and the world continue to evolve and the CEDIA Board of Directors is rising to the challenges. We welcome Michael, Shannon, Albert, and Eddie to their two-year terms and look forward to getting to work with them on behalf of the members and the association."
Shannon Bush is regional sales manager for AVDG, which has locations throughout the United States. She has over a decade of experience in the audio/visual industry and carries more than 15 professional certifications and licenses. Bush has been highlighted in multiple industry publications and before joining AVDG, served as vice president of an integration firm in Texas, where her accomplishments include contributing to 30% growth, developing new software, managing large integration projects, and leading a team of 60 professionals.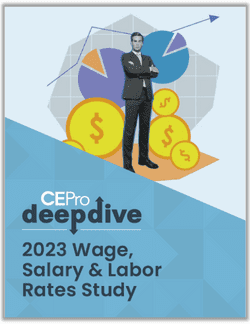 Discover the drastic difference a year can make when it comes to wage, salary, and labor rates in the custom integration industry.
She volunteers for CEDIA and serves on CEDIA's Integrator Business Owner Working Group. Bush says she is known for building highly successful teams that have strong cohesion, culture, and fanatically think outside the box. Prior to her AV industry career, Bush worked in the private defense industry, running multi-million-dollar projects worldwide.
Albert Mizrahi will complete his current appointed term on the board, which runs through the end of the year, and take on his elected term at the beginning of 2021. He serves as head of multiple businesses in Mexico, including Control4 Mexico, SmartLab, and DealerShop.
Mizrahi holds a degree in marketing and started his career in custom integrations as a director of distribution before becoming director of Control4 Mexico where he opened the first Control4 experience center in 2012, which has been replicated worldwide. Businesses he's led have been awarded international distributor of the year five times and SmartLab, which he founded, has worked in residential, commercial, and hospitality spaces, earning multiple honors including several CEDIA Awards.
He has launched three showrooms with JBL Synthesis theaters that are open to the public and DealerShop, which he founded, distributes major brands in the Mexico City area.
Eddie Shapiro is chief design officer for SmartTouchUSA, which has operations in Washington D.C., Maryland, and Virginia. He has worked in audio/visual and low voltage for more than 30 years in areas such as installation, system design, programming, marketing, sales, and executive leadership.
Shapiro began his career on the security side where he installed systems for customers including PriceWaterHouse Coopers, IBM, Nordstrom, Nestle, and Verizon. He frequents CEDIA Expo and ISE for education and updates on tech.
A CEDIA volunteer for more than a decade, Shapiro says his focus today is on new technologies, developing industry standards, and increasing the industry's reputation among architects, lighting designers, builders, and the design industry. Shapiro is part of the CEDIA Technology Council, which focuses on emerging trends and key industry topics.
Michael Sherman is chief executive officer of Henri, a third-generation family business in France. Sherman has been with the company for 11 years, previously serving in management, development, and operations roles, and as project manager and technical director. He has managed the team as it has grown from 15 to 45 employees, including several Sherman says he mentored from apprenticeships to management positions.
The 2019 CEDIA Young Professional of the Year, Sherman has volunteered for CEDIA for 10 years and was on the CEDIA EMEA board of directors from 2011-2013. He currently serves on Design and Build Resources Working Group, was part of the CEDIA Membership Advisory Council and received the French Chamber of Artisans' Entrepreneur of the Year award in 2018. Sherman has been a panelist for the ISE Main Stage and CEDIA Expo Smart Stage.
The two-year terms of the newly-elected directors will begin January 1, 2021.
2021 Board Members Continuing Service
Jamie Briesemeister
Integration Controls
St. Louis, Missouri, USA
John Buchanan
Meridian Audio
Huntingdon, UK
Alex Capecelatro
Josh.ai
Denver, Colorado, USA
Dave Humphries (Immediate Past Chairman, non-voting member)
Atlantic Integrated
Rockleigh, NJ, USA
Melanie Malcolm
Bespoke Home Cinemas
Leeds, Yorkshire, United Kingdom
Bill Skaer
Bill Skaer and Associates, LLC
Mesquite, Texas, USA
Rob Sutherland
Inspired Dwellings, Ltd.
London, UK
David Weinstein
Lutron Electronics Co. Inc.
Coopersburg, Pennsylvania, USA
Amanda Wildman
TruMedia
Ada, Michigan, USA
If you enjoyed this article and want to receive more valuable industry content like this, click here to sign up for our digital newsletters!