Monitronics International, the parent company of Brink's Home Security, has filed for Chapter 11 bankruptcy protection for the second time in the past four years. Monitronics International, Inc. has entered into a Restructuring Support Agreement with both the lenders that hold approximately 78% of the company's outstanding funded debt, and with the holders of a majority of the company's equity. The goal is to have an expedited restructuring that would reduce Monitronics' debt by approximately $500 million and provide increased financial flexibility to the company.
Back in 2019, when Monitronics was owned by Ascent Capital, the company filed for bankruptcy protection to refinance $985 million in debt. After rebranding as Monitronics in 2016, entered an exclusive trademark licensing agreement with The Brink's Co. in early 2018 to be remade into Brinks Home Security.
The current lenders are ones that took a stake in the company back in 2019 as part of its takeback term loan facility, including funds managed by Monarch Alternative Capital LP and Invesco Senior Secured Management, Inc. as the largest lenders. Under this new proposed bankruptcy plan, both Monarch and Invesco will become the new principal equity owners of Monitronics, providing the company with additional support to execute on its business plan.
The restructuring will take place in the U.S. Bankruptcy Court for the Southern District of Texas to be commenced on or around May 15, 2023. The plan is to emerge from Chapter 11 within 46 days of filing.
"We are pleased to have reached an agreement with our lenders and shareholders to create a capital structure that is right-sized for our business model. Our new balance sheet will provide sufficient liquidity to grow our subscriber base at attractive returns and generate levered free cash flow," said Monitronics Chief Executive Officer William Niles. "The strength of the underlying Monitronics business model positions us for success in a growing market. In 2022, we created 131,000 new subscribers at a 26x creation multiple while concurrently generating 55% EBITDA margins. Our Q1 2023 performance exceeded expectations and we are continuing to see tailwinds in our go to market channels."
Monitronics, which monitors more than 800,000 alarm accounts, has received commitments for approximately $387 million in new money financing during the Chapter 11 cases from existing lenders, including $90 million in new money to fund the Chapter 11 process and provide cash to the balance sheet as well as $297 million to refinance the company's existing Superpriority Revolving Credit Facility and Term Loan. The financing will fund Monitronics' operations during the Chapter 11 proceedings, including the payment of employee wages and benefits, suppliers, partners, and vendors in the ordinary course of business. The company will emerge with approximately $600 million in exit financing.
"We are pleased to have reached an agreement with our lenders and shareholders to create a capital structure that is right-sized for our business model."

William Niles, CEO, Monitronics
Niles continues, "Given the level of support we have for this transaction we expect absolutely no impact on our ability to continue serving our customers, partners, and employees. I want to thank our dedicated employees for their hard work and commitment and our valued dealer partners, who are integral to our ongoing success. We also appreciate the support of the Company's lenders, including the new principal equity investors, Monarch and Invesco. We are genuinely excited about the future."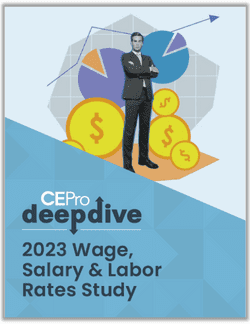 Discover the drastic difference a year can make when it comes to wage, salary, and labor rates in the custom integration industry.
Monarch Alternative Capital LP Chief Executive Officer Michael Weinstock adds, "We are excited to continue our partnership with Monitronics to support the next stage of its growth trajectory by providing capital, operating expertise, and board leadership. We have strong confidence in the Company and believe Monitronics will emerge an even more dynamic business, well positioned to deliver great value and long-term growth for all its stakeholders."
To ensure its ability to continue operating in the ordinary course during the Chapter 11 cases, Monitronics intends to file customary "first day" motions with the Court seeking a variety of relief, including authority to maintain operations in accordance with pre-petition practices and to pay pre-petition claims in the ordinary course of business.
A copy of the RSA and related cleansing materials can be found on the company's secure investor portal for current investors who have registered and filed in the company's Chapter 11 cases.
PJT Partners LP, Alvarez & Marsal and Latham & Watkins LLP are acting as lead advisors to the Company. Evercore Group, L.L.C. and Davis Polk & Wardwell LLP are acting as lead advisors for the ad hoc group of lenders.
This article originally appeared on CE Pro's sister publication Security Sales & Integration 05.15.23. It has since been updated for CE Pro audiences.
If you enjoyed this article and want to receive more valuable industry content like this, click here to sign up for our digital newsletters!