In yet another instance where the value of professional installation by a CE pro is important, Amazon Ring announced the recall of about 350,000 video doorbells sold in the U.S. due to potential improper installation using the wrong type of screw. The recall also covers 8,700 units sold in Canada.
The safety recall announced by the Consumer Product Safety Commission says the second-generation Amazon Ring video doorbell's "battery can overheat when the incorrect screws are used for installation, posing fire and burn hazards." Ring is not actually recalling the units for replacement, but is instead asking users to cross check the serial number of their device and then confirm that they only used the screws that were provided.
To date, Amazon Ring has received 85 incident reports of incorrect doorbell screws installed with 23 of those doorbells igniting, resulting in minor property damage. The firm has received eight reports of minor burns.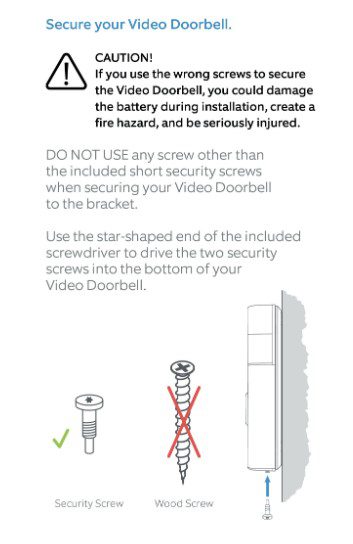 So what exactly is going on? Instead of using the small screws provided by Amazon Ring in the package, DIYers are swapping out those shorter screws for longer ones to secure the actual device to its mounting bracket. But those longer screws can penetrate into the chassis of the device and cause a short circuit. Oops. Rookie mistake.
The recall notice states:

CE Pro's Email Newsletters deliver timely news, industry-leading content, product information, and downloadable resources directly to your email inbox.
Sign Up Today!
This recall involves Ring Video Doorbell (2nd Generation), model number 5UM5E5 smart doorbell cameras. The video doorbells have a blue ring at the front and come in two colors: "satin nickel" (black and silver) and "venetian bronze" (black and bronze). They were sold with a mounting bracket and a USB charging cable. The two-way audio doorbell can be hardwired or battery-powered and supports night vision. The Ring logo is printed on the bottom front of the doorbell and the model and S/N are on a label on the back of the doorbell and the outer packaging. Consumers can determine if their doorbell is included in this recall by entering the doorbell's serial number at http://support.ring.com/ring-2nd-gen-recall. Only Ring Video Doorbell (2nd Generation) models with certain serial numbers are included.