The number of Internet-enabled or "connected" devices in homes has grown steadily over the past ten years. But in just the past few years, connected technologies have seen even more dramatic growth as a result of the adoption of smart home devices. In one year alone — between December 2017 and December 2018 — smart speaker adoption jumped from 66 million to 118 million in North America.
As a result of this growth, builders, developers, and property managers are turning to technological updates to stay on top of customer demands. For example, recent studies find that the majority of renters value smart home amenities like security cameras and thermostats over traditional benefits such as a pool or rooftop deck. Nearly 60 percent of renters surveyed by Entrata said they are willing to increase their rent payment for this type of higher-tech apartment.
What's more, over the next 10 years, Gen Z — the first generation born into a world of smart phones and connected technology — will expand from 8 million in the U.S. workforce to 55 million. Renters and homeowners in this tech savvy demographic will bring even higher expectations for smart home solutions.
The Brain Behind the Smart Home
As more internet-enabled devices permeate all areas of residential and light commercial buildings, property managers require stronger wireless and wired network infrastructure to support occupants and provide a market advantage. By consolidating network equipment in the Leviton Wireless Structured Media™ Center, users can boost network functionality, eliminate clutter, and have an easily accessible location to manage all connected devices. Since these enclosures are made of robust ABS polymer, they won't hinder the full reach of wireless signals like metal enclosures can.

CE Pro's Email Newsletters deliver timely news, industry-leading content, product information, and downloadable resources directly to your email inbox.
Sign Up Today!
Historically, structured wiring enclosures housed passive connectivity. But with today's increasingly connected homes, enclosures now support a greater amount of active gear, which has the potential to generate excess heat that can affect the long-term performance of the equipment. To address this issue, Leviton designed vented doors for the Wireless Structured Media Centers that promote better intake of cool air and outward flow of warm air, extending the life of the active equipment.
Even with a stronger infrastructure for wireless devices, structured cabling for wired devices still has an important place. While many smart devices have the capability to connect to a Wi-Fi router, placing too much strain on your wireless network bogs down your bandwidth and slows your access speed. The best home networks will use the latest wireless routers to provide a strong Wi-Fi signal to smart devices in the home, and wired connectivity for stationary devices such as PCs, set-top boxes, and game consoles.
Versatile Enclosures for Full Wireless Signal Reach
The U.S.-made Wireless Structured Media Center enclosures, doors, and covers —available in 14, 28, and 42 inches — support a wide range of building types and floor plans. They are compatible with Leviton's full line of Connected Home patch panels, voice, data, video, and audio quick-connect distribution modules.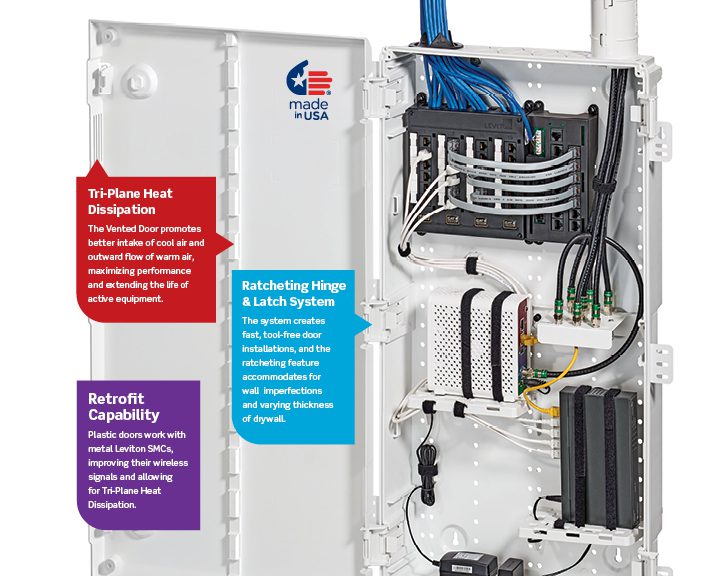 The Enclosures and Vented Hinged Doors use a pioneering Ratcheting Hinge & Latch System for fast, tool-free door installations. The unique ratcheting feature adjusts to varying wall-board thicknesses and compensates for minor dry-wall imperfections for a professional-looking flush fit.
The Vented Hinged Doors also allow for a 180-degree swing that won't swing shut and can be positioned to open left or right, providing flexibility in tight spaces. The new doors and covers are also available as a stand-alone product and are ideal for retrofitting existing metal Leviton enclosures to improve wireless signal coverage.
The contractor-friendly enclosures are available in bulk packs for large projects, using a unique nesting feature that ensures the enclosures will not stick together when unpacking.
To learn more, visit Leviton.com/WirelessSMC