Review: SnapAV WattBox UPS is a Home Network's Best Friend
Suspect power delivery can wreak havoc on sensitive electronics, which is why SnapAV's WattBox line of UPS power products is one of our editor's top pick in the category.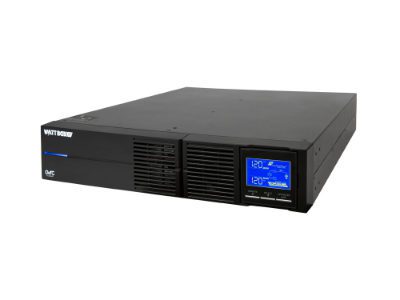 Living in New England in a neighborhood that still has the old stone borders that separate properties, it's not a surprise that my home is at the mercy of above ground power lines.
After suffering through several power failures a year, protecting my network and other sensitive electronics had become a top priority. This led me to purchase a few UPS (uninterruptible power supply) devices that would allow me to shut down my modem, router, music server, and projector, which are setup throughout my home.
Having tried some of the available retail products and finding mixed results, I have determined that generally you get what you pay for when it comes to retail UPS products.
Recently I was given the opportunity to try SnapAV's WattBox brand UPS battery pack for IP conditioners, which offers solutions that no retail product matches (to my knowledge). These solutions, through their interoperability with the WattBox line of power and surge products, deliver the additional benefit of remote access and control on top of their power backup capabilities via SnapAV's OvrC platform.
SnapAV WattBox Specifications & Setup
A couple of the problems I encountered with retail UPS devices involved the compromised design of these products, including limited voltage and amperage output capabilities, and unclear methods to reset the devices once they were activated.
I was sent the WattBox UPS Battery Pack for IP Conditioners 1500VA to try with my network, so I will quickly outline the product's features beyond its remote OvrC options.
Features
Built-in protection for the UPS and all connected equipment against Power Surges
Incoming power is monitored to avoid harmful over or under-voltage conditions
Power is increased in boost mode and decreased in buck mode
Battery backup for powering critical equipment connected to a WattBox IP device during power outages and fluctuations
Batteries can be serviced without turning the UPS off
Built-in contact for EPO
Built-in connections for PC access to the GUI and shutdown control to notify the PC when battery level is critical
The UPS delivers pure sinewave backup power with automatic voltage regulation.
More specifically, WattBox states the UPS provides up to 5:30 minutes of backup time with a full 1,200-watt load, and 13:30 minutes of backup with a half load of 600 watts.
Through its OvrC capabilities, integrators can monitor power and execute actions such as load shedding. WattBox also designed the product to provide battery health notifications, and the ability to replace the battery with products from battery stores.
Related: Parasol 24/7/365 Monitoring Service Launches Based on SnapAV OvrC
The product also incorporates a multi-function LED readout on its front panel and EMI/RFI protection to minimize line noise that can negatively affect the performance of electronics.
Replacing my retail product with the WattBox UPS Battery Pack took just a few minutes. After unplugging my modem and landline phone base, I removed the retail UPS and plugged in the WattBox product. Next, I made sure the battery itself was plugged in, and then I connected the WattBox UPS battery via a simple cable link to a WattBox IP power conditioner 3-outlet model.
Finishing up the installation, I checked the UPS' front-panel interface, and I set its basic operating parameters. I completed the setup by grabbing my phone and opening the OvrC app to make sure the WattBox products were online, and I made sure the auto reboot function was enabled and that all three outlets were on.
SnapAV WattBox UPS Performance
With the WattBox UPS in my home for a few months and having to deal with a few prolonged power failures in that time, the product has consistently exceeded the retail product it replaced. It provides longer periods of backup power and it's been completely plug-and-play (I haven't had to mess with it since I first turned it on).
One of the things with the retail product that drove me insane was the loud noise it made whenever the circuit breaker was activated. This alarm annoyed me and it had activated a couple of times after my wife plugged a vacuum cleaner into it. I'm guessing she would see the available outlet and simply plug the vacuum in, but because the product was not a robust solution the amp draw would shut the UPS down.
The alarm wasn't the worst part of the retail UPS either. Resetting was a pain. It would take several tries to reset so we could use it as a backup.
Conversely, I've had no issues with the WattBox. I have no idea if my wife is plugging in the vacuum or not, but if she is, the WattBox gear has been able to take the additional amperage load without shutting down.
As for the actual backup capabilities of the WattBox 1500 VA UPS, it gives more than enough time to properly shut down everything I need to handle with care.
According to the UPS, I'm only drawing about 25 percent of the product's capabilities, and this has allowed me enough time to power down my network components, save documents on my computer, and has allowed my kids to download a show from Netflix or Amazon without having to panic.
I'll add that once power is restored, the WattBox products come right up and I've been able to turn on all of the connected products without any problem. Moreover, its voltage regulation has stabilized the power going into my modem, which could be helping (I can't verify this) to contribute to the device's more consistent performance.
SnapAV and the WattBox team have done an excellent job of developing a product line that is safe to use, robust, and flexible. I can protect my network and its devices, reboot remotely, and even improve my network's performance all via WattBox.
That's why I believe that as integrators, you couldn't ask for anything more from a product that most people don't think about unless it's a worst-case scenario, and it's why I think WattBox's UPS products should be at the top of any integrator's equipment lists when it comes to specifying UPS products.
CE Pro Verdict

Pros:

Provides plenty of time to power down sensitive electronics properly in the event of a power failure
When used with WattBox power protection products the products also provide the benefit of remote management via SnapAV's OvrC platform

Cons:

Since it is a battery, and a UPS with legit backup capabilities, it is heavy. Caution should be used when installing into a rack
It is also worth pointing out the WattBox UPS Battery Pack for IP Power Conditioners requires a 24-inch rack space

MSRP: For pricing contact SnapAV