The quality of the power in any A/V installation is too important to be left to chance. That's one reason Acoustic Frontiers, a San Francisco-based home technology firm specializing in home theaters, listening rooms, and home studios, often installs or upgrades the electrical systems for their own projects. Relying on a member of the team who is licensed to install electric systems—but also understands A/V design and integration—eases communication and ensures the end-to-end process delivers the best possible entertainment experience for customers.
"The foundation for A/V performance is the electrical supply," says Acoustic Frontiers president and founder Nyal Mellor. This is something, Mellor says, electricians often don't understand.
"Typically, if the customer has power, the electrician believes their job is done. They don't understand the point of power isolation. They don't understand why everything shouldn't be permanently wired into the panel, and why the A/V components need to go through a power isolator. Acoustic Frontiers definitely approaches things differently than a general contractor would," he says.
Acoustic Frontiers' approach includes ensuring that every A/V component receives a clean, steady power feed, with no buzz coming through the electrical lines to diminish the quality of A/V signals.
"To an electrician, if you have power, they've done their job. They don't understand the point of power isolation."
— Nyal Mellor, Acoustic Frontiers
"That's why I use Torus Power products whenever I can," says Mellor, pointing out features such as Narrow Bandwidth Technology, which removes noise and harmonics from incoming power lines to power and protect equipment, and series mode surge suppression, which absorbs surges any higher than 2V above peak line voltage.
"I make the effort to run as much of the equipment as I can off a Torus Power isolation transformer," he continues. "Sometimes it means cutting a hole in the wall and running new circuits."
Such was the case in the high-end media room of a 4,000-square-foot, fully renovated and modernized Victorian-era townhouse in the heart of San Francisco.
The room includes a 75-inch Sony LED TV, speakers by Procella and Martin Audio, subs by JL Audio and Artison, a Yamaha receiver, and a Torus Power TOT Max isolation transformer.
The TOT Max delivers clean power to all the components in the room, as well as to a Lutron RadioRA2 and a Sonos distributed sound system, which was installed by the builder who renovated the home.
Dedicated Home Theater Performance in a Multi-Purpose Space
The clients had previously lived in a house with a dedicated home theater in a suburb of San Francisco and were accustomed to high-quality A/V systems. They wanted the A/V performance of a luxury cinema, in a more flexible room that could be used day or night, for watching movies, streaming Netflix, playing video games, or just hanging out.
"That's a pretty common request in Northern California," says Mellor. "Clients just want a nice space to watch movies, TV, and hang out. It doesn't have to be a dedicated private cinema."
The home originally had a rudimentary media room with an HDTV and in-ceiling speakers, but nothing that met the homeowners' expectations for A/V quality.
Read Next: 10 Can't-Miss Audio Companies to Visit at CEDIA Expo 2019
"There aren't any other display screens or obvious technology across the rest of the house," explained Mellor. "There's only this one media room where you can see technology on display, and the room gets a lot of use by the couple."
As one of only two rooms in the house with any visible technology (the client's home office also has a small screen), the room had to deliver a full-scale immersive entertainment experience. Acoustic Frontiers selected every piece of equipment and designed the room to achieve this objective.
Expert Design, Premium Components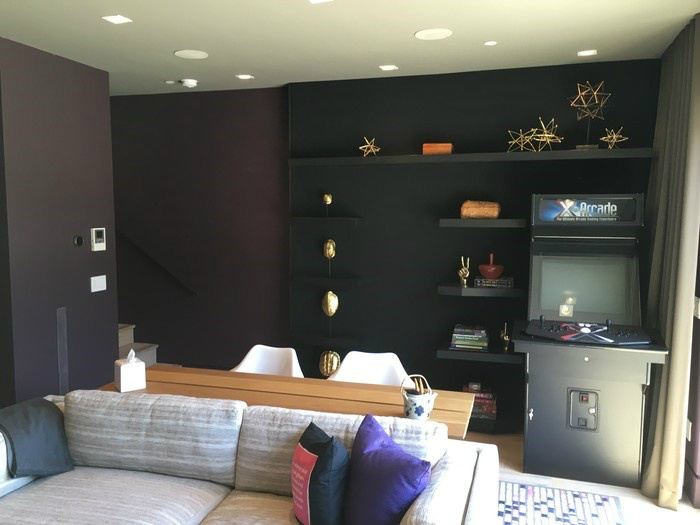 Acoustic Frontiers first designed the room layout using CAD software, providing straight-on viewing positions of the LED screen from both the couch and a sofa table where the couple sometimes enjoys meals while watching TV or a movie.
Due to ambient light and the multi-purpose use of the space, Acoustic Frontiers specified a Sony Bravia 75-inch LED for optimal viewing in any lighting condition. Lutron battery-operated shades completely darken the room when a full movie experience is preferred.
The Procella P6 speakers in a left, center, right configuration, coupled with Martin Logan EM-IC in-ceiling side and rear surrounds, provide an engaging audio experience. Two JL Audio E110 subwoofers and an Artison RCC640 sub, optimally placed throughout the seating area based on boundary element modeling deliver the appropriate low-end.
The integrators relied on the D-Tools System Integrator software platform for the low-voltage design work, including the wiring diagrams.
The integrator also provided full acoustical design and installation services.
"The main focus was to control the overall ambiance in the room, and to make it acoustically benign with no excessive echo," says Mellor.
This was accomplished primarily through diffusers on the ceiling and black fabric stretched over false walls, which were filled with low-density fiberglass insulation to assist with sound damping in the front and rear of the room. Mellor and his team worked with the interior designer to ensure the room would meet all acoustic and aesthetic standards for the client.
Powering It All
"It's a very high-performance media room, and the reason I chose the Torus Power TOT Max was to further enhance that performance."
— Nyal Mellor, Acoustic Frontiers
The premise of high standards for the sound and video brings us back to the foundation of good A/V design: clean, isolated power. Every A/V component in the room, as well as the home's smart lighting system and a pre-existing Sonos distributed audio system, terminates at the main equipment closet within the media room, plugged into a Torus Power TOT Max toroidal isolation transformer.
"The builder had just put up new sheetrock, and we had to put a bunch of holes in the wall to run new wiring," says Mellor. "We had to run dedicated electrical circuits that were plugged into the Torus Power unit."
The sacrifice, one might say, was well worth it. The 15 amp TOT Max—selected over its little brother, the 7 amp TOT Mini, in order to accommodate the whole-home technology systems as well as the A/V systems in the media room—provides noise filtering, power isolation, and high instantaneous current capability through Torus Power's proprietary technology.
"It's a very high-performance media room, and the reason I chose the Torus Power TOT Max was to further enhance that performance," concludes Mellor.
Why This Is Important: Clean power is the foundation of any good AV system. This San Francisco media room achieves optimal performance and luxurious comfort thanks to expert A/V design by Acoustic Frontiers and a Torus Power TOT Max isolation transformer.
Equipment List
Artison RCC640 subwoofer
D-Tools System Integrator software
JL Audio E110 subwoofers
Lutron RadioRA2 lighting control

Lutron powered shades

Martin Logan EM-IC in-ceiling side and rear surround speakers

Procella P6 loudspeakers (left, center, right)

Sonos distributed audio system (pre-existing)

Sony Bravia 75-inch LED

Torus Power TOT Max toroidal isolation transformer

Yamaha receiver